Thailand the second time around!  After my 3-year-in-the-making blog post on South Korea, here's another 2-year-in-the-making blog on the fooding experience I had in Bangkok with my KMME family for ProPak Asia 2018!  I just realized that I haven't written even a single blog for this trip yet.  Now there's a disadvantage if one always went for travel from one trip to another in go-go-go mode.  In my case, I wasn't able to keep up in writing and publishing here.  Anyway, since we are still on global travel restrictions and my feet are literally itching, I am just taking my time savoring all my trips abroad from years ago.  Great thing there are photos, I can still conjure the sights, smell and taste from my trips so here are my very own 10 eats in Bangkok.  These are not top 10 picks like the other foodies' feature posts but these were the eats we had when we explored the cultural and eclectic capital city of Thailand!
1. Krisa at Grand Palace
Pad Thai and Tom Yum are only two of the must-eats in Thailand.  With the country's proximity to Cambodia, Beef Loklak is also a must.  I just found out now that I also haven't posted my recipe on this Khmer dish yet.  Maybe I'm gonna have it next after this post.  Anyway, here at Krisa, food presentation is just simple but definitely one of the best Thai foods in town.  With the throng of tourists coming in and out the Grand Palace, you have to wait to be seated in this hole-in-the-wall resto right across the palace.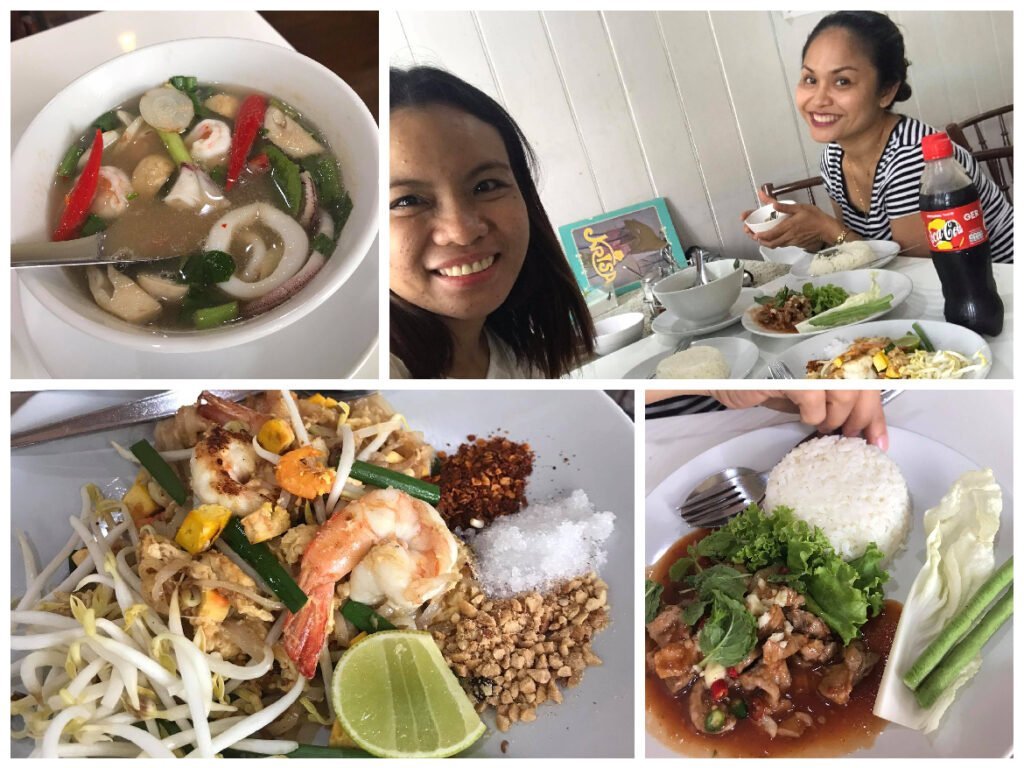 2. Central World Bangkok
Food in the Vacation is Central World's showcase of Thai street foods and delicacies.  As a shopping capital in Asia, you'll see colossal malls and vast night markets all over Bangkok.  See my post on Bangkok shopping here.  And when there are malls, there are people.  When there are people, there are food.  Let's apply simple logic here.  If malls = people and people = food then malls = food so you'll find all sorts of food all over the city!  You'll never get hungry while shopping around especially in this modern shopping district of Pathum Wan.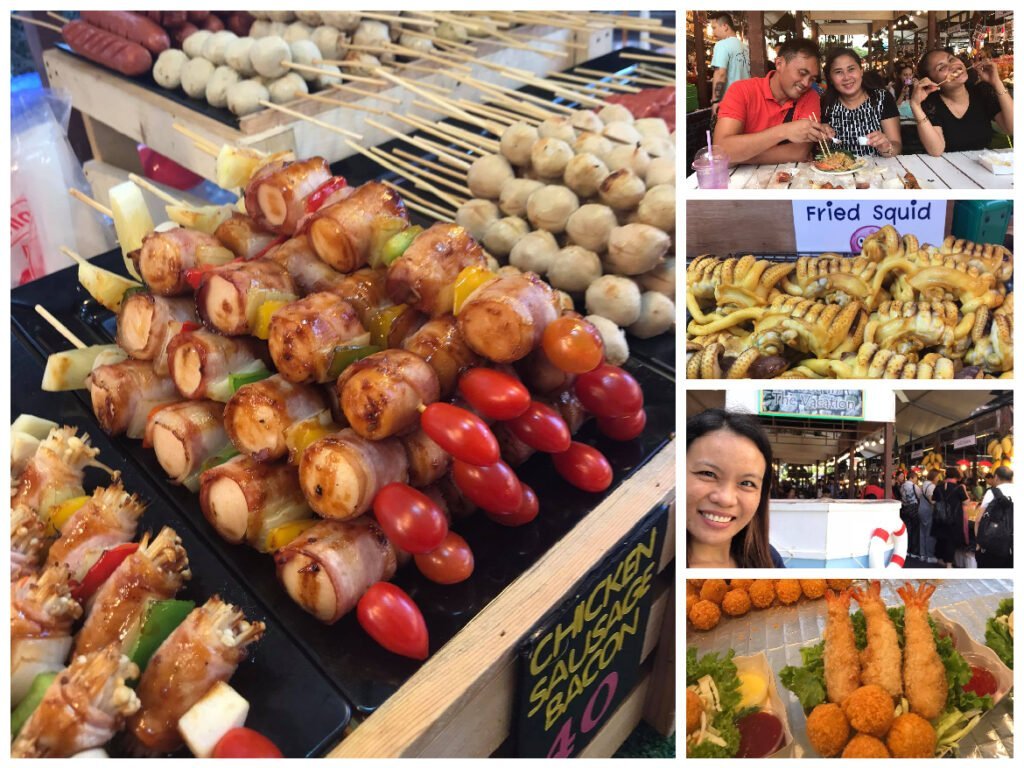 3. Din Daeng District
One of the reasons why DTI flew us to Thailand was for us to benchmark our MSME's in the existing markets there.  As a food entrepreneur, Sir Johann Dagandara with his wife, Ma'am Diva wanted to explore night markets for the plethora of street foods.  So we found ourselves here in Bangkok's much-celebrated night market, the Ratchadaphisek Road.  Aside from the finger foods from stall to stall, we had mixed seafood for dinner.  When asked about our Thai spice level as we ordered, we agreed mild.  Once we put the food in our mouth, it was extremely spicy for all of us that we laughed at our choice.  We should've not said mild and go for what the food as it was instead.  Maybe it's already spicy as it is.  We haven't tasted any other distinct flavor of the dish anymore 'coz of too much heat.  So we learned our lesson.  Once in Thailand, ask first if the dish is already spicy and opt for level 1 of heat.  They would gladly adjust that for you.
4.  Talad Rot Fai Ratchada Train Night Market
After filling our stomach with too much food, we decided to have a drink and found ourselves in this night market's assortment of bars.  We tried some local beers and ended our night with a lot of fun!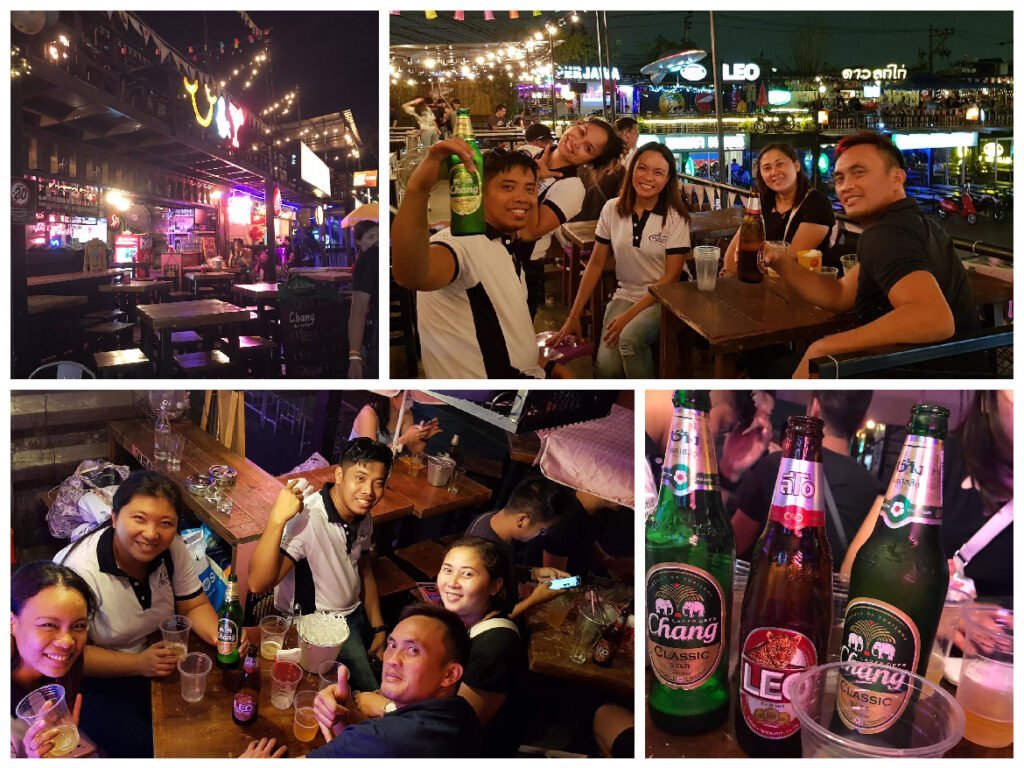 5. Asiatique
Just like in my South Korea trip when I met up with my student, Liezl, I also met up with another student in Bangkok.  Goddessa was already working for two years in Bangkok at that time as a secondary teacher.  When she found out I was there through Facebook, she messaged me to see me and she brought us to Asiatique on our last night in the city.  Asiatique is like Disneyland in Hong Kong and Everland in South Korea.  There are more street foods and shopping centers as well as carnivals for kids.  As young at heart, we enjoyed the place and bought more pasalubong!  Thank you, Goddessa for touring us around!  'Til we meet again in the future! 🙂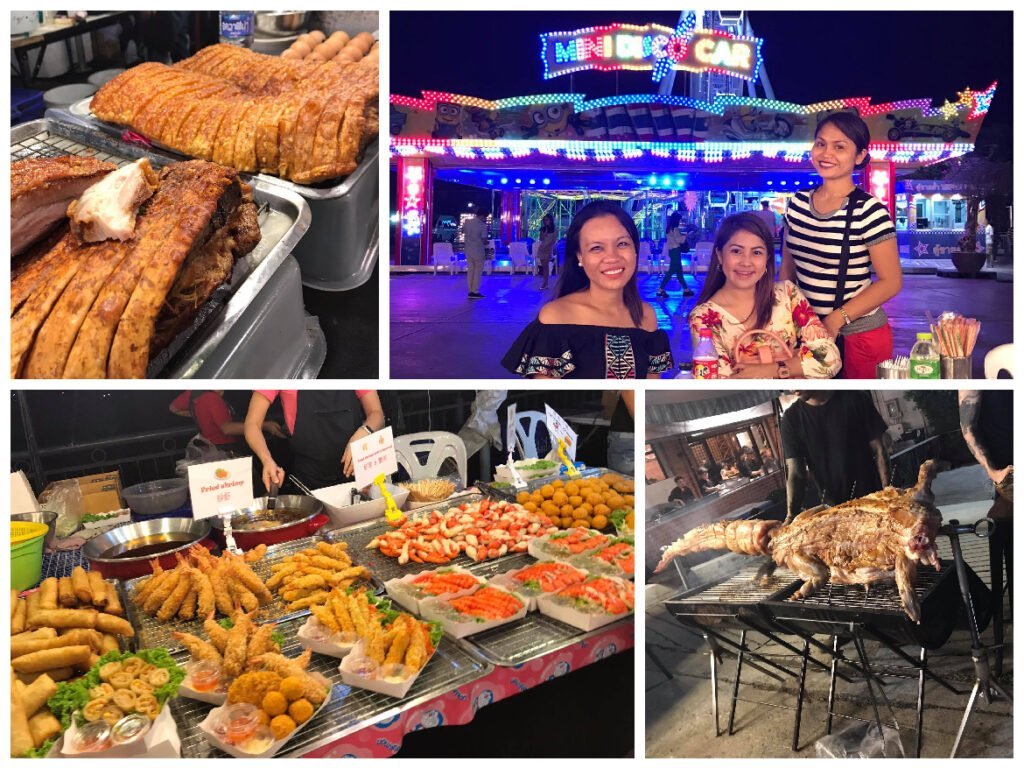 6. Mango Tree at Suvarnabhumi Airport 
Tita Ivy and I met a French businessman on our first day at ProPak.  He was so friendly to us and got engaged with good conversation about the Philippines and how businesses are governed here.  He was married to a Filipina and they had been supporting rice field owners in Visayas.  He was there to see some state-of-the-art farming equipment to multiply their harvest.  While queuing for check-in at the airport, we met him again.  He was glad to see us and invited us over for lunch before our flight.  Among the restos at the airport, he picked Mango Tree for Thai food.  He said he would love more of Thai cuisine before leaving the country.  At that posh resto, he ordered for us and we had a feast!  I was so shy to include him in our photos because I guessed he was a wealthy and powerful businessman whom cannot be named.  But I still have his business card but never contacted him though.  I wish him well on all his business endeavors and hopefully to be able to see him again for more of his business tips.  He was a good man.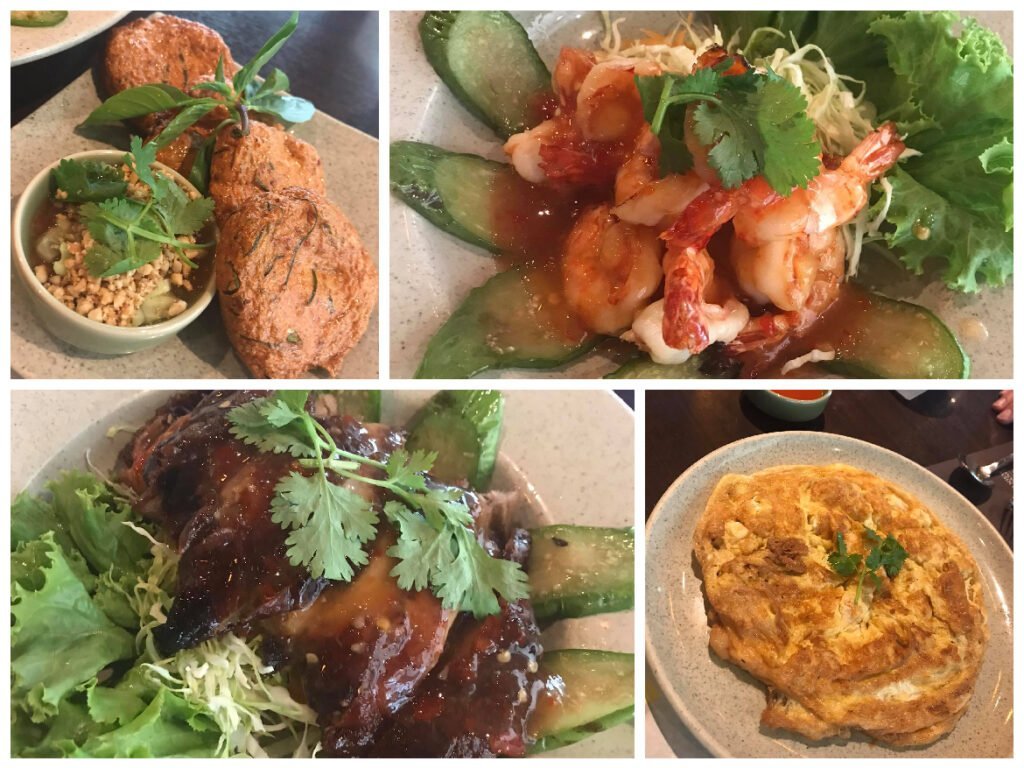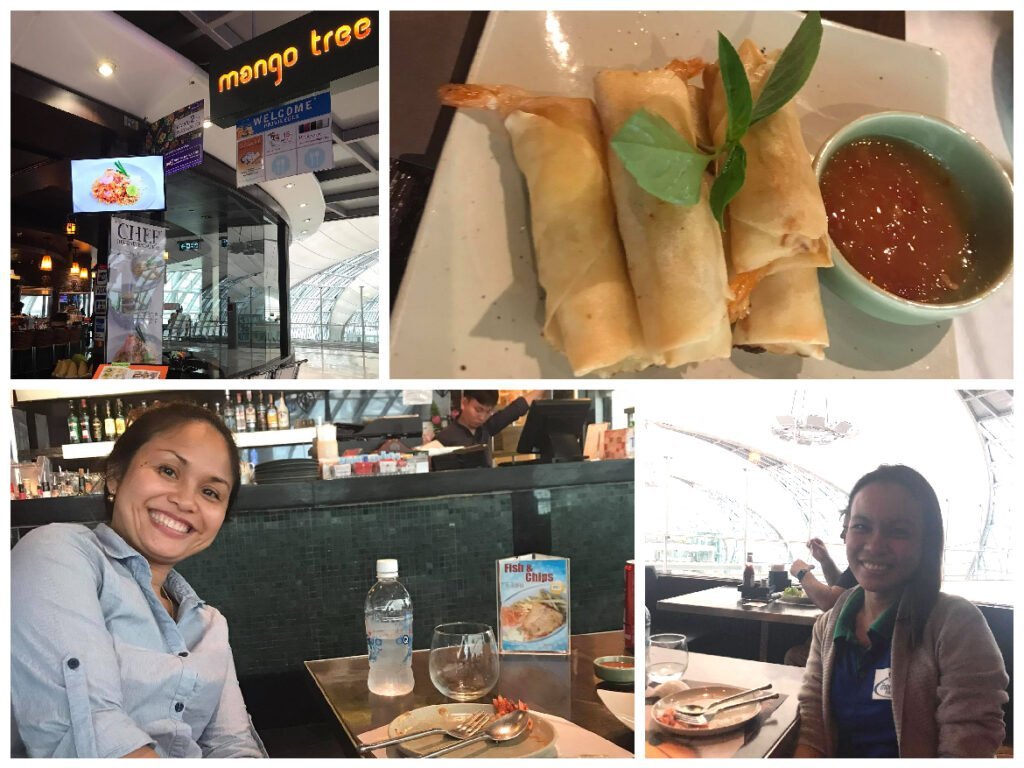 7. Tabloid Bar & Bistro
This is the resident resto of Galleria 12 Hotel Bangkok, where we stayed.  Breakfast here everyday is always superb but nothing beats my Tara Angkor breakfast feasts in Cambodia so far.  The other photos below were the treats Bühler served for the guests at ProPak.  I did not have much because I was watching my diet.  I only realized now that I should've indulged because everything were for free!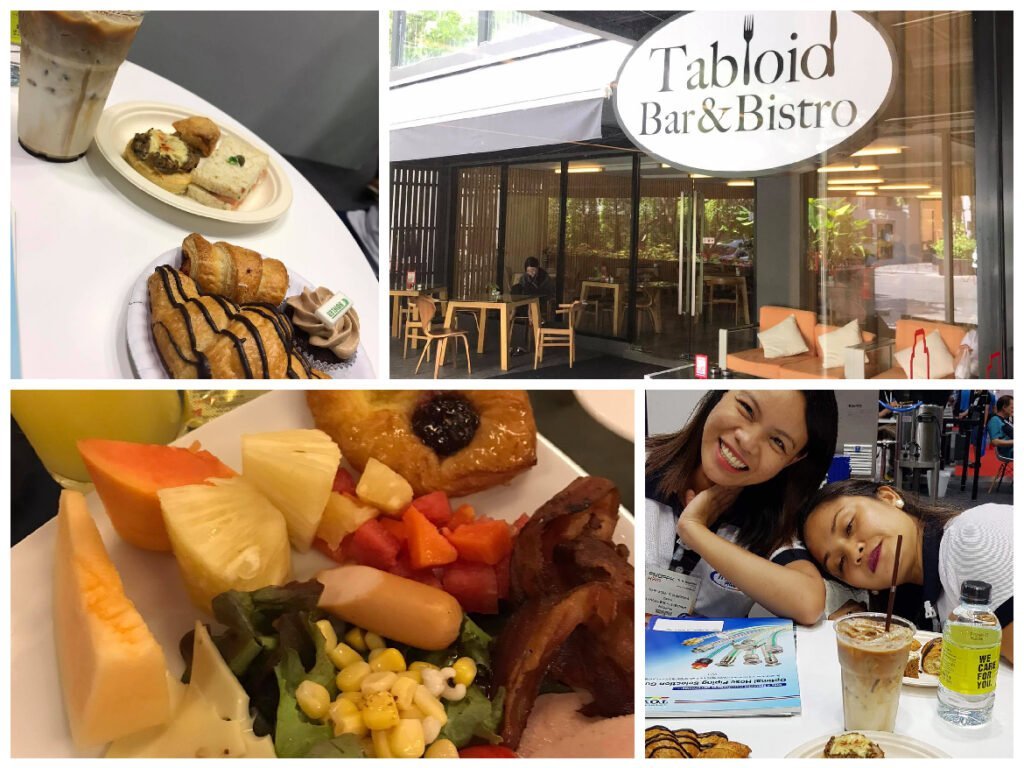 8.  Madam Phở Bangkok
Phở is for Vietnam and the first time I ever had phở was in Vietnam!  You have to check my Vietnam fooding experience here.  Madam Phở rolls out from Vietnam to other neighboring Asian countries.  Glad to have stumbled upon their food truck to have a taste of authentic Vietnamese noodles again!
9. Khlong Toei Streetfood
This Chinesey girl here with me soooo love pansit!  So when there's noodles, there's always Vernie.  From high-end to streetwise, she's always on the go for everything noodles!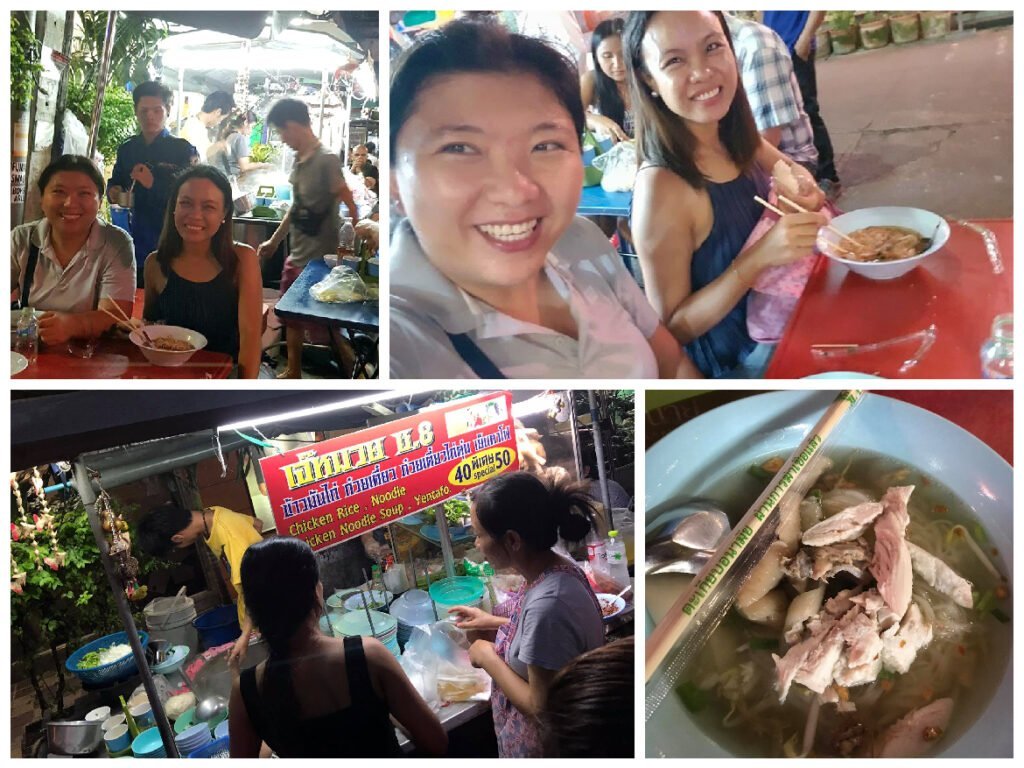 10. Sukhumvit Soi 38 Night Food Market
And for her and Sir Alton's last night, we again had noodles!  Vernie influenced us and might also have chinky eyes like hers for this!
Thank you so much, DTI and Sir Clarke Nebrao for sponsoring this trip!  Thank you also to my KMME classmates for this fooding and shopping experience!
For questions, invites, and collaborations, direct message me on Facebook.  For updates on my whereabouts and whatabouts, follow me on Twitter and Instagram!
Related Posts:
#tosomeats in Thailand
Literally Street Fooding
A Glimpse of ProPak Philippines 2019