Phew! What a journey it has been!  From N Seoul Tower to CN Tower!  I am now in Canada!  Or should I say, I have been here in Canada for already 4 (now going 5) months!!!!!  This is the looooooongest span of time that I've been putting off writing because I've been anxious in balancing school, part-time job/s, and how to save up for my tuition!  Scrimping for my second semester tuition was really a great ordeal, all my life's savings have been emptied, and now I am experiencing what they call as isang kahig, isang tuka (from hand to mouth)!  My Philippine salary (because I am still working with La Salle University through online classes) cannot sustain me here.  I've been doing different part-time jobs from time to time but the 20 hours a week is just enough for rent and groceries.  But the great thing is, I never asked money from my parents and I never borrowed money from people!  I am proud to say that all of these I am having and spending are my own and it is only God who is backing me up financially with the prayer support of my parents, aunties, and friends! 
Since classes have been off for a week now (actually for almost a month already), I have the luxury of time to post something "Canadian".  So from my last post dated July 2021 about South Korea, here's my very first post about Canada really hoping not to put this off for next year (but it's already "next year" now.  Haha!)!  I became occupied with a holiday job, okay.  It is school break so we are allowed to work full-time.  As a result, I am sick at the moment due to overfatigue from long work hours, holiday partying, bad weather, and playing in the snow last New Year's Day (I hope to be writing about this soon also).  So without further ado, my dear readers (if you are still there), here's Niagara Falls for you!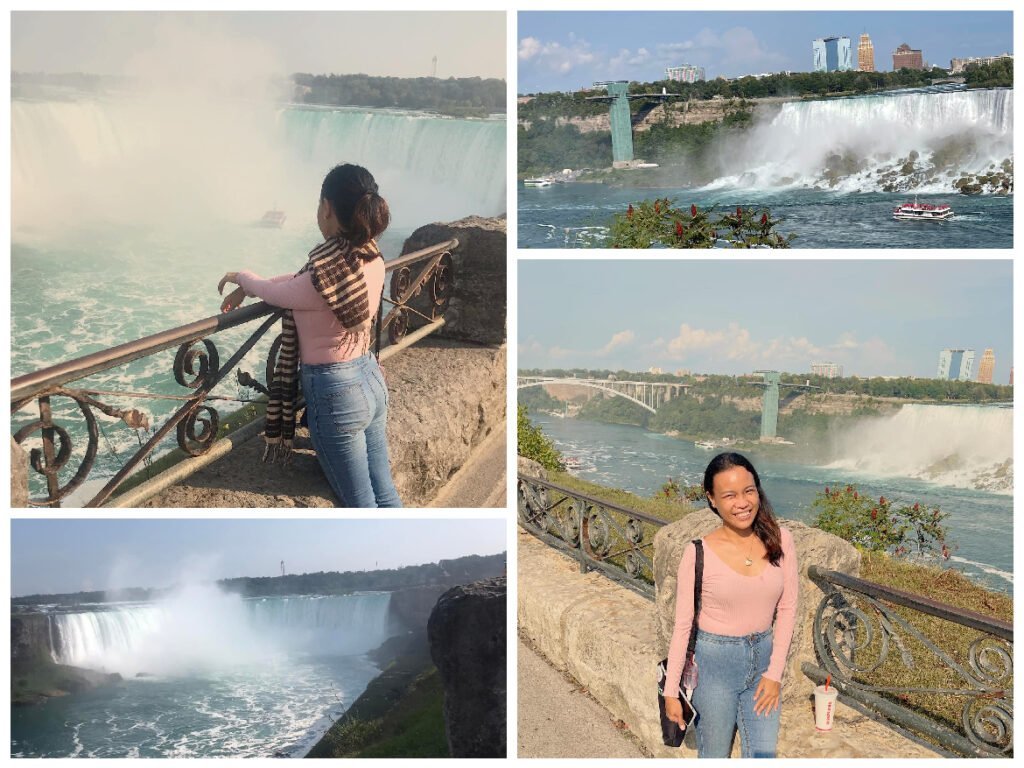 Never have I ever dreamt of seeing Niagara Falls in person!  Well, I am letting you in a little secret; actually I literally dreamt of being in Niagara Falls perhaps in the year 2011 or 2013.  In that vivid dream, I was with a special someone (whom I exactly know) putting his arm across my shoulder.  We were both wearing raincoats and smiling to the camera with the cascading waters of Niagara Falls as our backdrop.  I never knew where that dream came from because I do believe that you dream of things you are imagining and seeing on television before sleeping.  But as far as I can remember, I did not imagine nor see on TV nor hear about anything Canada and that someone those days.  So I just shrugged that dream off and only remembered about it when my student visa got approved.  Shall I meet that someone here again?  That I don't expect!  We're 13,000 miles away and he's long been let "go'ed"!  Haha!!!!  Anyway, though I never wished to see Niagara (and him) at that time, I was beyond blessed to be there in the flesh (even without him)!  Thanks to Tito Tonet and Tita Lorna for bringing me there right after my 14-day quarantine!
Tito and Tita picked me up after lunch at Etobicoke, the first place here where I stayed for 2 months.  We dropped by Mississauga first for something Tito to leave at their home and off we went to a long drive to Niagara!  The highway drive was exhilarating!  With a minimum speed of 80-100 km/h, I couldn't imagine myself driving here in Canada with my maximum speed of 20 km/h!  Lol!  On our way, I saw vast network of roads and bridges linking to the US, vineyards and mansions, those I only see on TV.  It was so surreal that I was on North American soil!  I also didn't dream of that though I admired the sights and feels of American films.  As soon as we arrived, we said our prayers first at the Monastery of Mount Carmel Spiritual Retreat and Conference Centre.  With the French Gothic architecture, it was like being in Montreal!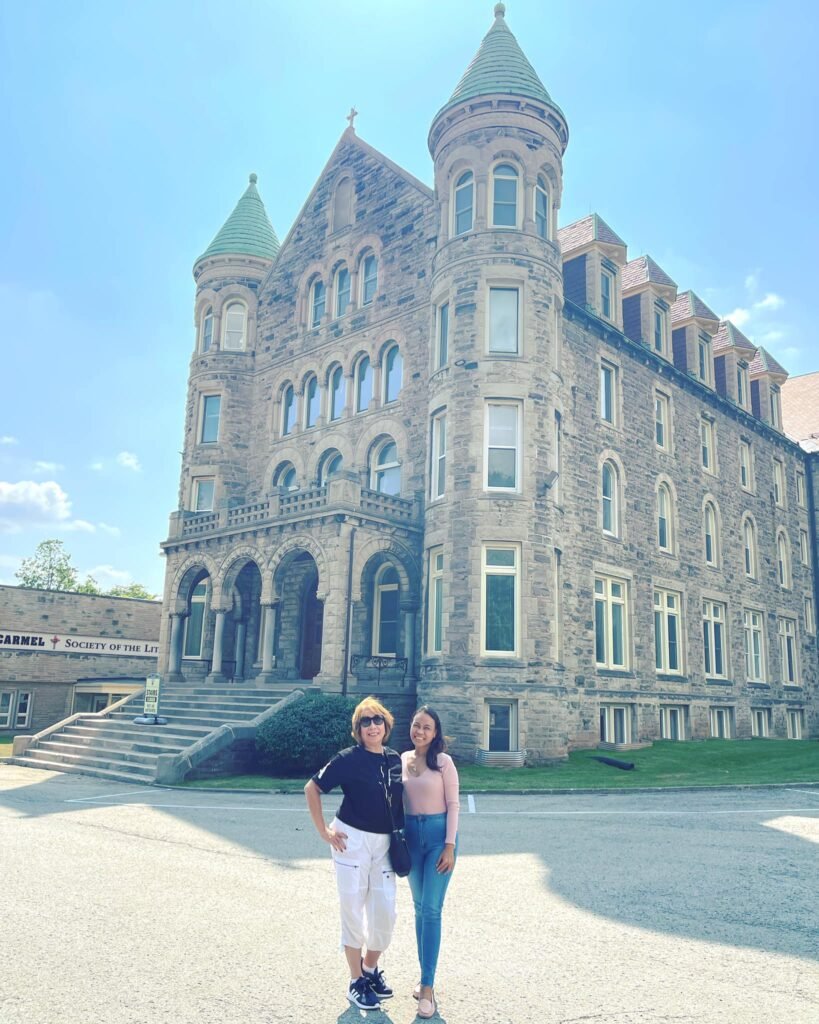 Soon after, we drove around the city and tried to cast bets at Fallsview Casino Resort.  The slot machines were not friendly to us so we went around sightseeing and picture-taking instead.
Then we went down to the falls, did more of picture-taking and I was surprised that Tito and Tita were game for Tiktok!  So we shot our Tiktok entries under the heat of 40-degree summer!
To cap off our adventure, we went down to the Floral Clock and Clifton Hill to see the night lights.  I jeopardized my dancer pose at the upside-down house though.  That was only two weeks after my arrival and I already gained a lot of weight here in Canada! 
Never in my wildest dream to be in places I only saw on TV and postcards. Never in my wildest imagination to have come and see one of the wonders of the world! When God gives you surprises, surely they're always grand and awesome! 
To the coolest and swag couple, Tito Tonet and Tita Lorna, thank you so much!  Watch our vlog, guys and see how we slayed Niagara Falls!
Wanna see more of Canada? For questions, invites, and collaborations, direct message me on Facebook.  For updates on my whereabouts and whatabouts, follow me on Twitter and Instagram!  Also subscribe to my YouTube channel! 🙂