My JIL Family with Cranston Berry
Oh, there's a place called BALA?!  Do you know that Bala is my paternal grandmother's family name?  Growing up, I didn't really like it much because bala means "bullet" in English and I got bullied for that.  However, it's a famous family name in our hometown so I am always proud being a Bala with our trademark "pretty-well" noses.  Lol!  Yeah, we've inherited our true-blue Filipino noses from the Balas!  Anyway, learning that there's Bala, Ontario tourist attraction fall made my heart giddy!  Our family name is a name of a place here in Ontario with an annual celebration of cranberry festival!  I must be so proud!  And thanks to my JIL family for the opportunity to experience my very first fall festival here in Canada!
The Cranberry Festival in Bala, Ontario tourist attraction fall is celebrated every midweek of October since 1984 to extend the tourist season and to improve the quality of life in the local community.  It aims to promote over a hundred local businesses in metal, leather, and wood creations, body care, visual and literature arts, culinary delights with all the cranberry delicacies, pottery, clothing, jewelry, etc.  As a small business owner in the Philippines, local enterprises are dear to my heart.  With every product made of love, one cannot question the authenticity and honesty of it.  Apart from that, when purchasing locally made products, one is not only buying but also supporting local businesses that support us and our local community.  So being there at Ontario tourist attraction fall festival was also like being in a trade fair of artistic, creative, homemade, and handmade products.  Do drop by for the list of exhibitors and photos here!
Aside from the exhibiting vendors, there were also the amusement rides, inflatables, Lego giant blocks, and other activities for the kids!  Not only Yassi and Randy enjoyed but also the kid in Tita Mae delighted in everything kiddie!  We did the corn maze, the chuchu train, the Ferris Wheel, etc.!  It was like going to a carnival when I was little.  It was just great now because I didn't have to pay for each entry (in the Philippines we do).  The festival admission already includes everything!  If you're planning to visit next year, book your tickets in advance as they sell out too quickly!  Visit the festival's official website here.
Additionally, music is the heart of the Cranberry Festival in Bala, Ontario tourist attraction fall.  Just like the Balas of Ozamiz, locals of Bala are very talented musicians.  It was a great privilege and honor to me to have experienced playing the native drums with some of the Native Americans of Canada!  Kuya Jason also enjoyed jamming along with Yassi and Randy.  Everybody had a blast with one rhythm and in one accord!
Lastly, what is a Cranberry Festival in Bala, Ontario tourist attraction fall when the famous stepping on cranberries is not performed?  It is the highlight of the festival, the ritual and tradition of crushing cranberries by foot!  It is hosted in a different location with different admission.  Visit the Muskoka Lakes Farm and Winery for more information about the cranberry plunge.  And in the festival, you can get a free take home photo at the cranberries photo booth too!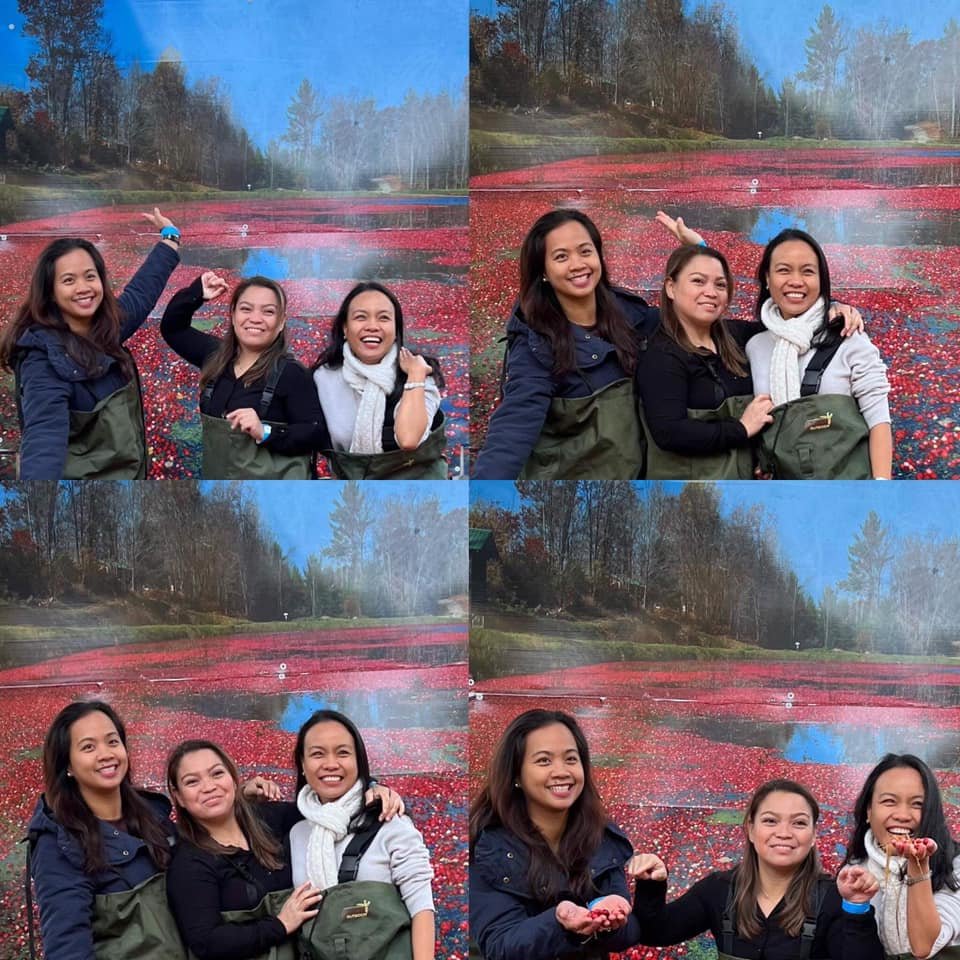 I only have a few photos to share with you here and for a complete coverage of our day at the Cranberry Festival, watch my short vlog below!
Thank you, my JIL family for this post-birthday gift for me! 🙂
Want to learn more about this Ontario tourist attraction fall? For questions, invites, and collaborations, direct message me on Facebook.  For updates on my whereabouts and whatabouts, follow me on Twitter and Instagram!  Also subscribe to my YouTube channel! 🙂  
Related Posts:
My Story of Heat Transfer in Ontario Tourist Attraction Winter