This article may contain affiliate / compensated links. For full information, please see our disclaimer here.
Welcome to Misamis Occidental, where the nightlife scene sparkles with excitement and adventure long after the sun sets. Brace yourself for a journey through the pulsating heart of this vibrant province, where endless entertainment and unforgettable memories await.
In this article, we uncover the secrets of Misamis Occidental's nightlife, where fun meets fascination. From lively clubs and bars to captivating live performances, this province boasts a diverse range of nocturnal hotspots that cater to every taste and preference.
Join us as we navigate the winding streets and bustling venues that come alive after dark. Get ready to immerse yourself in the vibrant atmosphere, connect with friendly locals, and create memories that will last a lifetime. Let the adventure begin!
So, grab your friends, vocalize that singsong voice, and get ready to experience the unforgettable nightlife scene in Misamis Occidental.
Popular Nightlife Destinations in Misamis Occidental
While it may not be as renowned for its nightlife as some larger cities in the country, Misamis Occidental still has plenty to offer for those looking to enjoy the evening hours. Here are some popular nightlife destinations in the province:
Beachfront Bars
Since Misamis Occidental is blessed with beautiful coastal areas, you'll find beachfront bars and resorts that come alive at night. These establishments offer a picturesque setting to enjoy a cold drink while listening to live music or a DJ's beats. Watching the sunset and then transitioning into the nightlife can be a magical experience.
Address: Fuentes Medina Plata Road, Clarin
Known For: Romantic dinner under the stars and free pulutan (beer match) for every bucket of bottled beers
2. Coastal Grill
Address: Coastal Road, Malaubang, Ozamiz City
Known For: Onstage singing
To learn more about beach resorts in Misamis Occidental, click here.
Restobars and Music Clubs
There are several restobars and clubs scattered around the province, especially in Ozamiz City. These places offer a relaxed atmosphere where you can enjoy local and international cuisine along with a variety of alcoholic and non-alcoholic beverages. They often have live bands and sometimes DJs playing music to keep you entertained.
1. Blue Note Music Lounge
Address: Oakhill Park, Ozamiz City
Known For: Live band and onstage singing
2. Gats Bar and Restaurant
Address: Don Anselmo Bernad Avenue, Ozamiz City
Known For: Acoustic nights
3. El-Kubo Grill & Resto Bar
Address: Las Aguadas St., Ozamiz City
Known For: Students' hang-out
4. Tambayan sa Suba
Address: Poblacion 3, Clarin
Known For: Live band
5. Chopstick Restobar
Address: Ozamiz-Oroquieta Rd, 7207 Oroquieta City
Known For: Live band
Address: Lé Cafe & RestoBar
Known For: Free pulutan for every purchase of beer
If you want to know more places to eat in the province, visit the articles List of Restaurants in Misamis Occidental and List of Cafes in Misamis Occidental.
Karaoke Bars
Karaoke is a popular pastime in the Philippines, and Misamis Occidental is no exception. You can find numerous karaoke bars where locals and tourists alike gather to sing their hearts out. It's a fantastic way to immerse yourself in Filipino culture and enjoy some friendly competition. Here are some of the province's karaoke hubs:
Address: 2nd Floor Oakhill Park Catadman-Manabay, Ozamiz City
Known For: Karaoke private rooms
2. Mirayo's
Address: Sapang Dalaga
Known For: Al fresco karaoke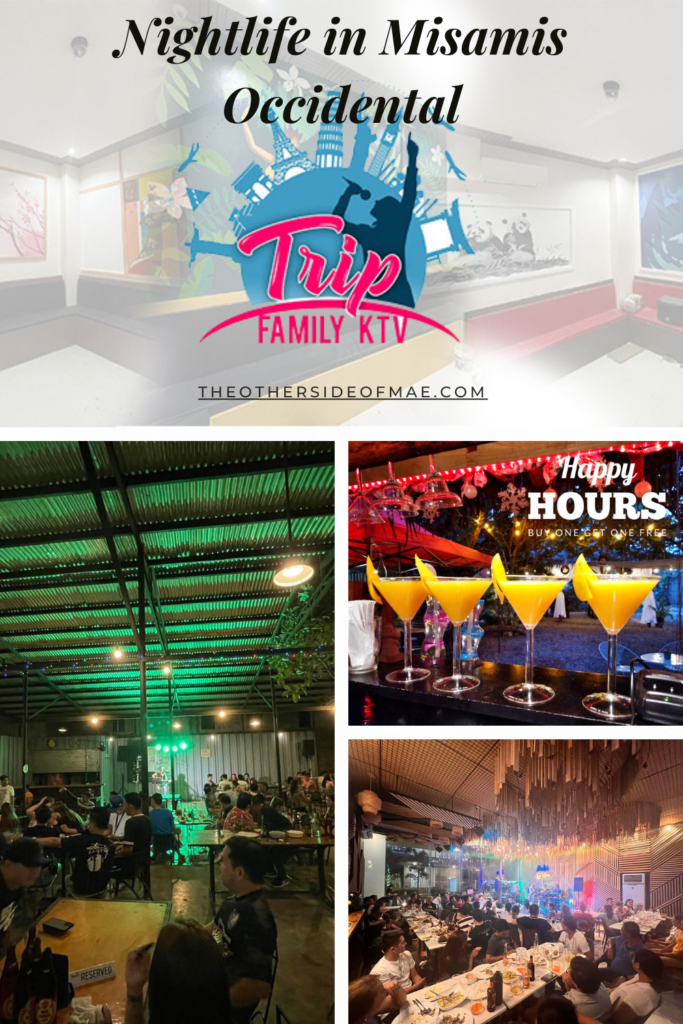 Trip Family KTV and Blue Note Music Lounge are conveniently located at Oakhill Park. You may have your karaoke at Trip in the afternoon along with their mouth-watering merienda and enjoy live band afterwards at Blue Note Music Lounge along with their sumptuous dinner. That's gonna be a blast!
Night Markets and Street Food in Misamis Occidental
Some towns in Misamis Occidental have night markets where you can find street food, snacks, and local crafts. It's a great way to immerse yourself in the local culture and try out delicious Filipino dishes while exploring the streets at night.
1. Ozamiz Wellness Food Park
Address: Port Road, Ozamiz City
Known For: Souvenir shops and food stalls
2. Oroquieta Boulevard
Address: Oroquieta City
Known For: Beachfront and food stalls
If you want to learn more about tourist destinations in the province, visit the article List of Tourist Attractions in Misamis Occidental.
Safety Tips for Enjoying the Nightlife in Misamis Occidental
Misamis Occidental, located in the Philippines, offers a vibrant nightlife scene with numerous bars, music clubs, and entertainment options. While enjoying the nightlife can be a thrilling experience, it's crucial to prioritize safety to ensure a memorable and incident-free night out. Here are some safety tips to keep in mind when enjoying the nightlife in Misamis Occidental:
1. Know your Limits
Set a limit on how much alcohol you consume. Overindulgence can impair your judgment and put you at risk. Always remember to drink responsibly.
2. Designate a Driver
If you plan to consume alcohol, designate a sober driver to get home safely. Be aware that there aren't ride-sharing services like Grab or local taxis in the province yet. But if you need car rentals, you may click here.
3. Stay in Groups
It's safer to go out with a group of friends. Stick together and look out for each other throughout the night.
4. Plan your Transportation
Arrange your transportation in advance. Know how you'll get to and from your chosen nightlife spots. Avoid walking alone in poorly lit or unfamiliar areas. As mentioned, the province don't have Uber yet so if you need to know modes of transportation in the province, visit List of Modes of Transportation in Misamis Occidental or directly find cars to rent on Expedia for a more convenient and safer trip.
5. Use Reputable Venues
Choose well-known and reputable establishments for your nightlife activities. Research venues in advance and read reviews to ensure they have a good reputation for safety and security.
6. Keep Valuables Secure
Carry only essential items like your ID, a little cash, and your phone. Leave valuable items, such as expensive jewelry or electronics, at home. For your personal belongings' safety, a belt bag is highly commendable. Don't forget to check Packing Guide to Misamis Occidental for your guidance on what to bring for your trip to the province.
7. Stay Aware
Stay aware of your surroundings at all times. Be cautious of strangers who may approach you, and trust your instincts if something doesn't feel right.
8. Keep Emergency Contacts Handy
Make sure someone you trust knows where you are and has your contact information as well as travel insurance details. Have your phone charged and ready for emergency calls.
9. Stay Hydrated
Drinking alcohol can dehydrate you, so remember to drink water throughout the night to stay hydrated. It may sound off for a night out but bringing your own water bottle is sanitary and hygienic. Keeps diseases away.
10. Know the Local News
Familiarize yourself with local laws and regulations, especially when it comes to drinking age, drug use, and public behavior. Ignorance of the law is not an excuse.
11. Respect Local Culture
Be respectful of the local culture and customs. What might be acceptable in one place may not be in another. Avoid behavior that could be seen as disrespectful.
12. Use Cash Wisely
If you plan to use cash, keep it in a secure place. Avoid displaying large sums of money, as it can make you a target for theft. Again, using a belt bag is advisable.
13. Trust Licensed Transportation
When using transportation services, ensure they are licensed and legitimate. Avoid accepting rides from unmarked vehicles. So better check out Expedia for legitimate car rentals. For other options, also check the list of local car rentals in Misamis Occidental in this article.
14. Have a Backup Plan
Always have a backup plan for getting home if your initial transportation falls through. Knowing your options can help you avoid potentially dangerous situations.
15. Leave No One Behind
Before leaving a venue, make sure everyone in your group is accounted for. Don't leave anyone behind, especially if they've had too much to drink.
By following these safety tips, you can have a fun and enjoyable nightlife experience in Misamis Occidental while minimizing potential risks. Prioritizing safety ensures that you can make the most of your night out and create lasting memories in a safe and responsible manner. That's always a friendly and safety reminder from Safety Wing.
Planning your Night Out in Misamis Occidental
If you're planning a trip to Misamis Occidental from another country, here are some important steps to consider:
1. Check Visa Requirements
Prior to your journey, make sure to thoroughly review the visa requirements for your destination. Ensure that you have the necessary visas and permits to enter and stay in Misamis Occidental. In addition, update your travel insurance for your peace of mind as you explore the incredible islands of the Philippines. You may check Safety Wing insurance plans here.
2. Arrange Transportation in Advance
It's advisable to arrange your transportation to the province well in advance. Book your flights or other means of travel to ensure a smooth journey to Misamis Occidental. For travel options within the province, visit the article Your Ultimate Guide on How to Get to Misamis Occidental.
3. Plan What to Pack
Traveling light is a must for every travel adventure so plan ahead in choosing the outfits to mix and match in your journey. Also don't forget to bring insect repellent and sunscreen for your skin's protection. These are necessities in traveling to the Philippines. For more tips on what to pack in your journey to Misamis Occidental, click here.
Best Hotels and Accommodations for a Memorable Nightlife Experience in Misamis Occidental
Now let us have some insights on the top hotels and accommodations that promise an unforgettable nightlife experience in Misamis Occidental. Here are some suggestions:
Address: Oroquieta City and Ozamiz City
Known For: transient stays
Address: Port Road, Ozamiz City
Known For: indoor parking
Address: ELI Center 2nd floor, Maningcol Hi-way, Ozamiz City
Known For: restaurant, parking
Address: Capistrano Street, Ozamiz City
Known For: coffee shop
Address: Burgos corner Zamora Sts. Ozamiz City
Known For: coffee shop, restaurant, meeting facilities, grand ballroom
You may look up Expedia, Hotels.com, Vrbo, or Booking.com for hotel prices in Misamis Occidental.
If you want to learn more about accommodation options in the province, visit the article Your Ultimate Guide to Finding the Best Accommodations in Misamis Occidental.
Do you know that Misamis Occidental is a coastal area with pristine beaches? Some beach resorts in the province also offer accommodations. If you want to know about this, hop into List of Beaches in Misamis Occidental.
FAQs about Misamis Occidental
When is the best time to visit Misamis Occidental to party?
Fiestas are the best time to visit Misamis Occidental to party. There will be street dancing, parades, and concerts especially in Ozamiz City during the second week of July and first week of December. In addition, the last Saturday of the year is the annual alumni homecoming of Immaculate Concepcion College or ICC-La Salle or La Salle University. They always throw the best rave party ever!
What is the festival in Tudela, Misamis Occidental?
The Binalbal Festival is the famous merrymaking for the townsfolk of Tudela to ring in the new year where participants are dressed in macabre attire.
What is the product of Misamis Occidental?
Coconut serves as the primary agricultural product of Misamis Occidental. It is being processed to yield oil, desiccated coconut, and other coco-based products. For more information, visit List of Food Products in Misamis Occidental.
If you know other nightlife go-to places in Misamis Occidental that are not on this list, kindly email me at maeolandesca@gmail.com.
If you find this article helpful, pin it!