Geunjeongjeon, The Main Throne Hall
Liezl, my magna cum laude physicist:  "Korean dramas are being shot here, Ma'am."
Me:  "What teleserye?"
Liezl:  "Basta Ma'am, daghan!"
And I didn't notice that The Goblin was actually shot here!  I am not really into Kpop and Kdrama and I only started watching the Koreanovela last November on YouTube so I will be inspired to go to South Korea by December of last year.  Kung maka-last year, parang ang tagal-tagal na when in fact it was only last month so to say.  Exactly a month ago today, December 7, 2017 was our Gyeongbok Palace day, the largest of the five grand palaces in Seoul!
We arrived at the palace at past 1 PM already on our 1st official day in Seoul after being rerouted for lunch at Famille Station in Gangnam.  (Watch out for our foodie post on this!)  As far as I can remember through the photos we've taken, we entered through a gate facing the National Palace Museum of Korea.  The admission is free for the museum (which I think you should grab) but we haven't checked it out 'coz we consumed too much time inside the palace already (for picture-taking).  What would I say?  The palace is very grandiose so better read on for you to find out why it is called the "Palace Greatly Blessed by Heaven" (the English translation of Gyeongbok).
The palace has plenty of gates as the others I've visited like Vietnam's Temple of Literature and Cambodia's Angkor Wat.  And what I can't understand by now is why we missed out entering the main gate wherein the episode 2 of The Goblin was shot!  As I'm doing my research about the place and rewatching that certain episode now, it was where Kim Shin and Ji Eun-Tak returned to Seoul from Canada through teleporting.  Moreover, watching our GoPro vid now makes me even regret seeing that we just actually passed by the main gate when we were already inside the complex!  So I just got a still from the vid and also scavenged Liezl's shot of me with the main gate behind the second gate at my back!  Whew!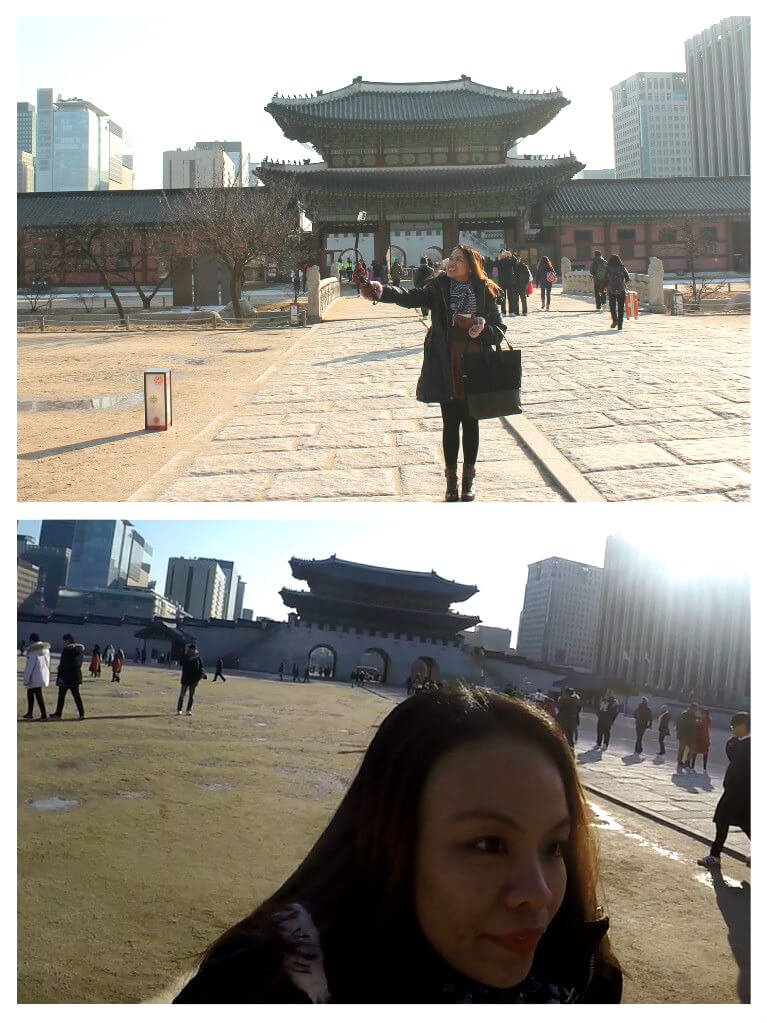 Additionally, just like other palaces, there are the outer and inner courts with different buildings, halls, and pavilions.  Such are the Sujeongjeon Hall with a uniquely-shaped pine tree at its corner and Gyeonghoeru which is the Royal Banquet Hall.  There are still more that we haven't visited and haven't taken photos of 'coz we got distracted by the most beautiful backdrop of the palace which is Mount Bugak.
Bugaksan Mountain is characterized with Seoul's Fortress Wall like a miniature of The Great Wall of China.  It cannot be seen from Gyeongbokgung but nature caught us at its rareness and finest!  This was the spot where we spent around 75% of our time, shooting.  So if you're already fed-up with skyscrapers, temples, and palaces, the garden of Gyeongbok can give you a breath-taking experience!  Just see how marvelous the place is!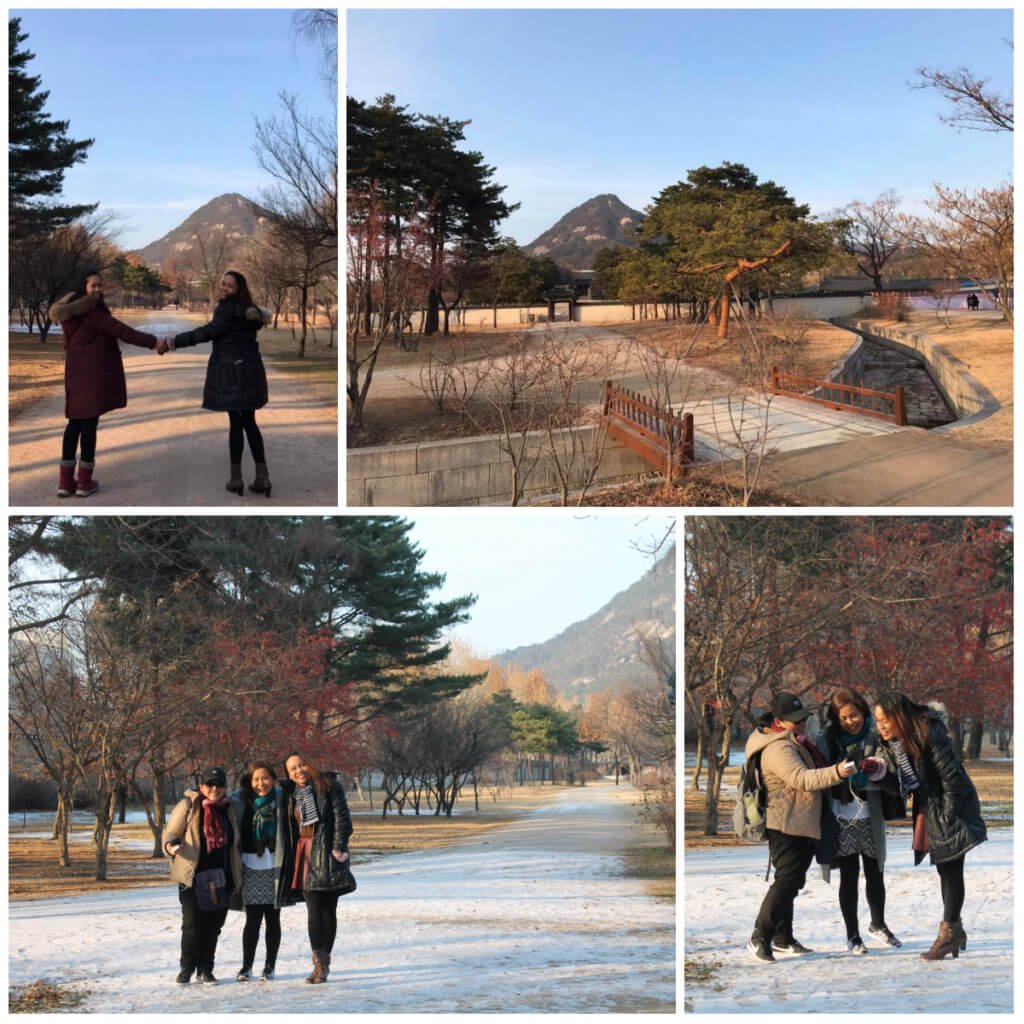 So if you plan to visit Seoul, make Gyeongbokgung number 1 in your itinerary.  It is a total package of tradition, culture, and nature!  Hello to our Pinay friends whom Liezl was talking to in Korean at first!  'Twas great bumping with you, ladies! 🙂  And thanks to Liezl for being our tour guide for the day! 🙂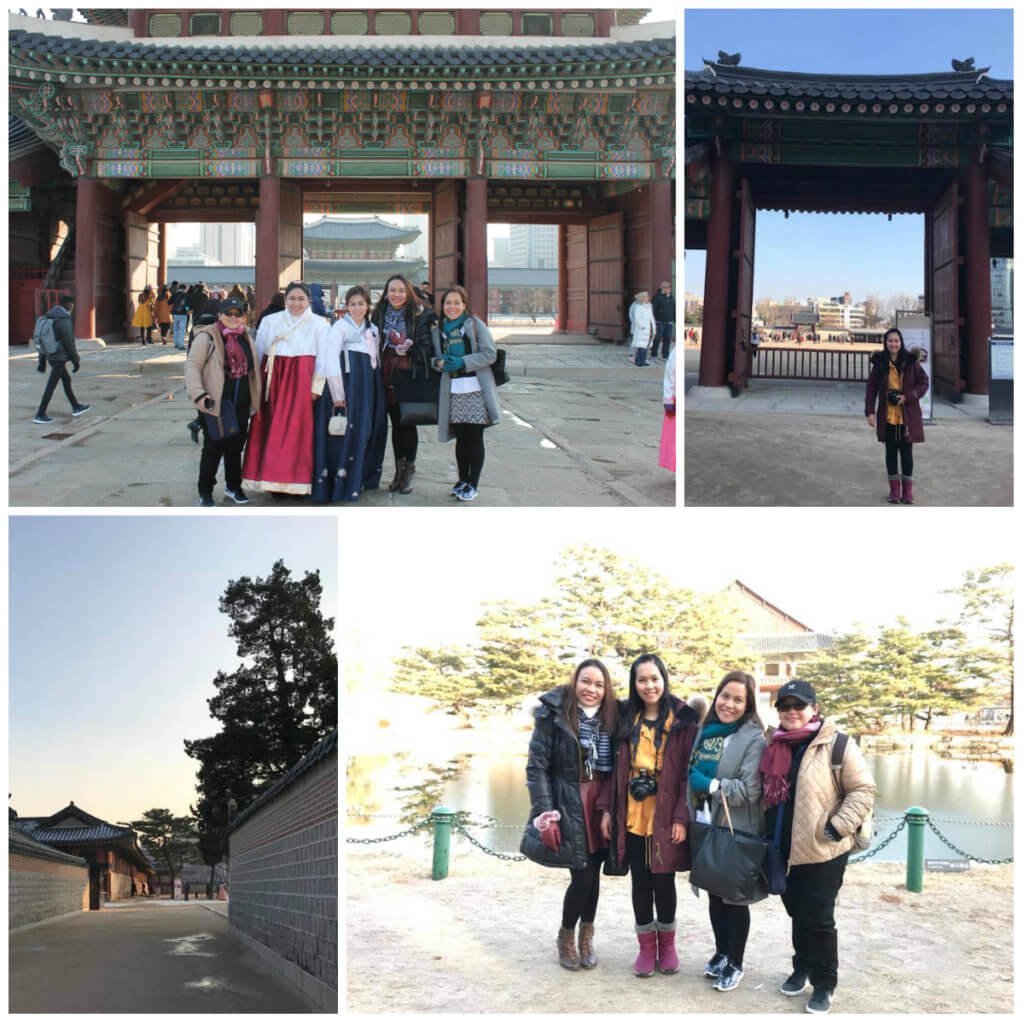 Though I went kalurky a while ago 'coz I've missed out the main gate and the changing of guards ceremony, I also realize that I didn't really miss out at all!  Upon leaving Seoul, we actually passed by the main gate of Gyeongbokgung which I had taken a video of with the bonus of snow!  Please do click on the 1-minute vid and take a look at what I managed to grab.  By the way, it is not only The Goblin (2016) that was shot here but also Temperature of Love (2017), Chicago Typewriter (2017), and Queen In-Hyun's Man (2012).  I will try to watch these Kdramas if I'm not busy with school again.
I so thank God for still surprising me up to this time regarding our South Korea trip! 🙂
How to Get There:
Subway Line 3 to Gyeongbokgung Station (Exit 5)
Time to be There:
March-October (Spring-Summer): 9:00-18:00
November-February (Fall-Winter): 9:00-17:00
Ticket office closes 1 hour before closing time.
Closed on Tuesdays
Cost to be There:
Adult : 3,000 Won (150 PhP only)
Teenager : 1,500 Won (75 PhP only)
FREE!!! if you are wearing Hanbok, Korea's traditional dress
Related Posts:
Angkor Wat: City of Temples
Hanoi's Historical Sites Series: Văn Miếu