As a person wearing many hats, I'm bringing to you anything under the sun! Welcome to Monday Matters with Mae and let's talk about all things that matter! For my first FB live last Monday, June 15, 2020, we tackled about how to Bounce Back with our business post-lockdown. All businesses nowadays specially MSME's are really on the rocks. This pandemic is creating downfall to the world economy, causing anxiety to most people. But community quarantine has been lifted in most areas in order to save such so-called economy. With that, we have to take double time, make extra effort and go the extra mile to recover some of our losses.
In this regard, I thought of doing something as giving back to my community specially to my fellow micro and small entrepreneurs in our province. As a DTI/Negosyo Center local business coach, I would like to share my experiences as a struggling entrepreneur in a roller coaster ride for over 12 years! So I thought of hosting FB live webcast and here's my line-up for my first series for Monday Matters with Mae!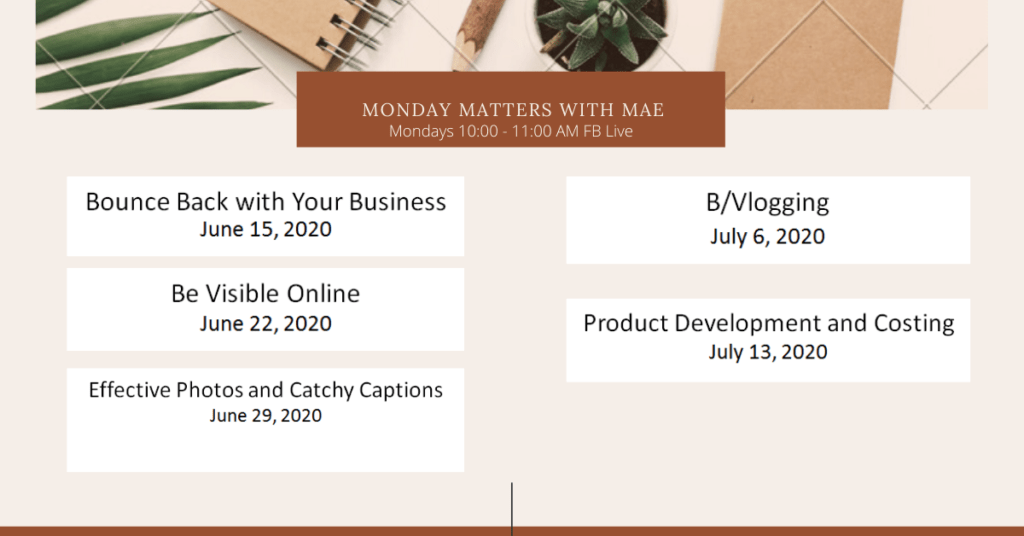 Now allow me to give you a summary of our discussion last Monday!
3 Things to Focus On for Us to Bounce Back with Our Business:
So far, I've had viewers and got feedback about this first live webcast. Thank you so much to my dear friends and followers for the never-ending support to my ka-churvavels! 'Till tomorrow and next Mondays to come, guys! 🙂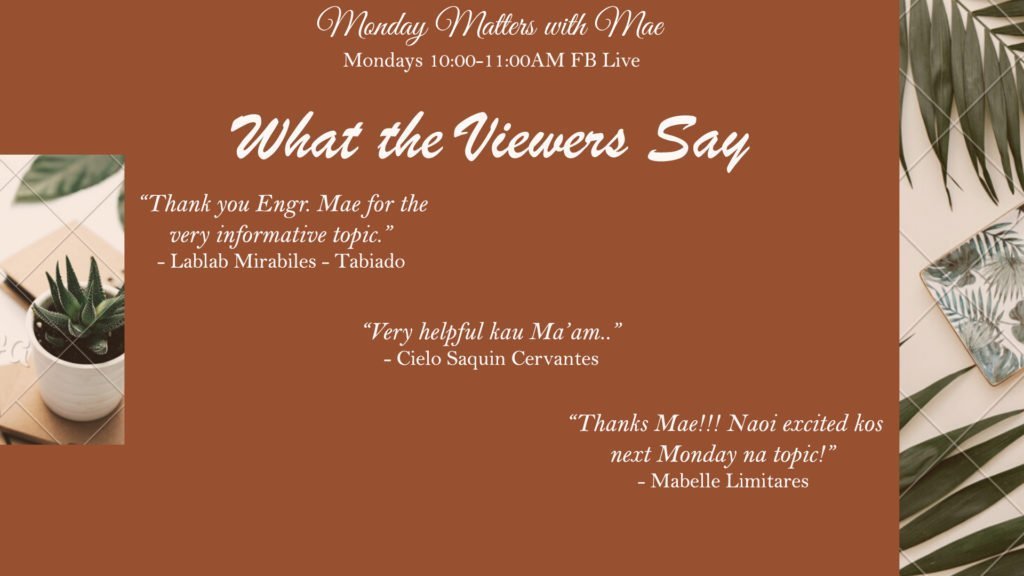 For those who haven't watched Bounce Back with Your Business, you may check it out on my YouTube channel. Just click play below!
Join me again tomorrow as we'll discuss about how to maximize our online presence! How to get access? LIKE Monday Matters with Mae FB page, turn on notifications and tune in every Monday at 10:00 – 11:00 AM! I'm looking forward to be talking with you! 🙂
For questions, invites, and collaborations, direct message me on Facebook.  For updates on my whereabouts and whatabouts, follow me on Twitter and Instagram! Also subscribe to my YouTube channel! 🙂
Related Post:
Media Launch of Free Business Coaching and Mentoring