The moment I read of the Kijiji job post for a personal assistant to a 90-year old ex-film director, Bob Schulz, I closed my eyes, laid my hands on the computer, and fervently prayed for me to get the job.  Not only did I badly need a job at that time but also desired to address an old man's need of someone to assist him with technology.  It reminded me so much of my grandfather (Gpa).  During the sunset of his life, I became his secretary/caregiver so I know very well that feeling of old people having to keep up with the modern world.  
The first time I met Robert "Bob" Schulz was he was on his bed as I was brought by his caregiver into his bedroom.  I told him I was there for an interview in which he abruptly asked, "Can we start now?"  Then he fought his way to get on his wheelchair to talk to me in the living room.  Right then and there, I knew he was a professional.  I knew he was brilliant.  He told me what he needed so we started working on tidying up his paper works and documents.  Organizing his stuffs gave me an inkling of who he was before, not realizing how big the name Bob Schulz was.
Everyday that I came to his apartment gave a smile on his face.  He became cheery as he told his previous assistant, Ben who posted the Kijiji ad, "I am very impressed by her!  THANK YOU!!! She is bright and cheerful :)"  Truly, if you emit positivity, then positivity also comes to you.  I was more than happy to not only serve Bob as a personal assistant but to also serve as a sunshine to him!
Sad to say, due to old age, Bob was deteriorating day after day.  My 4-hour-a-day schedule with him was reduced to 3 to 2 to 1 to less than an hour until he was telling me not to come the next day and the next because he felt tired.  But if he had important matters to attend to, he would call for me and even though we couldn't work for 4 hours, he still paid me in full.  He was so concerned on how he could help me as a newcomer here in Canada and I was always telling him that getting the job was already a big help for me. 
A week before Bob passed away, we only watched old black and white movies in Hungarian until he fell asleep and just let me sit at his bedside.  The moment he awoken, he would tell me to go home early because I still had to take the street car (subway train and bus).  Every time he was telling me that, I would tell him my time is not yet up but he always told me that he would still pay me in full.  He had such a generous heart which I further witnessed when his sister, Julie and personal assistant for 28 years turned friend turned daughter, Kim gave him the party he wanted for his 90th birthday.
On a chilly night of November, we celebrated Bob Schulz' life at The Revival Event Venue along College St.  It was such a great honor to me to be still working for my Bobbykins even after a month and 10 days of his passing away.  I was assigned in reaching out all his contacts, using his email, Instagram, and Facebook accounts.  I had the privilege to talk to prominent people, showbiz and non-showbiz.  From them, I learned how legendary Bob was. 
Bob Schulz was Canada's top commercial director/producer of his time!  He was celebrated as one of the most influential, powerful, glamorous, opinionated, innovative, and creative people in Toronto by Toronto Life Magazine (IMDb.com).  He also received international recognition for his feature films which include Mel Gibson's The Man Without a Face and produced TV dramas, music videos, and public service films in over 30 countries.  All his life's accomplishments were written on his autobiography entitled Csapó! Tessék which is in Hungarian.  
With Bob being legendary, his family, friends and colleagues from the Schulz Productions gave him honor by gracing the big event.  With more than a hundred guests, the night of Bob's remembrance was a blast!  Classical music from yesteryears were played live, great food by Me and Julio Inc. were served, and the highlight of the night was Bob's memorial video, an encapsulation of his good heart from all the people loving him around the world by George Saturnino of Saturnino Productions!   For more about Bob's last red carpet, visit CBC News' feature here.  Thank you, Talia Ricci for giving notice to my email of paying tribute to the great Bob Schulz! 🙂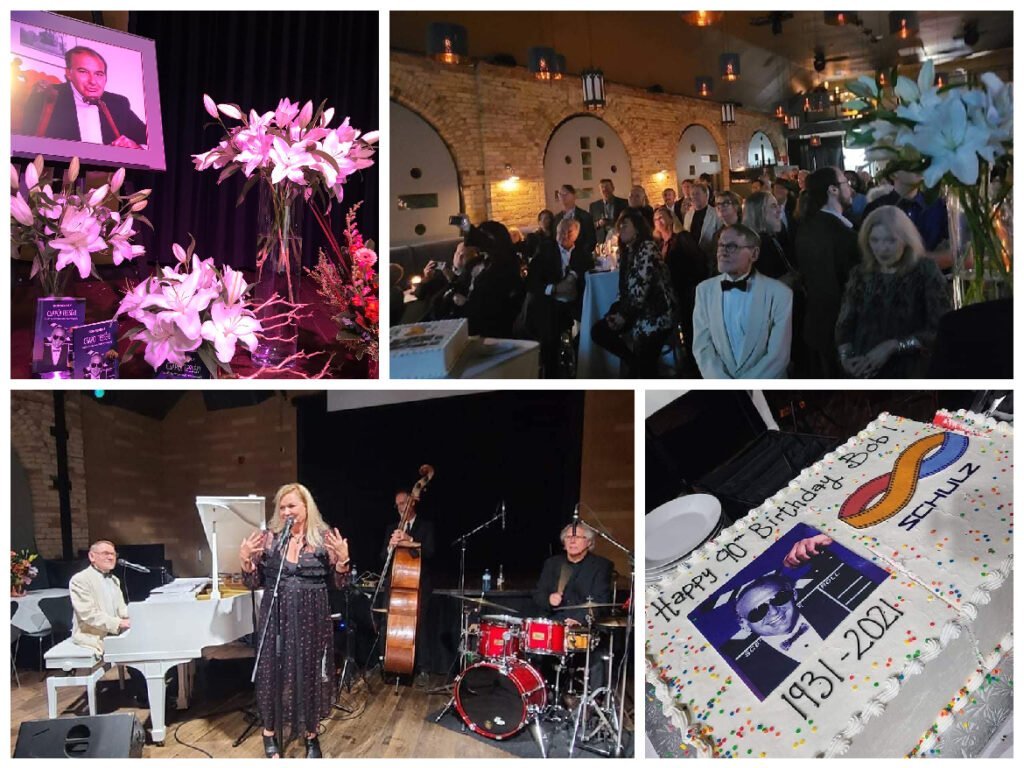 Bob was my first heartbreak here in Canada. It was like losing my Gpa the second time around. It was actually my Gpa leading me to Bob. Both 90 years old smart gentlemen when I served them with exactly the same tasks! Farewell, my Bobbykins! Thank you for your kindness to me. With you I became a darling and a sweetheart. It was indeed a great honor to have been in service to you!  
For questions, invites, and collaborations, direct message me on Facebook.  For updates on my whereabouts and whatabouts, follow me on Twitter and Instagram!  Also subscribe to my YouTube channel! 🙂  
Related Posts:

Araw ng Kagitingan: Col. Leonardo Olaira Olandesca
Our Grandfather's Legacy