'Twas past 12 NN when we arrived at Incheon International Airport when the sun was up.  Right after deplaning, I could already feel the biting cold making its way through the gaps between the aircraft and the passenger boarding bridge from the outside.  It was like cold air from an air-conditioned room getting out from a door left ajar.  Then we got so thrilled with what were waiting ahead of us!  After passing immigration, collecting our luggage, and clearing customs, we had a bit of picture-taking inside the impressive airport.  But take a look at how unprepared my outfit was.  It was only a hoodie, shirt inside of course and paired with denim pants.  Then first things first.  We had our very first meal at the airport, not so traditional Korean but still good.  For 4-degree Celsius Incheon, noddle soup was great!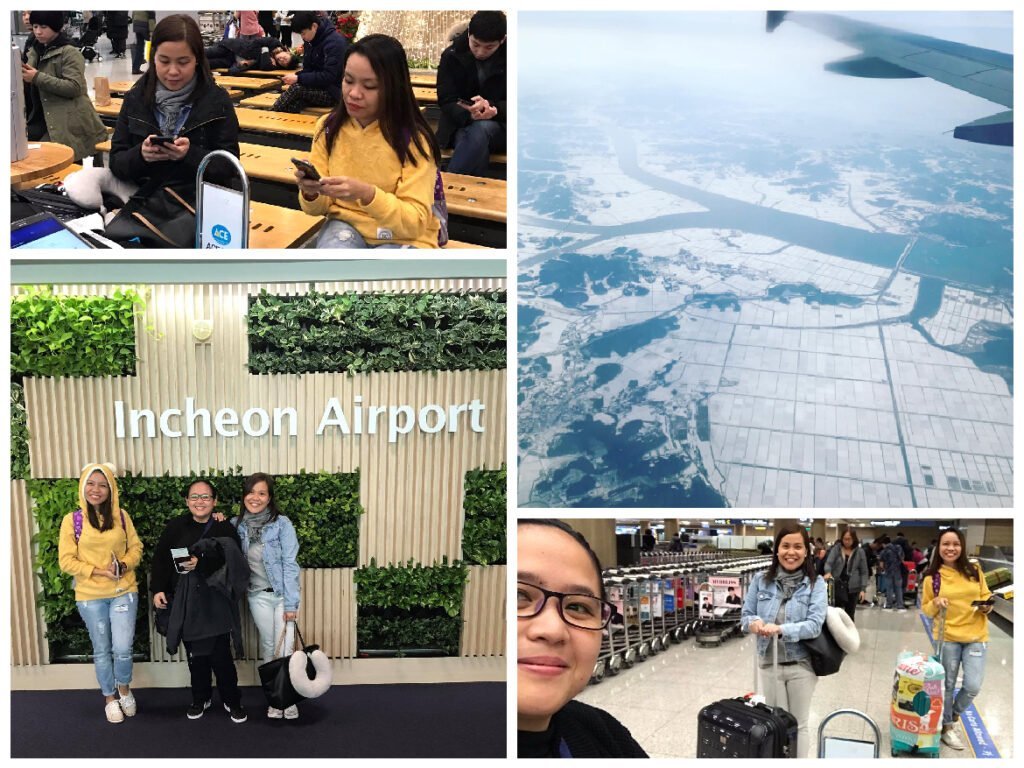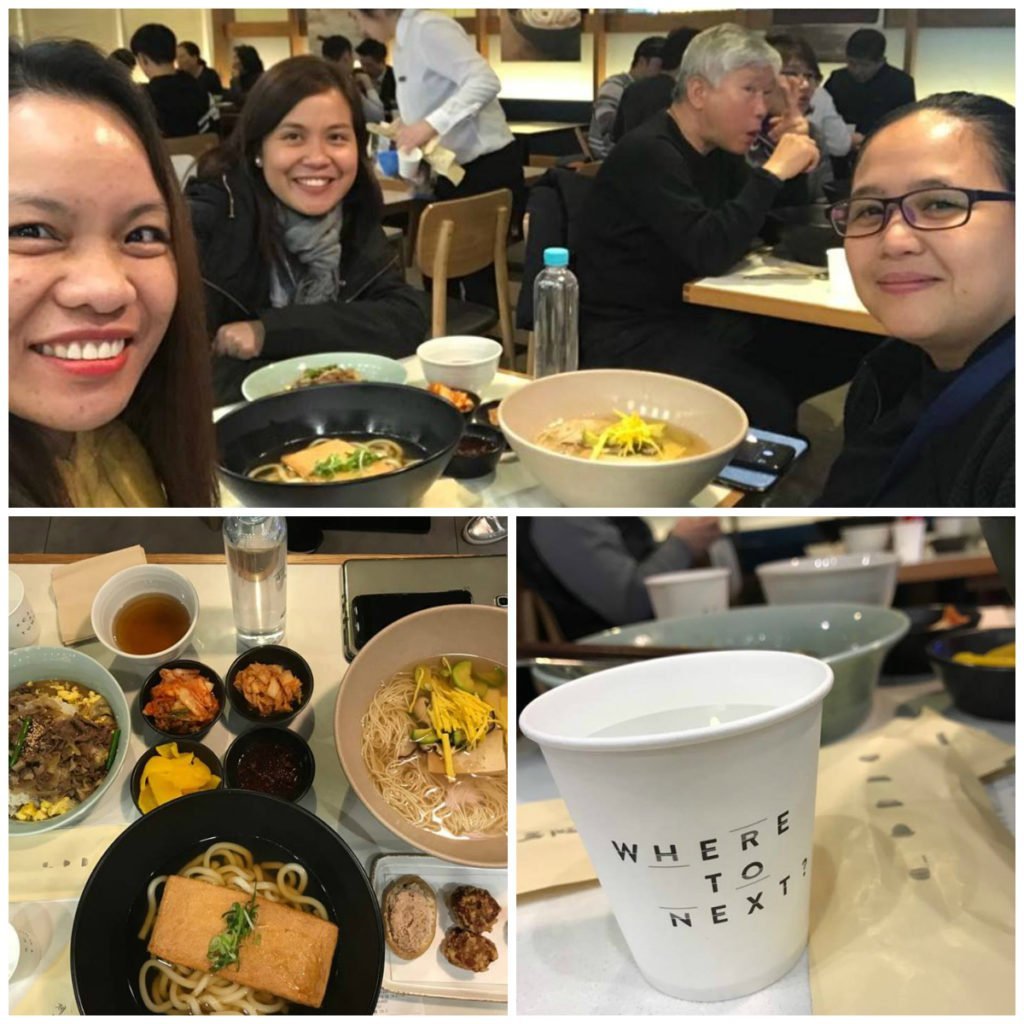 Right after lunch, we looked for our way out the airport but for a colossal one, we spent a really big chunk of time roaming around.  When we found the airport express, we thought that it's gonna pave our way to Hyehwa but in contrast and what was expected, we had to change trains.  We estimated to get to Seoul by 3 PM and we lost track of time due to excitement.  Apart from that, we also had to be alert for signage with matching asking directions from Koreans.  The receptionist at Bong House actually called us up to confirm our reservations 'coz it was past 3 PM already and we hadn't arrived yet.
From train to train and subway to subway, we finally got into our last stop when I noticed people rushing in with wet brellies and jackets.  Oh, it was raining and I started to worry 'coz we still had to find our hostel.  While hauling our luggage out from our last train, we still had to walk and climb up the stairs from the subway.  I didn't had much energy anymore but to my great surprise, I noticed a woman with powdery white substance on her shoulders then a man, then another woman.  And I exclaimed, "Snow!  Grakkie and Crisma, it's snooooooowing!!!"  Then my adrenaline rushed and I quickly carried my 20-kg trolley all the way up to the street!  To my astonishment, I instantly dropped my suitcase and danced in the snow!  Being followed by Grakkie and Crisma, we didn't care.  We took photos and videos and just savored the moment of our very first snow!  It was soooo glorious despite the unpreparedness of our outfits.  See my shoes below?  My feet almost died and I was still lucky I still managed to walk with all the redirections and detours 'coz the directions to Bong House in the internet was so confusing so we ended up to our place at past 7 PM!
After checking in and leaving our shoes and bags to dry, we went out for street food and dinner.  Our place was situated at a university belt so there were plenty of food shops around.  Gladly, the snow subsided so we had the opportunity to roam around with our boots on already.  We had street food as warm up and suddenly found ourselves inside a tent bar enjoying their sumptuous charcoal-grilled samgyeopsal with the easing warmth of Soju.  Oh, how I love that night!  It was my first authentic Korean food trip and with the kick of alcohol in the cold, the night was soooo exhilarating!  For more of this story, read on here.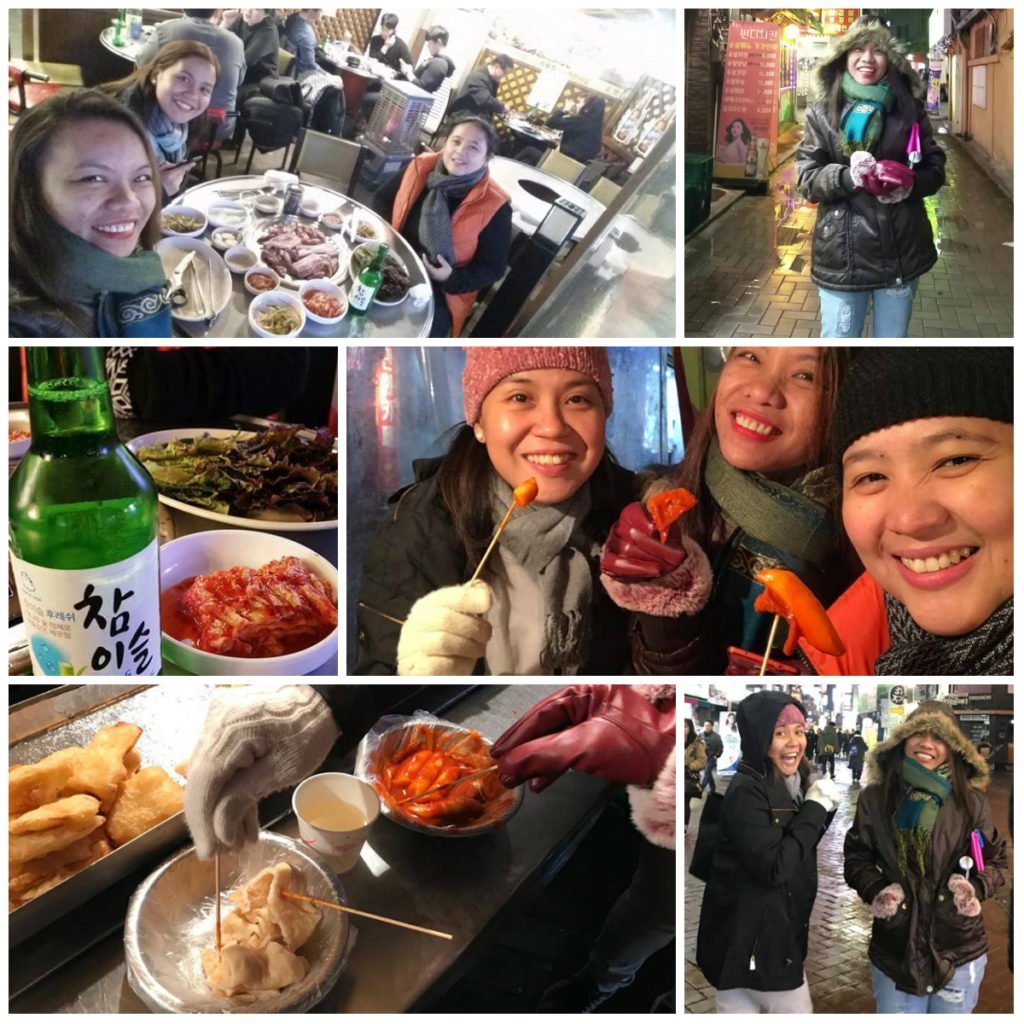 The following day, we woke up early for our first city tour.  We were accompanied by my former student, Liezel who was living in South Korea for already a year at that time.  With Liezel as our tour guide and Google map on, we still got redirected on our way to Gyeongbokgung.  But that was a lucky one 'coz we got into Famille Street, a food paradise which should be on our itinerary.  And since we were already there, we ate our lunch at Vanga with bibimbap, spicy Korean noodles, and more!  I think I should write a blog about this.  Can I still recall some food details three years after?  I should!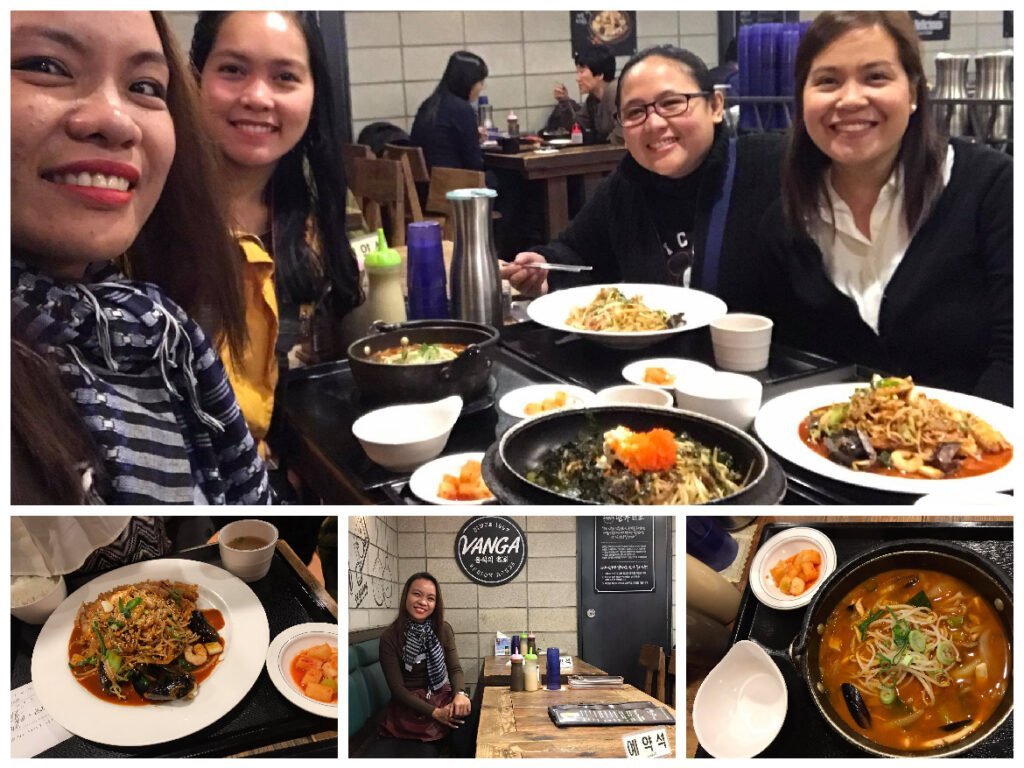 After Gyeongbokgung, we decided to drop by at a Buddhist Temple in another cultural must-experience destination in Seoul, Insa-dong.  We didn't stay much in the temple and again found ourselves another good resto for dinner.  This time we had a feast because their side dishes were in unlimited buffet!  Since we were so full, we strolled around the shops in Insa-dong for souvenirs.  After Liezel dropped us home at our hostel, we grabbed hot tea to cap our day and keep us warm from our cold, cold second night in SoKor.
Our third day was Nami Island where we had lunch at Nammoon which I haven't written just yet as what I've mentioned in my post 3 years ago on Naminara Republic.  Just click on that link for our Nami story and here are our lunch photos which were not included in that blog post.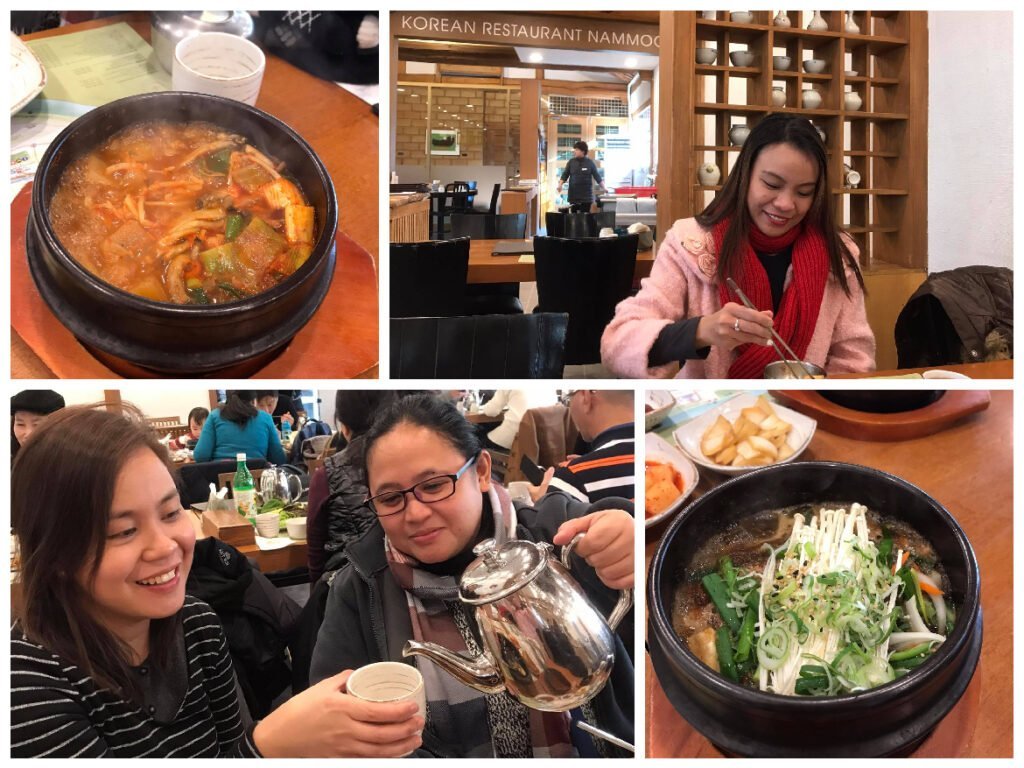 On our way home, we dropped by at Myeongdong, the heart of Seoul's fashion for more souvenirs and a little street fooding.  Then Grakkie treated us with another samgyup feast to cure Crisma's migraine for the whole day of enduring the freezing weather at Nami Island!  After a very long day of Seoul-hopping, I nursed a bottle of Soju at home to put me to bad that night!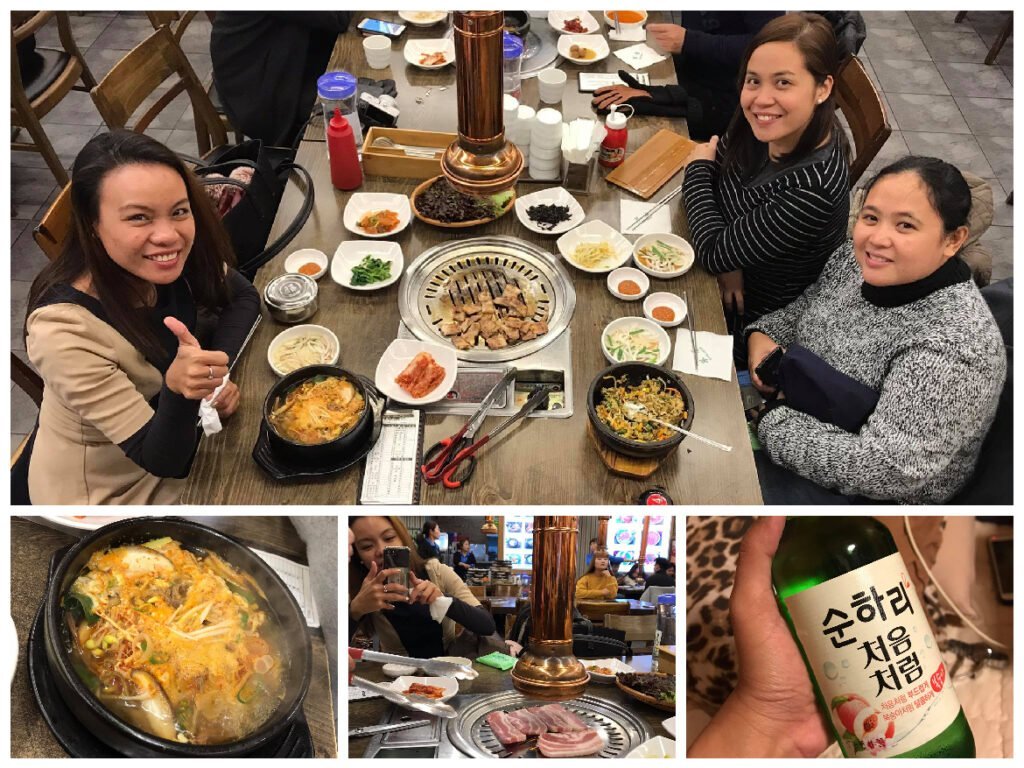 Day 4 was for the much-coveted Hanbok experience!  Check my story here on the symbolism of Korea's national costume and here are our photos on our quest for a Hanok village which led us to Bukchon where we also had another sumptuous lunch.  A stroll to downtown Seoul followed with an afternoon cup of Starbucks before climbing up the steps of Namsan Mountain.
Oh, what a feat that was for me to have climbed up the peak to N Seoul Tower!  I am not that physically fit but I made it to the top and take note, in heels!  It was a great achievement for me because I already surrendered halfway and told Grakkie and Crisma that I'll just wait for them there.  But Grakkie went back and told me that I should get going because the vehicles are on the top of the mountain and that's where we will be riding back home.  Actually, the cab we hailed from Bukchon to Namsan did not bring us on top of Nam Mountain but only at her foot.  So I pushed myself to move forward singing Walking in the Winter Wonderland and the reward was a 360º panoramic view of the entire city of Seoul, a night full of stars above and sparkling lights from the bustling city below!  Moreover, a western dinner at N Burger comforted me from the literal nosebleed I had at the lovelocks.  Hehehe…..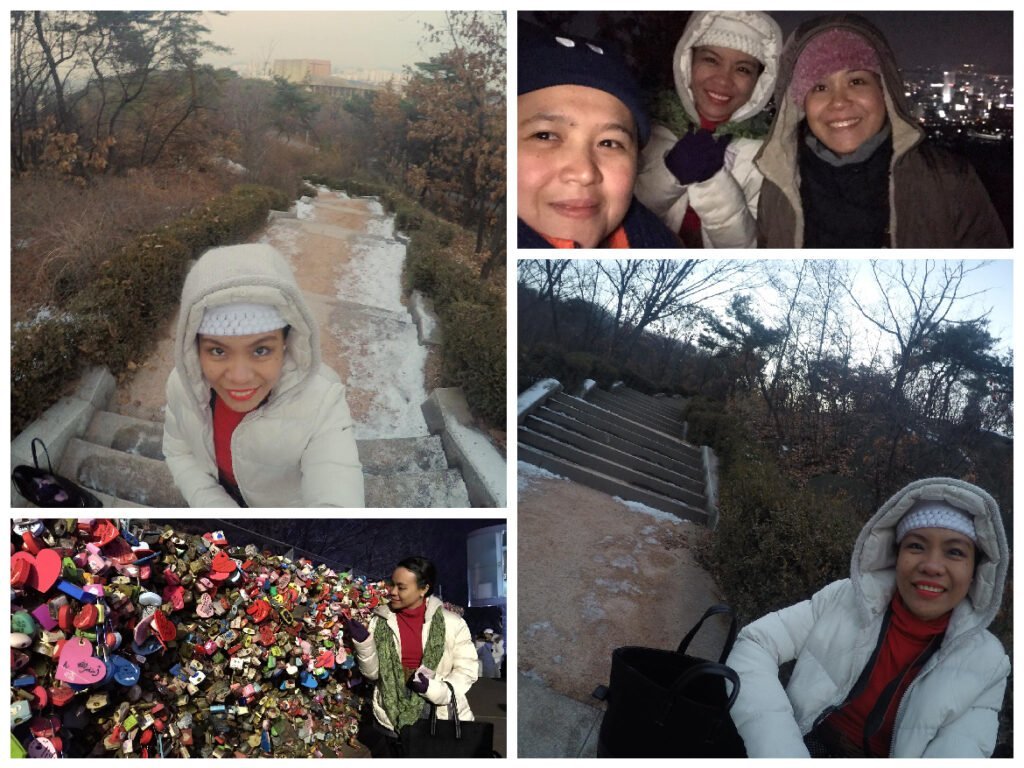 Afterwards, we arrived home already late without dropping by at Dongdaemun Night Market anymore because we got really tired.  But Grakkie and I still seized the night with candy shopping for pasalubong at our suki convenience store and late night streetfooding nearby our place.  We brought some for Crisma and ended our night with last minute talking and packing for our flight the next day.
We had a very nice sleep for only 3 hours or so when Mr. Bong knocked on our door informing us to leave early the following day.  It was snowing hard and he was worried of a possible snow storm so he advised us to start moving for Incheon.  The moment I stepped out of the house, I was greatly astonished by the thick snow covering the roofs, steps, and streets.  I went giddy like a child again that I went goofy with Mr. Bong taking photos!  T'was a very momentous experience I had that I could really testify that traveling is an investment to nourish one's soul! 🙂
After an hour and a half, we arrived at Incheon Airport where we had brunch.  Since we were still early for our flight, we had enough time sorting out our luggage especially me when I had heavier load for my handcarry instead of my check-in trolley.  I regret big time for leaving the book/booklets, brochures, and pamphlets I had collected all over SoKor for souvenirs.  However, I'm gonna be getting back to you, SoKor anytime soonest!
There you have it, my three-year-in-the-making SoKor blog post!  Yes, I finally pulled this off after three years as I'm really itching for another travel abroad.  Really praying hard that this pandemic will finally come to an end this year!  So I don't have to ask anymore, "When are we flying again?!"  Thank you very much once again to my travel buddies, Grakkie and Crisma for this very precious trip!  Indeed, what a "Seoulmates" we have been together! 🙂
For questions, invites, and collaborations, direct message me on Facebook.  For updates on my whereabouts and whatabouts, follow me on Twitter and Instagram!
Related Posts:
Naminara Republic
How to Prepare Samgyeopsal
Hanbok That Day
Gyeongbokgung: The Goblin Filming Location