As mentioned yesterday, I'm gonna take you to Ilocos in detail so here's one hell of a ride to our death-defying sand adventure! One of the highlights of Ilocandia tour is off-roading at Masintoc Sand Dunes. Off-roading is the activity of driving or riding a vehicle on unsurfaced roads or tracks, made of materials such as sand, gravel, riverbeds, mud, snow, rocks, and other natural terrain (wikipedia.com). And the north of the Philippines is blessed with a parcel of terrain such as in the photo below for 4×4 off-road stunts!
What to Do for Safe Off-Roading:
Make sure that the off-roading operator is licensed. You may check it from the tourism office prior to your trip.
Read carefully and understand the waiver that the operator have you signed.
This sport is not for pregnant women and those who have hypertension.
Wear ball cap and make sure to fasten it well on your head as it will surely fly away. (how?)
Wear sunglasses for your eyes' protection.
Wear mask for your lungs' protection.
Wear long sleeves shirt for your skin's protection.
Better wear a hoodie just like Sir Glenn in the photo below.
Put on sunblock.
Hold tightly at the bar 'coz there's a big chance for you to topple down. Find your balance so you will not be thrown out from the truck.
Ladies, be careful with your breasts as these might bump the bar. It hurt big time!
It's great to record the experience but you might loosen the grip of your camera so better keep it safe inside your pocket.
Don't close your eyes and just scream all your heart out!
Aside from off-roading, sandboarding is also offered at Masintoc Sand Dunes. With my semplang below, I could say that it's generally safe 'coz I didn't get hurt even with a tiny scratch. The sand there isn't "harmful" according to the operator so anyone can try it with or without experience. But I like wakeboarding better 'coz there's water to catch you every time you fall.
What to Do for Safe Sandboarding:
Wear helmet, elbow and knee pads if you don't trust what I said that the sand is not "harmful".
Follow the instruction to never move during your ride.
Never let your legs out of the board.
Don't close your eyes, focus, smile to the camera, and just enjoy the ride!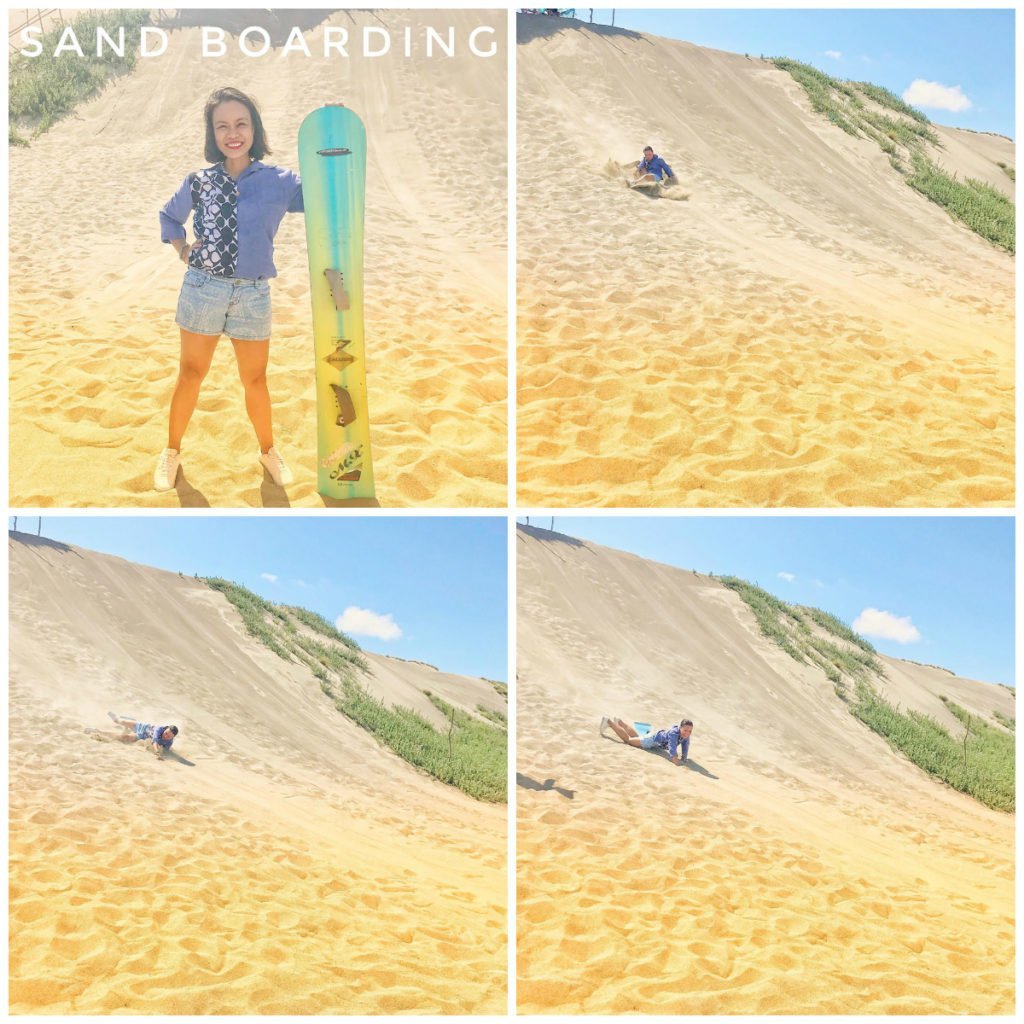 Off-roading and sandboarding are 2 sports that could be dangerous. But if you are a thrill-seeker, then Masintoc Sand Dunes is the place for you! As Ma'am Beth exclaimed, "Grabe! Naiwan 'yung espiritu ko doon!" , it really could take your spirit away from your physical body!
For queries on Ilocandia tour, beep Holiday Escapade Travel & Tours at 09399339346 or 09395244853.
Stay tuned again tomorrow here on The Other Side of Mae for the really good food we had at Vigan! 🙂
For questions, invites, and collaborations, direct message me on Facebook. For updates on my whereabouts and whatabouts, follow me on Twitter and Instagram!
Related Post:

3D/2N Ilocandia Tour with Cost for your Travel Budget Plan
It's More Fun to Wakeboard!