This article may contain affiliate / compensated links. For full information, please see our disclaimer here.
Heading to Misamis Occidental for a beach getaway? Get ready for an unforgettable adventure in this beautiful Philippine province. With its stunning coastline, crystal-clear waters, and amazing beaches, Misamis Occidental is a haven for beach lovers and adventure enthusiasts alike. Whether you're planning a family vacation or a solo trip, packing the right essentials is crucial for a comfortable and enjoyable experience. In this ultimate guide, we'll walk you through the essentials you need to pack for a memorable Misamis Occidental getaway.
From swimwear and beach towels to sunscreen and water shoes, we've got you covered. We'll also provide expert tips on what to wear, how to protect your skin from the sun, and the best accessories to bring along. Traveling to Misamis Occidental is an opportunity to immerse yourself in the rich local culture, savor delicious cuisine, and explore breathtaking natural wonders. Don't let improper packing ruin your experience. Follow our guide, and you'll have everything you need to make the most of your beach vacation in Misamis Occidental. So grab your beach bag and get ready for a truly unforgettable getaway!
Must-Visit Beaches in Misamis Occidental
Discover the pristine beauty and captivating coastal charm of the province as we unveil the must-visit beaches in Misamis Occidental that promise sun-soaked adventures and unforgettable moments.
Location: Bawbawon Island, Plaridel
Best Features: White Sand, Instagrammable Cabanas, Certified Massage Therapists
How to Get There: 15-20 minute (depends on the tide) pump boat ride from the port of Plaridel
Points of Origin
Modes of Transportation
If from Cebu, Siquijor, or Dumaguete
Take a ferry to the port of Plaridel.
If from other parts of Misamis Occidental and Zamboanga peninsula
Rural Transit busses operate in the area. Take a bus to Plaridel and hail motorcabs to take you to Plaridel port.
If from other parts of Mindanao
1. Take a bus to the port of Mukas then take a ferry to the port of Ozamiz City. From there, take a bus or van to Plaridel port.
2. Rent-a-car is a good option to take a tour through Lanao del Sur to Zamboanga peninsula to reach Misamis Occidental. Once you reach the province, proceed to Plaridel port.
If from Manila
Take a plane to Labo Airport in Ozamiz City or Dipolog Airport in Dipolog City then take a bus to Plaridel and ride a motorcab to its port.
If from outside the Philippines
Major international airports to the country are Ninoy Aquino International Airport in Manila City, Mactan-Cebu International Airport in Cebu, and Laguindingan International Airport near Cagayan de Oro City. To compare flight ticket prices to any of these airports, head on to this website.
Modes of Transportation to Bawbawon Beach Resort from Any Point of Origin
Once you reach the port of Plaridel, proceed to Crêperie de Plaridel / Le Bistro / Hotel Bijoux (it's only one building) by motorcab/tricycle/foot to arrange your pump boat ride. For more queries, reservations, and bookings, you may reach them through their website here.
To learn more about transportation options in Misamis Occidental, click here.
Location: Brgy. Tugas, Baliangao
Best Features: Long, beautiful stretch of white sandy beach
How to Get There: Refer to the table above on how to get to Misamis Occidental or simply click here for the ultimate transportation guide to the province. Once in the province, take a bus to Calamba then hail a motorcab to take you to the resort. You may also click here for a more detailed write-up about the resort by Arie of Thelittlelai.
Location: Caluya, Sapang Dalaga
Best Features: Inflatable water playground and other beach inflatables
How to Get There: Get to Misamis Occidental by referring to the table above. Once there, take a bus to Sapang Dalaga and hail a habal-habal to also take you to Christ the Redeemer/Caluya Shrine and Caluya Floating Cottages. But make sure to take safety precautions for this ride. Update your travel insurance. Or better yet, rent a car so you'll have a comfortable journey at your own pace to enjoy the beautiful province of Misamis Occidental. For more tourist attractions in the province, visit this site.
Sperm Island
Location: Brgy. Tabo-o, Jimenez
Best Features: White sandbar
How to Get There: Using the information in the table above, get to Misamis Occidental either by air, land, or sea. Once in the province, take a bus or balik-balik to Jimenez. From there, take a motorcab or habal-habal to take you to the shoreline for the pump boat ride to Sperm Island.
Location: Brgy. Dela Paz, Panaon
Best Features: Water activities like banana boat, jetski, and inflatables
How to Get There: With the details provided in the table above, plan your journey to Misamis Occidental by air, land, or sea. Once within the province's boundaries, catch a bus or balik-balik to make your way to Panaon. From Panaon, arrange for a motorcab or habal-habal ride to take you to the resort.
If you want to learn more about the beaches in the province, visit List of Beaches in Misamis Occidental.
Misamis Occidental Packing List
Preparing for your upcoming adventure in Misamis Occidental? Let's kickstart your trip planning with a comprehensive packing list!
1. Sun Protection Essentials
The tropical sun in Misamis Occidental can be intense, so prioritize sun protection:
a. Sunscreen: Choose a broad-spectrum sunscreen with a high SPF (30 or above) to shield your skin from harmful UV rays. Reapply every few hours, especially after swimming.
b. Sunglasses: A good pair of sunglasses with UV protection will not only protect your eyes but also add style to your beach look.
c. Wide-brimmed Hat: A hat provides extra shade for your face and neck, reducing the risk of sunburn.
2. Beachwear
Pack comfortable and stylish beachwear to soak up the sun in style:
a. Swimsuits: Bring at least two swimsuits, so you can have a dry one while the other is wet. Mix and match for versatility.
b. Cover-Ups: Lightweight cover-ups like sarongs or beach dresses are great for going from the beach to a beachside café without changing.
c. Flip-Flops and Water Shoes: Flip-flops are perfect for strolling on the sand, and water shoes will protect your feet while exploring rocky areas or swimming in the ocean.
3. Beach Accessories
Make your beach days more enjoyable with these must-have accessories:
a. Beach Towel or Blanket: A beach towel provides a comfortable spot to lounge, while a blanket is perfect for picnics or sunset-watching.
b. Beach Bag: Choose a spacious, sand-resistant bag to carry your essentials like sunscreen, snacks, and reading materials.
c. Snorkeling Gear: If you plan to explore the underwater beauty of Misamis Occidental, don't forget your snorkel, mask, and fins.
d. Beach Games: Bring along beach-friendly games like paddle board, frisbee, or a beach volleyball for some active fun.
4. Hydration and Refreshments
Staying hydrated is essential in the sun and heat. Pack the following items:
a. Reusable Water Bottle: Fill it up before heading to the beach, and consider bringing electrolyte packets to stay hydrated.
b. Cooler with Snacks: Pack some refreshing fruits, sandwiches, and snacks to keep your energy levels up throughout the day. For local food products, visit List of Food Products in Misamis Occidental.
c. Insulated Tumbler: Keep your beverages cold with an insulated tumbler for your favorite cold drinks or cocktails.
5. Safety and Heath
Prioritize your well-being while enjoying the beach:
a. First Aid Kit: Include basics like adhesive bandages, antiseptic wipes, pain relievers, and any necessary personal medications. This doctor-approved mini first aid travel kit comes in very handy because it does not occupy much space in your bag.
b. Insect Repellent: Protect yourself from pesky bugs, especially during sunset hours. Get an organic local product like Fascino Citronella Mosquito Repellent Body Spray.
6. Entertainment and Electronics
Stay connected and entertained during your beach stay:
a. Smartphone and Charger: Keep your phone protected in a waterproof case and bring a portable charger.
b. E-Reader or Book: Enjoy some downtime by reading your favorite book or e-reader. Scroll down below for some book recommendations on your soulful journey to Misamis Occidental.
c. Bluetooth Speaker: Bring a portable speaker for some beach tunes, but be mindful of the volume to avoid disturbing others.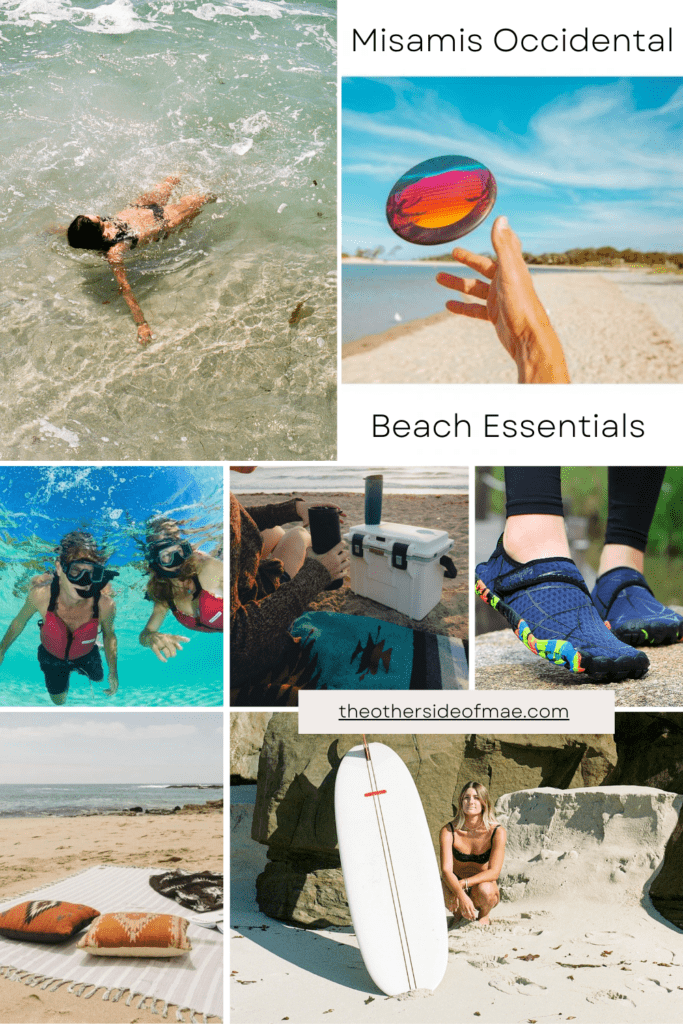 Tips for Packing Efficiently
Packing efficiently can save you time, space, and stress when preparing for a trip. Whether you're packing for a vacation, business trip, or any other journey, these tips can help you pack efficiently.
Make a Packing List
Start by creating a packing list. Write down everything you need for your trip, including clothing, toiletries, electronics, and any specific items related to your destination or activities. Refer above for your ultimate packing list to the beaches in Misamis Occidental.
Pack Light
Avoid overpacking by sticking to the essentials. Choose versatile clothing items that can be mixed and matched to create different outfits. Aim to pack only what you'll actually use.
Check the Weather
Check the weather forecast for your destination and pack accordingly. This will help you avoid packing items you won't need and ensure you're prepared for the weather conditions.
Roll or Fold Clothes Efficiently
Rolling your clothes can save space and reduce wrinkles. Alternatively, fold clothes neatly and use packing cubes or compression bags to keep them organized and compact.
Organize with Packing Cubes and Compression Bags
Packing cubes are a fantastic way to keep your clothes organized and maximize space in your luggage. They help separate different types of clothing and accessories. These multi-functional packing cubes from OrgaWise are durable, waterproof, and tear-resistant. You may check its price here. They also have high-quality compression bags so better get their bundle in this site.
Pack Dual-Purpose Items
Look for items that serve multiple purposes. For example, a scarf can be a fashion accessory, a blanket, or a makeshift pillow. Multi-use items save space and weight. Check multi-functional scarves from Fraas Scarf Company in this site.
Limit Shoes
Shoes can take up a lot of space. Try to limit yourself to a few pairs that are versatile and appropriate for the activities you have planned. Don't forget your water shoes for your beach adventure in Misamis Occidental.
Use Travel-Sized Toiletries
Purchase travel-sized toiletries or invest in reusable travel containers to minimize the amount of space your toiletries take up. These ones from Opret are a must-have. They're TSA-approved, leak-proof, refillable, BPA-free travel accessories for shampoos, conditioner, lotion, etc.
Pack Heavy Items at the Bottom
Place heavy items, such as shoes or electronics, at the bottom of your suitcase or backpack to create a stable base. This helps distribute weight evenly.
Utilize Empty Spaces
Fill the gaps in your luggage with smaller items like socks, underwear, or accessories. Utilize the inside of shoes or the corners of your suitcase.
Use Ziplock Bags
Ziplock bags are handy for organizing small items, preventing leaks, and keeping things separated. They're especially useful for toiletries and snacks.
Wear Bulky Items
Instead of packing bulky items like jackets or boots, wear them while traveling to save space in your luggage.
Pack Essentials in a Carry-On
If you're flying, pack your essentials, including a change of clothes and important documents, in your carry-on bag in case your checked luggage is delayed or lost.
Keep Important Items Easily Accessible
Store essential items like your passport, wallet, phone, and travel itinerary in an easily accessible pocket or pouch for quick access during your journey. These RFID Blocking Belt Bags below effectively safeguard your personal information from unauthorized scanning (credit cards, passports, IDs, cash, etc.). And why use a belt bag? From my years of experience traveling around Asia, I put down my backpack and shoulder bag when using the washrooms which makes me anxious about leaving my valuable things behind. But for a belt bag, it is attached to your body, small and light which enables you to still bend, sit, or squat in doing your personal necessity. Check out these travel belt bags to organize your important belongings that will not also be snatched away from you during your trip.
Consider Laundry Options
If you're traveling for an extended period, plan for laundry facilities at your destination or bring a small supply of travel-sized detergent to wash clothes as needed.
Reevaluate and Refine
After your trip, review what you used and what you didn't. This will help you refine your packing strategy for future trips.
Remember that packing efficiently takes practice, so don't get discouraged if it takes a few tries to get it just right. Tailor your packing approach to your specific needs and travel style, and you'll become a packing pro in no time.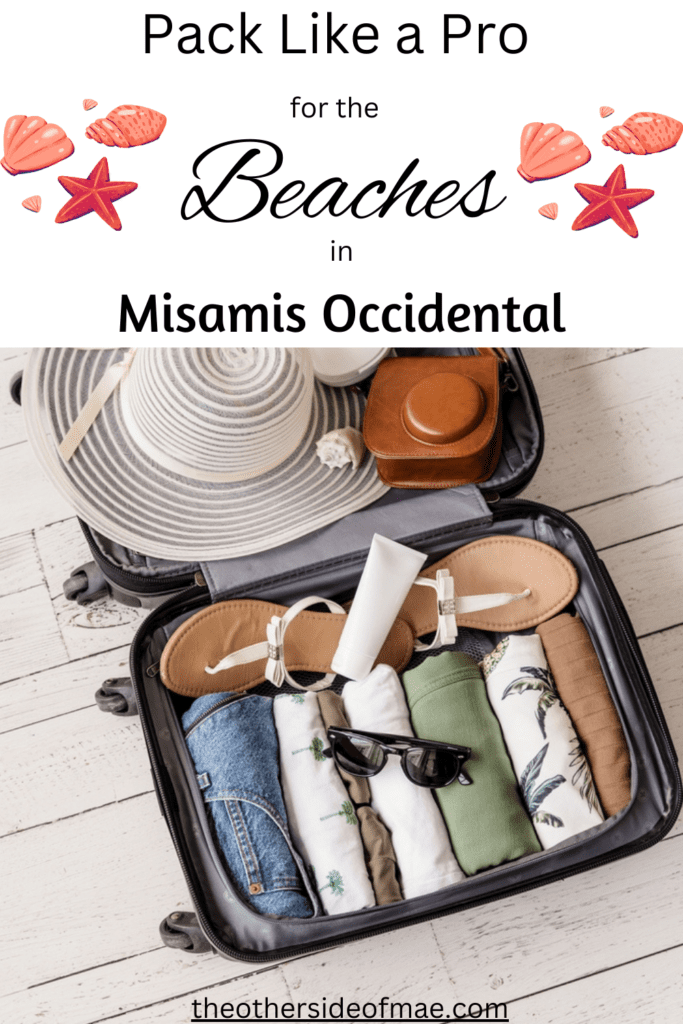 Responsible Beach Practices
Remember to follow these responsible beach practices:
a. Leave No Trace: Clean up after yourself and dispose of trash properly. Respect the local environment and wildlife.
b. Coral-Friendly Sunscreen: Choose a sunscreen that is safe for coral reefs to protect the fragile marine ecosystem. This Sheer Zinc Mineral Sunscreen Lotion SPF 50 is non-comedogenic and number 1 reef-safe sunscreen from Neutrogena as listed in Hearst Magazine Media, Inc. You may check its price here.
c. Obey Local Rules: Follow any beach regulations and respect the privacy and traditions of the local communities.
d. Support Local Business: To help the province boost its tourism economy, enjoy local food at their restaurants and cafes. Visit List of Restaurants in Misamis Occidental and List of Cafes in Misamis Occidental for your guidance.
Planning Your Trip to Misamis Occidental
Transportation
For travelers coming from abroad, it's important to verify visa requirements and arrange transportation to the province before your trip to Misamis Occidental. Once you reach your destination, you may also want to explore hiring a local guide who can assist you in discovering the area's attractions and offer cultural insights.
Accommodation
Ensure a pleasant stay by reserving your accommodations ahead of time to lock in the finest offers and guarantee room availability. Be mindful of both the location and available amenities to enhance your comfort during your stay. You may check prices of some inns and homestays in this website.
Now that you have your packing list, you're ready to enjoy the breathtaking beaches in Misamis Occidental. Whether you're relaxing on the sand, exploring underwater wonders, or sipping a cold drink while watching the sunset, being well-prepared will enhance your beach experience and ensure a memorable trip. Have a fantastic time soaking in the natural beauty and warm hospitality of this stunning Philippine island destination!
Books to Bring on Your Soul-Searching in Misamis Occidental
Read the following articles on my review of some beaches in Misamis Occidental:
FAQs about the Beaches in Misamis Occidental
What type of climate is Misamis Occidental?
At an altitude of 807.93 meters (2650.69 feet) above sea level, Misamis Occidental boasts a Tropical Rainforest Climate (Categorization: Af). The city experiences an annual temperature of 27.69ºC (81.84ºF), slightly exceeding the Philippines' average by 0.47%. (Source: Weather and Climate)
When is the best time to visit the beaches in Misamis Occidental?
Misamis Occidental, a coastal destination in the Philippines, offers consistent water temperatures year-round. These temperatures range from 26.5°C (79.7°F) in February to 30.4°C (86.6°F) in May. With an annual average water temperature of 28°C (83°F), Late Spring stands out as the prime season for water-related activities, considering Misamis Occidental's location in the northern hemisphere. (Source: WaterTemperature.org)
Which month has the most rain in Misamis Occidental?
June (113.67mm / 4.48in) (Source: Weather and Climate). Might as well come to the province and enjoy its coffee culture. Visit List of Cafes in Misamis Occidental for your guidance.
What other tourist spots I can visit in Misamis Occidental?
Aside from its stunning beaches, Misamis Occidental is home for the majestic Mt. Malindang Range Natural Park. In this natural wonder, Lake Duminagat is nestled within as well as various waterfalls as Piduan Falls and Cobra Falls in Ozamiz City. For other tourist spots in the province, visit List of Tourist Attractions in Misamis Occidental.
What are the delicacies of Misamis Occidental?
Coconut is the main agricultural product of Misamis Occidental and coconut-based products are the common delicacies like suman, moron, virgin coconut oil, and coco sugar. Fermented seafood products are also the top delicacies and visit List of Food Products in Misamis Occidental for more.
If you know other beach necessities that are not on this list, kindly email me at maeolandesca@gmail.com.
If you find this article helpful, pin it!