Feature Friday highlights businesses, people, fashion, and basically anything under the sun!
To be honest, I never dreamed of wearing a Hanbok.  This is the national dress of Korea and we always see this being worn by celebrities in Korean films and series.  As I've said in my previous post, I am not into much Kpop nor Kdrama.  I am not the kind of girl who would clamor over Lee Min-Ho, Moon Lovers: Scarlet Heart Ryeo, EXO, BTS, Girls' Generation, etc.  In fact, I am actually googling as I'm enumerating these now.  It's not just my thing and I remember a junior high student here in IS when she had a seamstress make a Hanbok for her to wear on United Nations Day last October.  Just what's in it?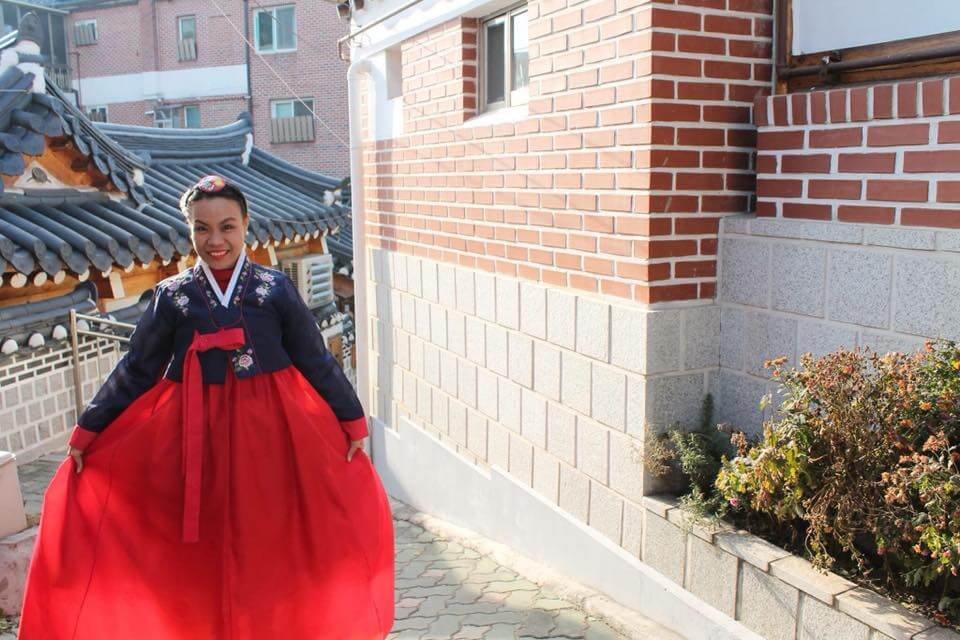 Being the Korean traditional dress, Hanbok is "a beautiful cultural treasure worn on the body" (Antique Alive).  It was the clothing designed even before the 3rd century BCE as evidenced by the ancient wall murals of Goguryeo, the ancient kingdom of the country (wikipedia.com).  It is composed of jeogori for the upper thin jacket and chima for the lower full skirt with wide petticoat inside.  It is designed to facilitate easy movement to the wearer, being the clothing for everyday use even until the early 1900s.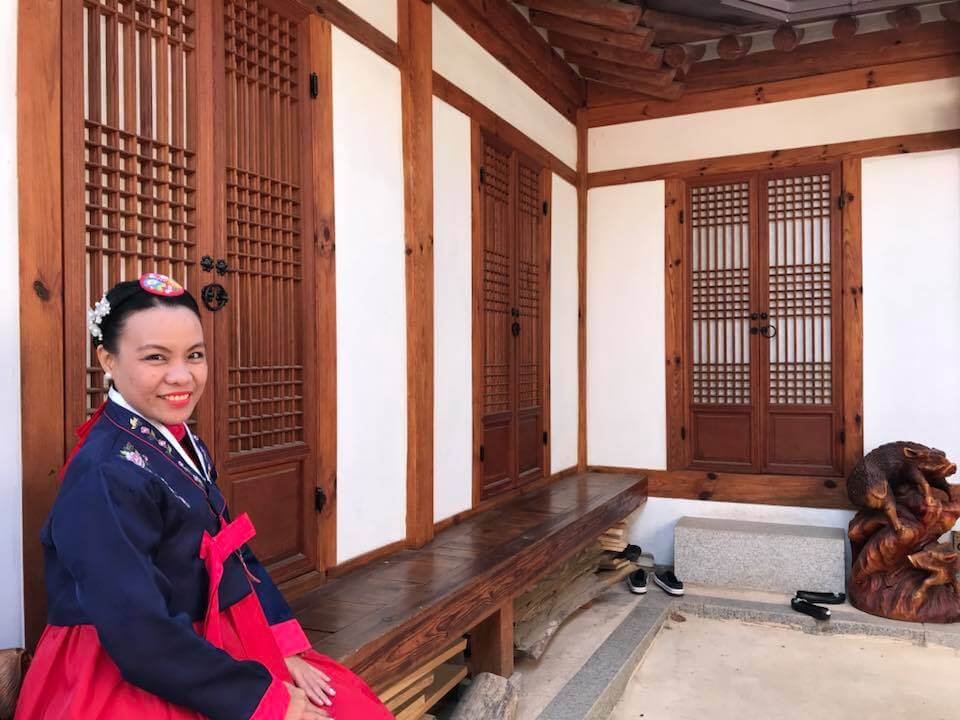 When we visited Seoul last month, we see women wearing Hanbok strolling around especially in palaces and Hanok (Korean traditional house) villages.  It reminds me of Hanoi where Vietnamese ladies also wear their national costume in key tourist spots for pictorial.  Actually, it was Crisma, my high school classmate who wanted to wear Hanbok.  I was already in South Korea so I thought, why not join her as well?  So off we went to one of the city's Hanok villages, Bukchon for Hanbok rental and pictorial!
Bukchon is 18 minutes away from Bong House, our place in Seoul as google map says so we just walked our way to the village.  As we were hiking, we found out that it was actually sandwiched between 2 grand palaces, Gyeongbok and Changdeok making it the perfect spot for Hanbok pictorials.  Our quest to find the Hanbok rental shop was not that easy.  We were confused with the directions the lady at Seoul Hanok Center told us which took too much of our time.  From the estimated time of moving out for N Seoul Tower at 2 PM, we found a Hanbok shop at already past 12 NN!  However, we did not regret it 'coz we had a feast for lunch at Ugly Potato and Chicken which I will also be blogging about soon so watch out for it!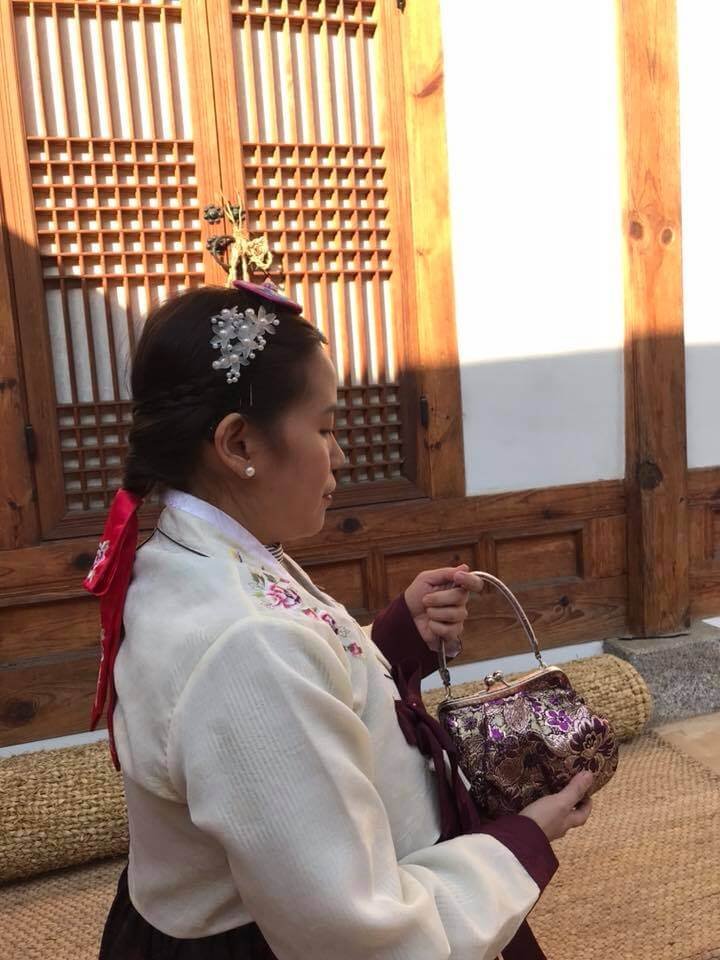 Then there we were at The Second Hanbok That Day Store: Hanbok Rental + Hanbok Studio with the very accommodating Miss Yeon (I hope I got her name written correctly) assisting us!  The shop was filled with Hanbok and Hanbok accessories but there were no Hwahye (Korean traditional shoes) for rent so we had to wear our own shoes.  Though our shoes didn't pair with the Hanbok, it still did well 'coz the dress covered our feet anyway.
Hanbok That Day is located at the second floor of a building at 25, Bukchon-ro, Jongno-gu, Seoul, South Korea.  It is along a big street and near a corner which is 3 minutes away from Bukchon Hanok Village.  The place is so cozy and warm.  I'd like to extend my stay there since it was -20C outside.  There is also a big space inside for pictorial by a professional photographer but we didn't avail of this one 'coz we already had Grakkie, our classmate to take care of our photos.  Anyway, you may also take a look at Hanbok That Day on FB here or follow them on IG here for more information!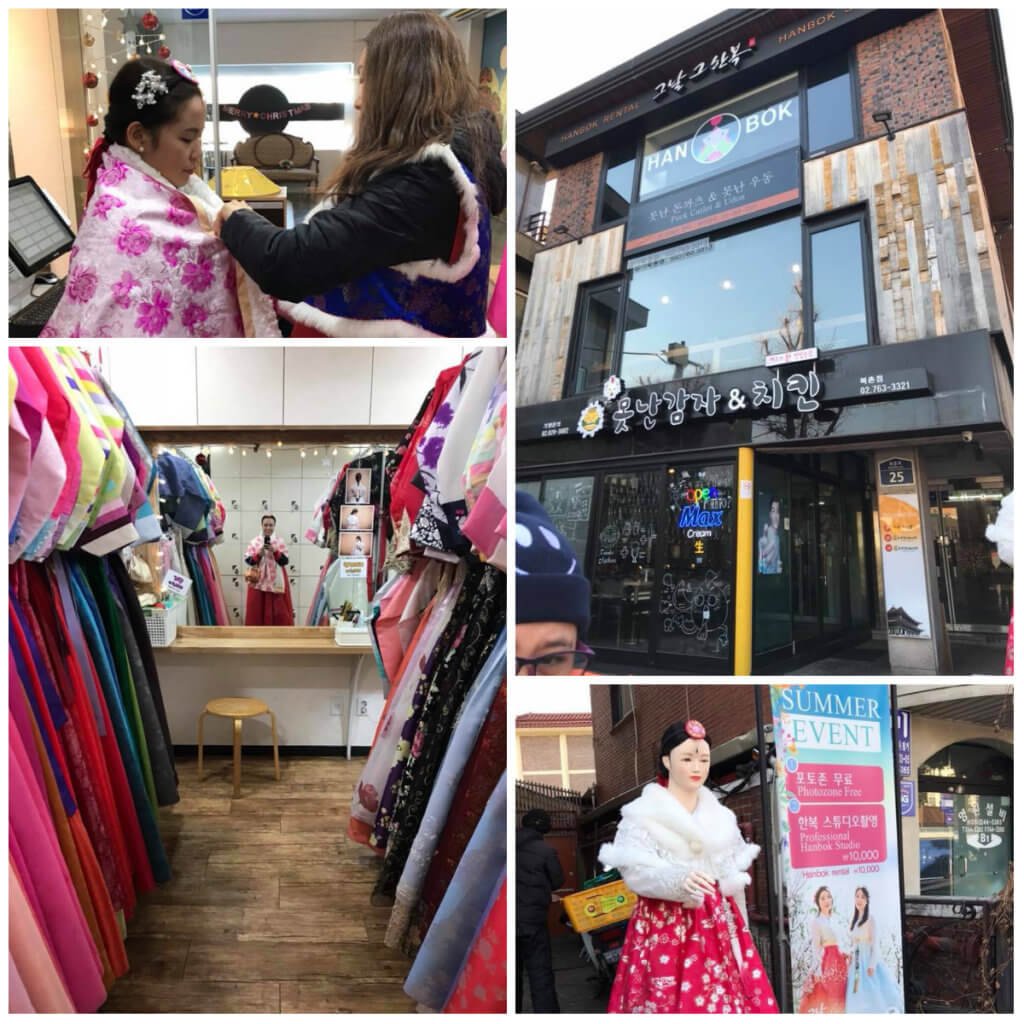 Rental Cost:
Hanbok Rental – 10,000 Won (P500)
Hair Styling with Accessories – 5,000 Won (P250)
Hanbok Bag/Pouch – 2,000 Won (P100)
Rental Duration:
2 Hours
Travel Tip:
*If you're wearing Hanbok, admission fee for all the palaces which amounts to 3,000 Won (P150) per palace is already FREE!!!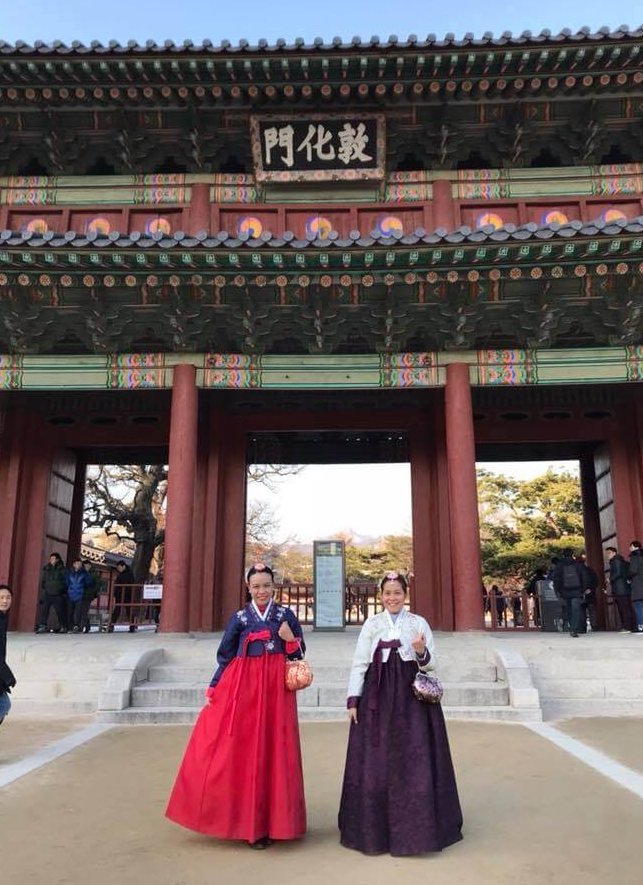 For more about Hanbok That Day, do watch the vlog below.   You may also see how the Hanbok is being worn and our total Hanbok experience.  So click now! 🙂 #tosomfeatures
Though I didn't fancy wearing a Hanbok, on the day I wore one, I felt the Korean side of me!  Well, I was actually Lady Kwon Min-Rin on that day! 🙂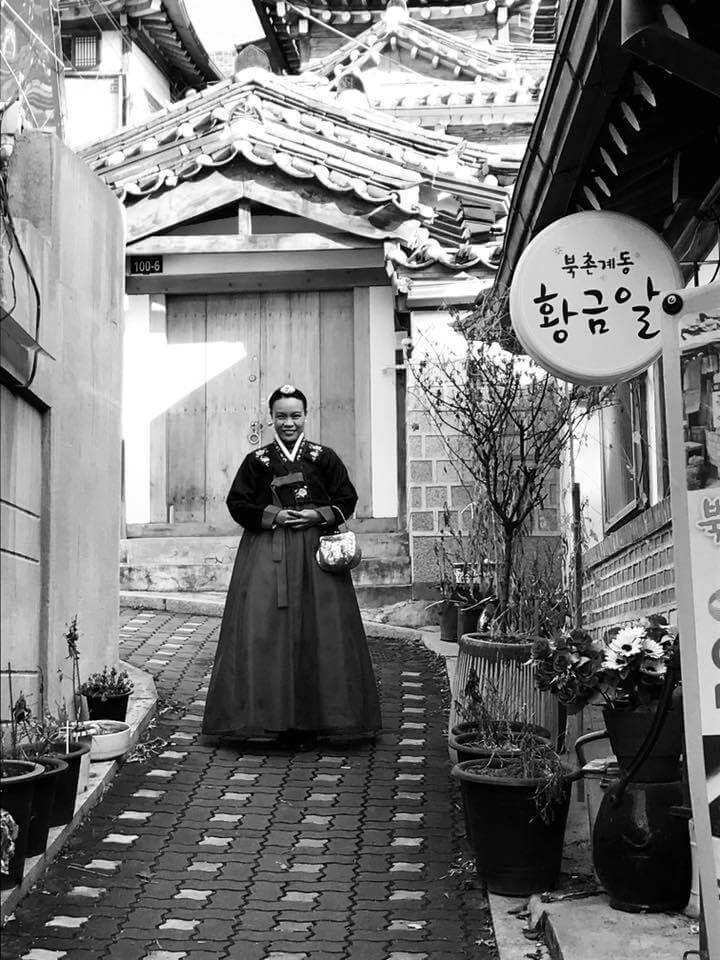 Thank you so much, Grakkie for being our photographer, videographer, and baggage counter! 🙂 Hehehe…..  Thank you for your all out support to our kakikayan! 🙂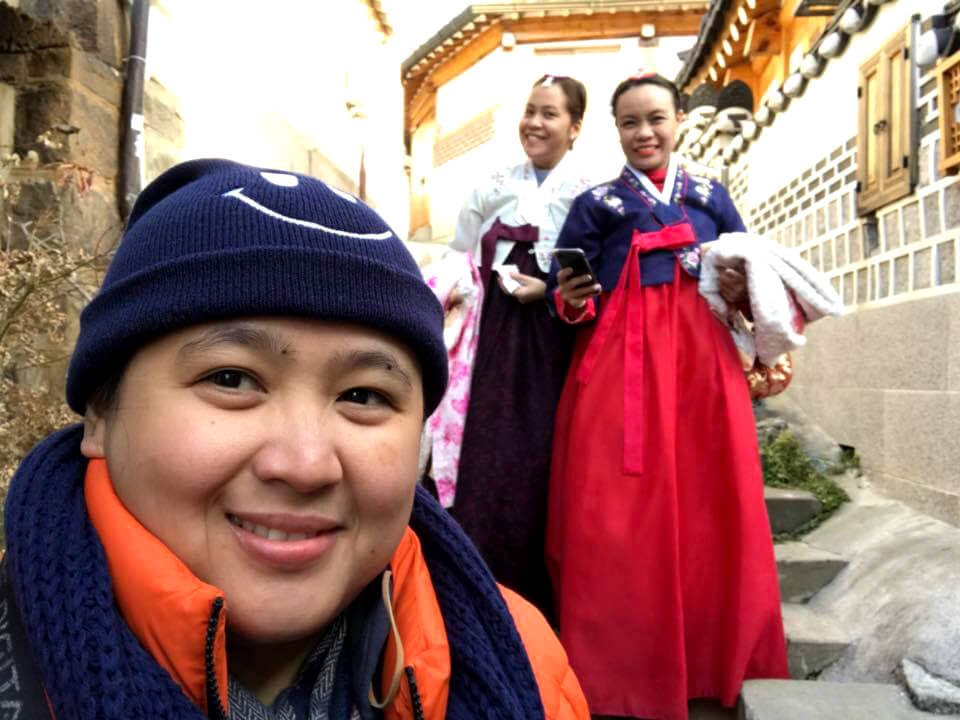 For questions, invites, and collaborations, direct message me on Facebook.  For updates on my whereabouts and whatabouts, follow me on Twitter and Instagram!
Related Posts:
Gyeongbokgung:  The Goblin Filming Location
Hoi Hoi Hoi Hanoi!