This article may contain affiliate / compensated links. For full information, please see our disclaimer here.
Embark on an exhilarating adventure and uncover the breathtaking beauty of Mount Malindang in Misamis Occidental. This majestic mountain range offers a plethora of hiking trails that will leave nature enthusiasts and adventure seekers in awe. With its verdant forests, cascading waterfalls, and panoramic views, Mount Malindang is a haven for those seeking solace in the great outdoors.
As you explore the trails, you'll be greeted by a diverse array of flora and fauna, making each step a delightful surprise. Whether you're a seasoned hiker or a novice looking for a thrilling challenge, Mount Malindang has something for everyone. Marvel at the towering trees, listen to the harmony of bird songs, and feel the refreshing breeze on your face as you immerse yourself in the serenity of nature.
So pack your hiking boots, camera, and a sense of adventure as you uncover the majestic hiking trails of Mount Malindang. Let the allure of this natural wonder captivate your senses and create memories that will last a lifetime.
The Mount Malindang Magic
Mount Malindang, also known as Mount Malindang Range Natural Park, is more than just a stunning natural wonder. It holds a special, almost magical, place in the hearts of the people who live in its vicinity. This "Mount Malindang Magic" is a combination of its breathtaking natural beauty, rich cultural heritage, and the sense of wonder it instills in those who visit or call it home.
A Symphony of Biodiversity
Mount Malindang is the highest peak in the province of Misamis Occidental, standing proudly at 2,425 meters above sea level. This dormant volcano is part of the Malindang Range, which is known for its rich biodiversity, offering not only a thrilling hiking experience but also an opportunity to immerse yourself in the natural wonders of the region.
The mountain and its surrounding areas are teeming with unique flora and fauna. The lush rainforests are home to numerous species of plants, trees, and flowers, many of which are endemic to the region. Birdwatchers are in for a treat as they can spot colorful avian wonders like the Philippine Eagle, one of the rarest and most magnificent birds in the world.
Cultural Riches
Mount Malindang is not just a testament to the wonders of nature. It's also deeply ingrained in the cultural heritage of the indigenous people of Misamis Occidental. The Subanen people, the indigenous inhabitants of this region, have a deep connection with the mountain. For them, Mount Malindang is not just a geographical landmark but a spiritual one as well. The mountain is woven into their myths, legends, and daily lives.
The Subanen people's rituals, ceremonies, and dances often revolve around the mountain. It's believed that the spirits of their ancestors reside in its peaks, and the mountain serves as a symbol of their connection with the land. This cultural richness adds a layer of magic to Mount Malindang that goes beyond its natural beauty. For more about Subanen culture, click here.
Healing Waters
One of the most captivating aspects of Mount Malindang is its abundance of springs and waterfalls, each with its unique charm. The waters that flow from the mountain are often regarded as having healing properties by the locals. Whether it's the Sebucal Spring or the hidden Cobra Waterfalls deep within the forest, there's a sense of enchantment in the belief that these waters can rejuvenate both the body and the spirit.
Taking a dip in one of these natural pools, surrounded by the sights and sounds of the forest, can indeed feel like a magical experience. It's a moment of pure serenity, a connection with the healing forces of nature that many find profoundly moving.
Aside from Mount Malindang Range Natural Park, Misamis Occidental is also blessed with other tourist attractions. You may visit List of Tourist Attractions in Misamis Occidental for more.
Mount Malindang Hiking Preparation Essentials
Before you embark on your hiking adventure in Mount Malindang, it is essential to be well-prepared. Here are some key preparations to ensure a safe and enjoyable experience:
Ensure you have the necessary permits to enter the area. Hiring a local guide is highly recommended, as they are familiar with the trails and can enhance your overall experience. You may look at Expedia for Mount Malindang Natural Park Tours and Activities for more information.
The trails on Mount Malindang vary in difficulty, so assess your physical fitness and choose a trail that suits your capabilities. Scroll down below for the trail that suits you.
Pack appropriate clothing, camping gear, sufficient water, and food supplies. It's essential to be self-sufficient, as facilities on the mountain are limited. Scroll down below for essential hiking gear advice or take a look at The Ultimate Packing Guide for a Trip to Misamis Occidental.
Respect the Environment
Always practice Leave No Trace principles to protect the natural beauty of Mount Malindang.
Now, let's explore the best hiking trails on this incredible mountain.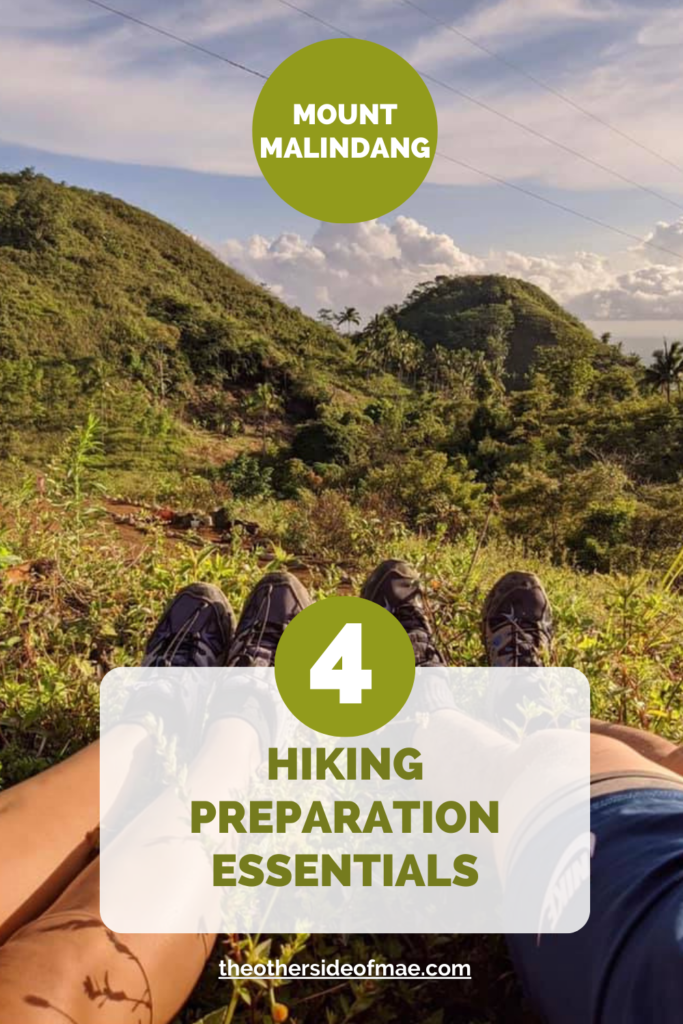 Spectacular Hiking Trails of Mount Malindang
1. Don Victoriano – Piduan Falls Trail
Difficulty: Easy
This is the most must-do trail in Mount Malindang. The reward is the curtain waterfalls whose beauty is awe-inspiring, as crystal-clear waters cascade over rocks into a cool, inviting pool.
2. Ozamiz – Cobra Falls Trail
Difficulty: Moderate to Challenging
This trail is starting to be famous as Ozamiz' hidden waterfalls takes over social media posts. Albeit the leeches which are abundant in this trail and the not-so comfy camping grounds, a big adventure awaits in Cobra Falls.
3. Oroquieta – Sebucal Hotspring Trail
Difficulty: Challenging
The trail is easy but what makes it challenging is the 8-hour long hike from Lake Duminagat with no water source along the trail.
4. Lake Duminagat Trail
Difficulty: Easy
This is the "road more taken" when visiting Mt. Malindang. Lake Duminagat is the mystical crater lake believed to be a source of healing waters. The area around the lake is ideal for camping grounds, making this trail the most used and famous one.
5. North Peak Trail
Difficulty: Challenging
This trail is not for the faint of heart. The rugged, steep terrain demands a degree of physical fitness and a love for the outdoors. Be prepared for a bit of a workout as you navigate this trail but reaching the summit is all worth the climb to Mount Malindang.
Essential Hiking Gear Advice
Hiking is a wonderful outdoor activity that allows you to connect with nature, stay active, and explore new places. To ensure a safe and enjoyable hiking experience, it's crucial to have the right gear. Here's some essential hiking gear advice to help you prepare for your next adventure:
Invest in a good pair of hiking boots or trail shoes that provide adequate support and comfort. The right footwear can prevent blisters and ankle injuries, and should be chosen based on the type of terrain you'll be hiking on. I am relying on Merrell for this because its rubber lug sole grips on the ground well specially on slippery ones. I feel safe and so comfy to wear even for very long hikes without causing me blisters.
Dress in layers to regulate your body temperature. Wear moisture-wicking base layers to keep sweat away from your skin, and waterproof outer layers to protect against rain and wind. Tops from Columbia are ideal for this. Check them out here.
Also, don't forget to wear moisture-wicking socks and consider gaiters to keep debris out of your boots. These ones from Dickies are love!
Choose a backpack that suits the length and difficulty of your hike. A daypack is ideal for short hikes, while larger packs with more features are suitable for longer treks. Ensure your pack is comfortable and has sufficient storage for essentials like water, food, and extra clothing. Take a look at this SKYSPER Hiking Backpack which is lightweight and waterproof.
Navigation
Always carry a map, compass, or GPS device to help you find your way. It's also a good idea to study the trail and have a basic understanding of how to use these tools before setting out. Here's an example of a rugged handheld GPS navigator for your reference.
Water and Hydration
Staying hydrated is crucial while hiking. Carry enough water for your trip, and consider a water purification system, like a filter or purification tablets, if you'll be relying on natural water sources. For sustainable and eco-friendly water bottles, click here. For water purification tablets in case of emergencies, click here.
Food
Pack nutritious, energy-rich snacks and meals that are easy to prepare on the trail. Think about options like energy bars, nuts, dried fruits, trail mix, and dehydrated meals. Don't forget to pack extra food in case your hike takes longer than expected. Nature's Garden Healthy Trail Mix Snack Packs are handy and rich in omega-3.
If you are a travel foodie and want to know places to eat in the province, visit the articles List of Restaurants in Misamis Occidental and List of Cafes in Misamis Occidental.
An essential item for any hike, a well-stocked first aid kit should include bandages, antiseptic wipes, pain relievers, blister treatment, and any personal medications you may need. Click here to shop for your convenience.
Shelter
Carry a lightweight emergency shelter, such as a space blanket or bivy sack, in case you get caught out longer than planned or encounter unexpected weather conditions. Visit this site for more information about space blankets.
Sun Protection
Protect yourself from the sun's harmful rays by wearing sunscreen, sunglasses, and a wide-brimmed hat. Sunburn and heat exhaustion can quickly spoil your hike.
Depending on your hiking location and the season, insects can be a nuisance. Pack insect repellent to ward off mosquitoes and other biting bugs. Here's a local one from Fascino Body Essentials.
A small fire-starting kit that includes waterproof matches or a lighter is essential for emergencies and can help you stay warm or signal for help. This one is a must-bring.
A versatile multi-tool or a pocketknife can be handy for various tasks on the trail, from cutting rope to preparing food. Click here for choices with photos.
Even if you plan to return before dark, it's wise to carry a reliable light source in case of unexpected delays. For rechargeable headlamps, click here. For rechargeable flashlights, click here.
Trekking poles can reduce strain on your knees and improve balance, particularly on steep and uneven terrain. Check out TheFitLife Premium Trekking Poles for choices.
Capture your adventure moments with GoPro cameras. They have great ones for vlogging if you are into social media. What I love with GoPros is the size (very handy), big memory bank, directly connected to smartphone, night vision, and waterproof. Click here if you want to see more features of it.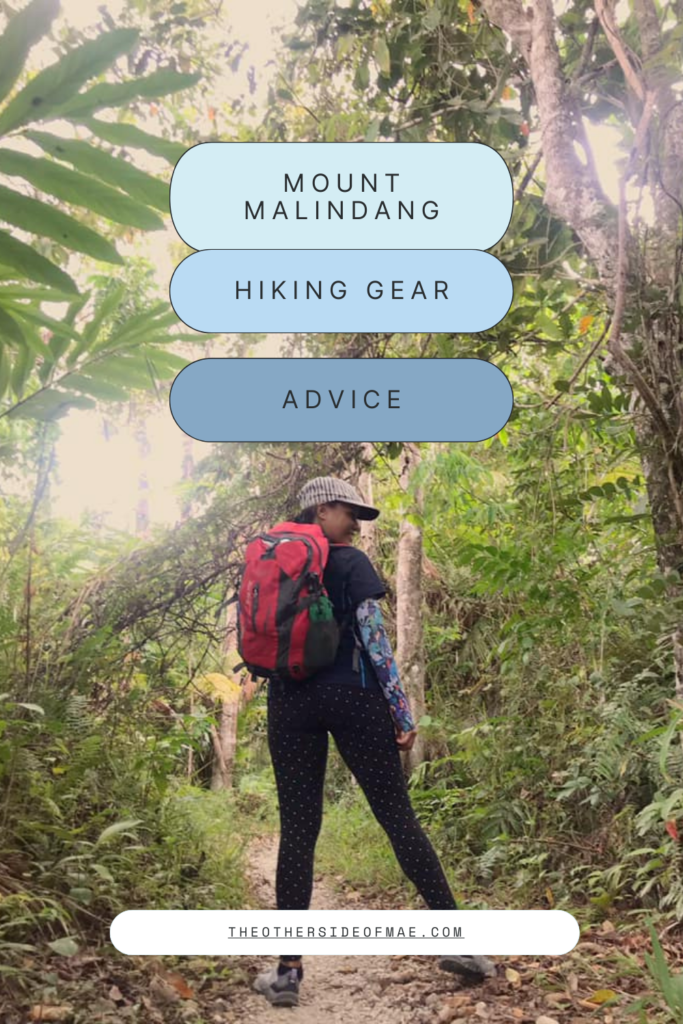 If you are also planning to visit the stunning beaches in the province, visit The Ultimate Packing Guide for the Beaches in Misamis Occidental.
Camping Options and Accommodations near Mount Malindang
Mount Malindang is a popular destination for hikers and nature enthusiasts. While the mountain itself offers incredible trekking and exploration opportunities, you'll also find various camping options and accommodations in the surrounding areas to enhance your experience. Here's an overview of your options:
Mount Malindang National Park
The national park itself offers camping facilities for those who want to immerse themselves in nature. You can pitch your tent at designated campgrounds. Campgrounds around Lake Duminagat are the ideal ones. Be sure to check the park's regulations and obtain any necessary permits. For your guidance, check Mount Malindang Natural Park Tours and Activities for updates.
Day Hike and Return
Many hikers opt for a day hike up Mount Malindang and return to their accommodations in the surrounding towns in the evening. This way, you can enjoy the adventure during the day and have a comfortable place to sleep at night. Check out the best lodging near Mount Malindang on Expedia for your convenience.
Budget Hotels and Inns in Nearby Towns
There are several towns in the vicinity of Mount Malindang that offer accommodations ranging from guesthouses to budget hotels. The town of Ozamiz, for example, is not far from the mountain and has a variety of lodging options to suit different budgets.
Address: Port Road, Ozamiz City
Known For: indoor parking
Address: Oroquieta City and Ozamiz City
Known For: transient stays
Address: ELI Center 2nd floor, Maningcol Hi-way, Ozamiz City
Known For: restaurant, parking
Address: Capistrano Street, Ozamiz City
Known For: coffee shop
Address: Burgos corner Zamora Sts. Ozamiz City
Known For: coffee shop, restaurant, meeting facilities, grand ballroom
You may look up Expedia, Hotels.com, Vrbo, or Booking.com for hotel prices in Misamis Occidental.
If you want to learn more about accommodation options in the province, visit the article Your Ultimate Guide to Finding the Best Accommodations in Misamis Occidental.
Resorts and Beachfront Accommodations
While not on the mountain itself, some travelers choose to stay in beachfront resorts along the nearby coastlines. This allows you to enjoy both the mountain and the beach in one trip for a worthwhile visit to Misamis Occidental.
Accommodation Type: resort
Location: Patapla Beach, Palilan, Jimenez
Amenities: glampgrounds, food park, parking
Budget: $
Accommodation Type: resort
Location: Brgy. Tugas, Baliangao
Amenities: retreat centre, parking
Budget: 1.5$
Accommodation Type: resort
Location: Bawbawon Island, Plaridel
Amenities: restaurant and bar with sea-facing terrace, spa, wifi
Budget: $$
If you want to know more beach resorts in the province, hop into List of Beaches in Misamis Occidental.
How to Get to Mount Malindang in Misamis Occidental
It's advisable to arrange your transportation to the province well in advance. Book your flights or other means of travel to ensure a smooth journey to Misamis Occidental. For travel options within the province, visit the article Your Ultimate Guide on How to Get to Misamis Occidental.
FAQs about Misamis Occidental
Why is Mount Malindang important?
The Malindang Range Natural Park stands out not just as the tallest geographical feature within the Zamboanga biogeographic region, but also for the profound economic and cultural value derived from its rich biodiversity. Apart from that, it protects the region from heavy flooding.
Is Mount Malindang an active volcano?
Although the historical eruptions of Malindang are not officially documented, the most widely accepted occurrence is believed to have taken place in 1822. It's important to note that the Philippine Institute of Volcanology and Seismology has classified Mount Malindang as an inactive volcano.
How deep is Lake Duminagat?
Lake Duminagat is a relatively modest body of water, covering 8.04 hectares, with a maximum depth of approximately 20.95 meters, a total water volume of 933,000 cubic meters, an average depth of 11.6 meters, a shoreline extending for 1,060 meters, and a shoreline development factor of 1.054.
Where can I go for nightlife in Misamis Occidental?
While the province is not really having a huge nightlife fanfare, there are still bars and clubs that will take the boredom away. Proceed to Best Hotspots for Nightlife in Misamis Occidental to know more.
What can I buy for pasalubong in Misamis Occidental?
Misamis Occidental has a wide array of food pasalubong to bring home from the journey. For more information, visit List of Food Products in Misamis Occidental.
If you know other hiking trails in Mount Malindang in Misamis Occidental that are not mentioned in this article, kindly email me at maeolandesca@gmail.com.
If you find this article helpful, pin it!