Feature Friday highlights businesses, people, fashion, and basically anything under the sun!
Panglao Island in Bohol is one of the diving destinations in the Philippines.  Tourists from all over the world flock to the island for the awesomeness of its coral reefs, crystal blue water, and diverse sea creatures.  With that, the tourism industry of the place had grown and can be seen by the proliferation of new hotels, inns, restos, and bars over the past decade.  Bohol then has been considered as the second Bora.  As a result, cost became high as Bora so getting a beachfront hotel room can be too pricey.  Well, there are also cheap makeshift inns along the beach but they don't promise comfort.  So we were glad that my sissy Ep2x stumbled upon Panglao Bed and Breakfast Villa thru airbnb.com for our vacation in Bohol last year!
Panglao Bed and Breakfast is an exclusive villa which is only a few minutes away from Alona Beach.  We booked the whole place with 4 air-conditioned bedrooms so we won't go siksikan.  The master's bedroom for Papa, Mama, and Ep2x, a room for Laling and I, another for Auntie Lourding, Matoy, and kids, and one for Ep2x's boyfie, Jezreel.  We were so cozy in our spacious rooms with real big closets.  The bathrooms and toilets are also roomy and are very clean and hygienic.  The villa may appear small outside but it is actually designed to fit the sizes of Americans, Europeans, etc.  You know, those races whose body built are bigger than us, Asians.  So if you've got foreign friends, this place is highly recommended!

Now let's go to the kitchen.  I'm a kitchen geek and I just fell for the villa's fully-furnished one!  Guests can cook and use all the kitchen wares with an additional charge of only P150/day.  Drinking water is free and the fridge is stocked with all kinds of beverages that are priced same as those in the grocery store.  The grill is high-tech and Papa also got to cook our favorite fish tinola with malunggay during our last night when the rain poured so hard.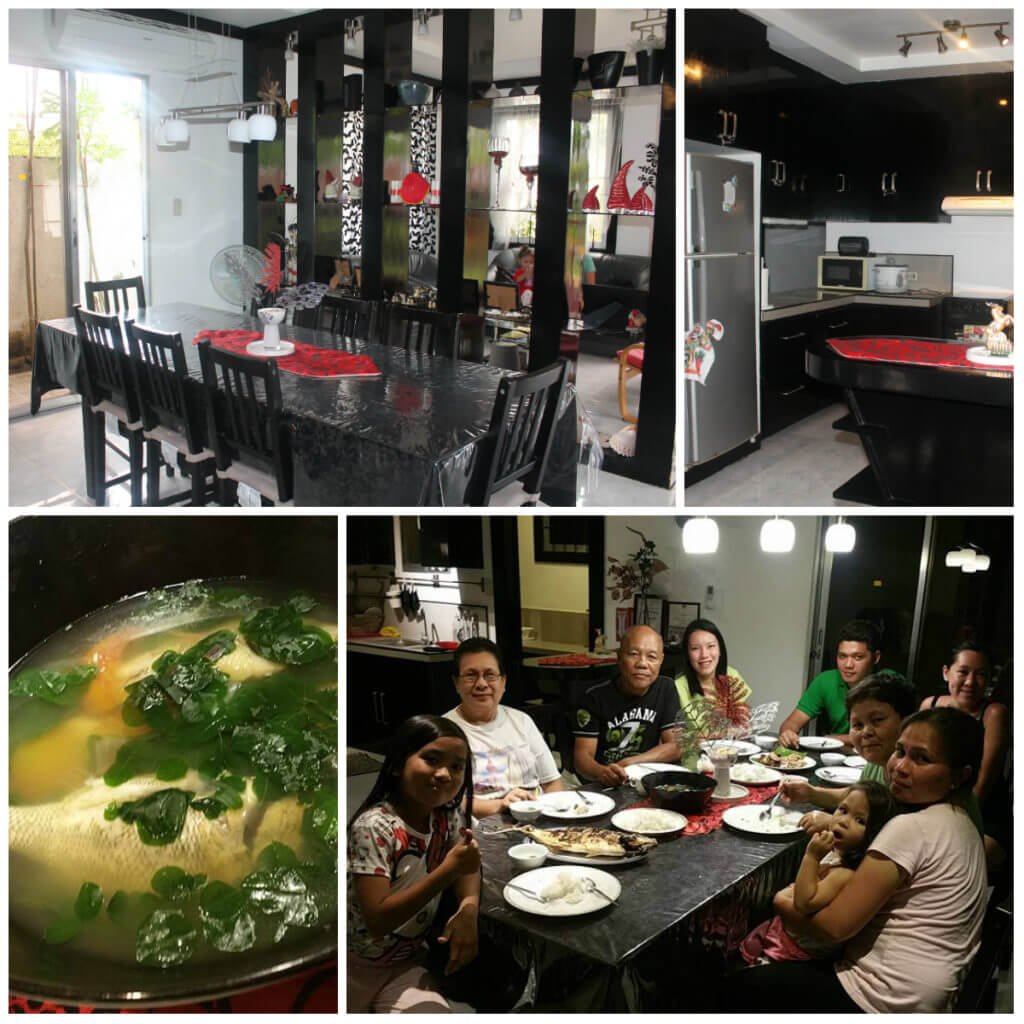 To feel more of your staycation, chillaxing by the poolside is just so perf!  Kids would surely enjoy the pool but our kids didn't have the energy to use the pool anymore.  We had 2 full days of touring around Bohol and every time we got home to the villa, we went directly to the baths, eat, and sleep.  Have you noticed I already used the word, "home"?  Well, Panglao Bed and Breakfast is indeed a home away from home to us!

Our 3D/2N stay only cost us P10,000 for the entire place excluding transpo to and fro.  The owner also has a van to take you around for a charge of P300-P600 depending on the distances.  He also has connections with boat operators for island hopping and it doesn't cost much.  They do love adding personal touches to your vacation just like our brekky baon wrapped in banana leaves as we went island hopping.  Thank you so much, Sir for making our stay a very memorable one! 🙂  FYI, the owner is a foreigner with a Filipino heart who is just as accommodating as Ate Veny of Chateau de Tan-Awan in Oslob.
So book your staycation at Panglao Bed and Breakfast Villa ahead of time!  You can also get discounts if you'll book for 4 days and more.  Like them on FB here! 🙂
Related Post:
Chocolate Hills the Third Time Around
Loboc River Cruise
Where We Stayed and Ate in Oslob