It's already summer and I haven't finished writing about our South Korea trip.  At the moment here in the Philippines, it's sunny outside but the atmosphere is surprisingly cold.  It's quiet unusual for this kind of weather on a holy week.  Well, climate change has it and that's also due to the ice that are now melting at the northern and southern parts of the globe.  And part of that ice is the snow I happened to experience in Korea last December!  Yes, December.  That's how long it has been already but I could still savor the -8 oC I first experienced in my entire life!  So I would never miss posting about our freezing cold Nami Island tour!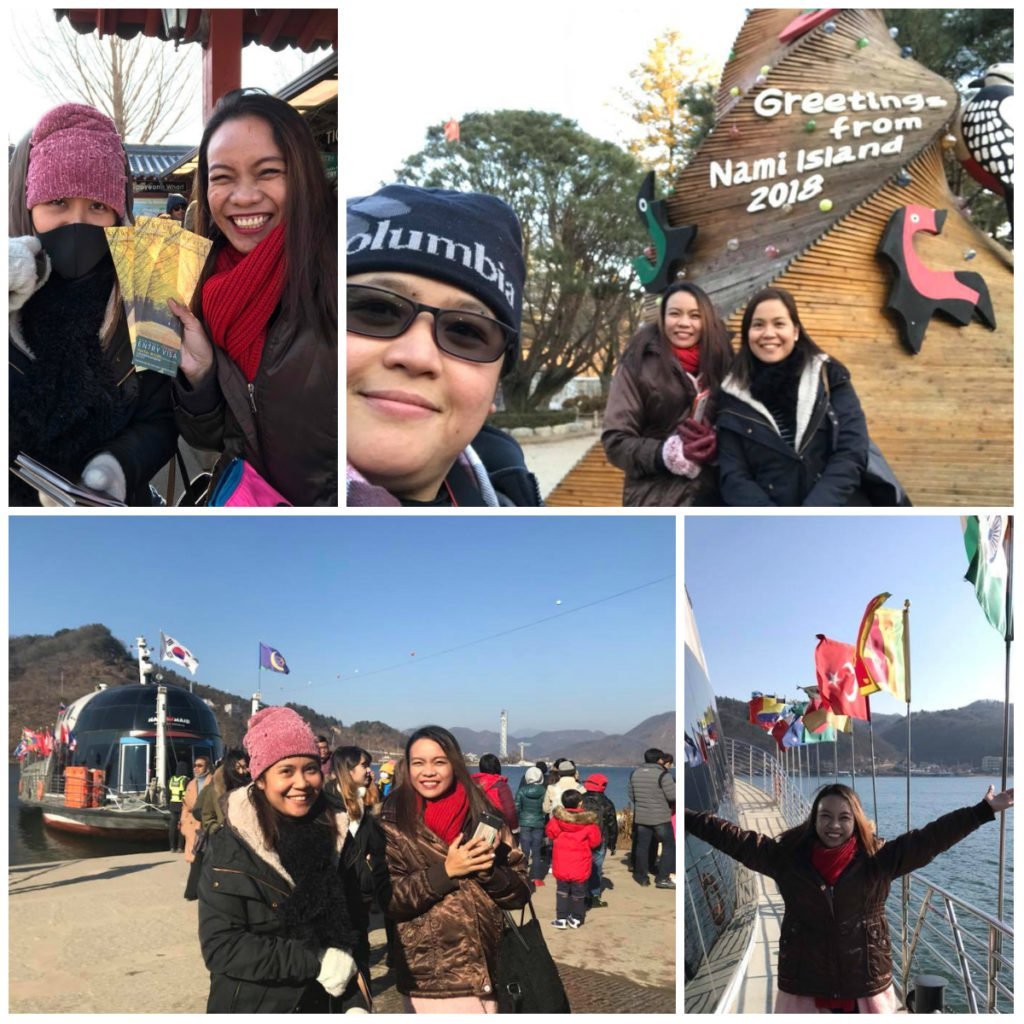 As featured in Kdramas, Namisum is known for its colorful leaves so our very own LizQuen shot their movie, My Ex and Whys there autumn of 2016.  At the same time, Anne Curtis and Erwan Heussaff also had their engagement shot in the island same season of 2017.  That was just two weeks before Crisma, Grakkie, and I visited the romantic island (not wishing we each had our partner.  hehe…..).  Anyway during that time, autumn was nearing to an end so we also experienced a bit of winter.  Good thing it wasn't snowing that afternoon so we enjoyed roaming around despite the biting cold weather.
'Twas 8:00 AM when we set off and for an estimated travel time of 2 hours, we didn't achieve getting to the island at 10:00 AM 'coz we got delayed.  We unexpectedly got redirected to Lotte World when we tried to switch trains from the regular MRT to ITX.  It was like during our first day in Seoul as I've mentioned here and still hallelujah, we stepped on a place not part of our itinerary!  So we ended up at Nami at a tardy 1:00 PM and first stop was to find lunch.  We still had to walk 8-10 minutes to get to the center of the island where food and drinks are available.  Then we had our fifth Korean feast at Nammoon which I will be writing about soon 'coz every dining experience in Korea was a feast to me!  In case you have missed, do check out our samgyeopsaling here.
After lunch, we started to roam around and had our pictorials.  Same with the hanbok day, Grakkie again became our official photographer/videographer.  Aside from taking photos, there are actually a lot of things that you can do around Nami.  You may revisit memories of the most famous Kdrama Winter Sonata, have picnic under the foliage of luscious trees, read a book while squirrels run over your feet, toss a coin for your future at the wishing well, go biking, twirl and swirl, get kalurky with your friends, take a shower of golden yellow leaves (like Gio and Cali), or wait for your Goblin to wake up from his slumber!
After spending too much time with the leaves, Crisma and I tried to become Elsa and Anna and fought with snow balls.  Oh, we were like kids then!  It was all our first time to experience snow and we got so thrilled!  However, it was really really cold by late afternoon and I almost cried 'coz I couldn't understand the physical reaction of my body against the harsh weather.  My forehead was throbbing, sudden runny nose, fingers and toes getting numb, and I thought I was getting frostbite.  Gladly, Crisma signaled us to go back to Seoul for Myeongdong so we ended up our Nami adventure here in the pack of snow!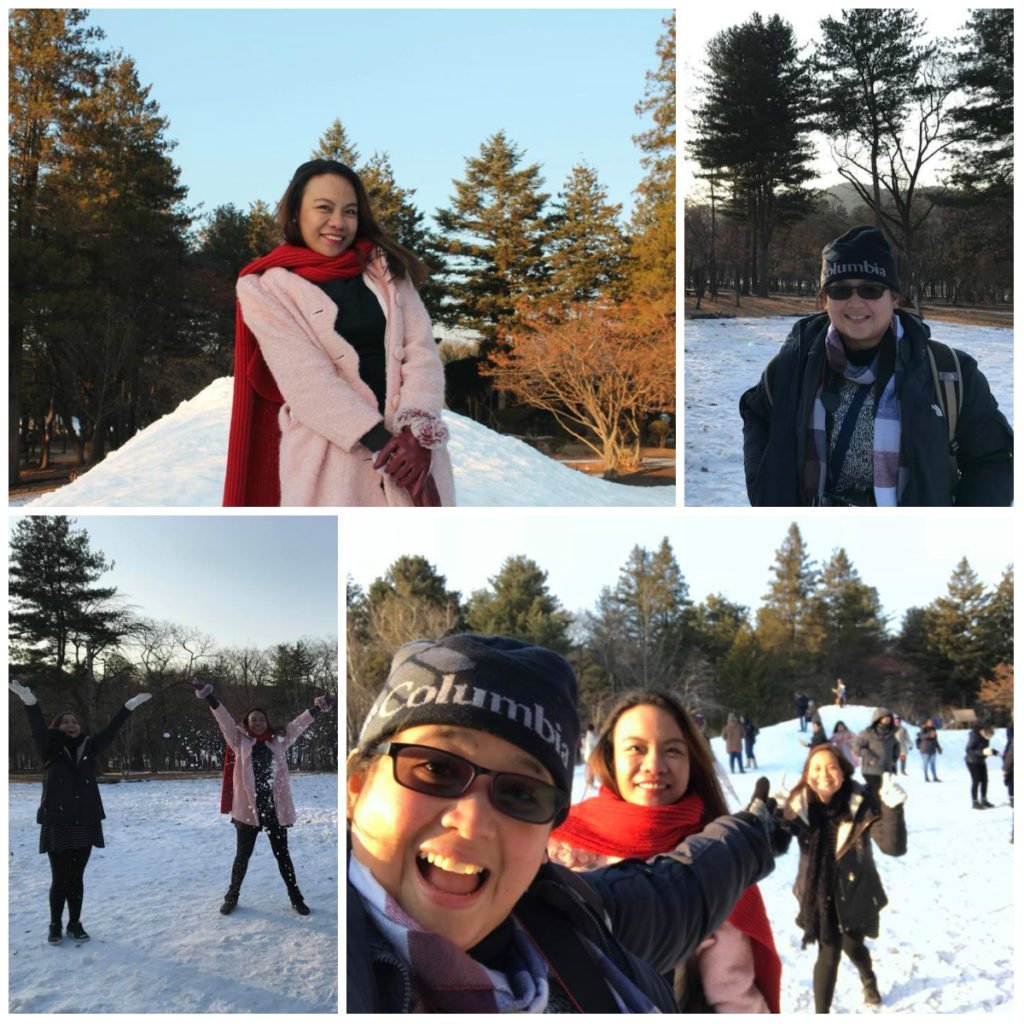 Oh, what a really great time that we had at Naminara Republic!  Though I had a problem keeping up with too much cold weather, it was all worth the detours, starving, and very slight arguments.  If I had to choose who I'm going to Nami with, it's always gonna be Crisma and Grakkie who tagged me along in this trip.  In the first place, I haven't dreamed of visiting Korea at that time yet.  But now, I wanna go back to see more places the country offers, experience more of its culture and most especially, have more of its food!  Oh, take me back into your arms again, Korea!  Promise, I'll be more prepared with thicker jackets and invest on thermal leggings so I will get a fill for more of you!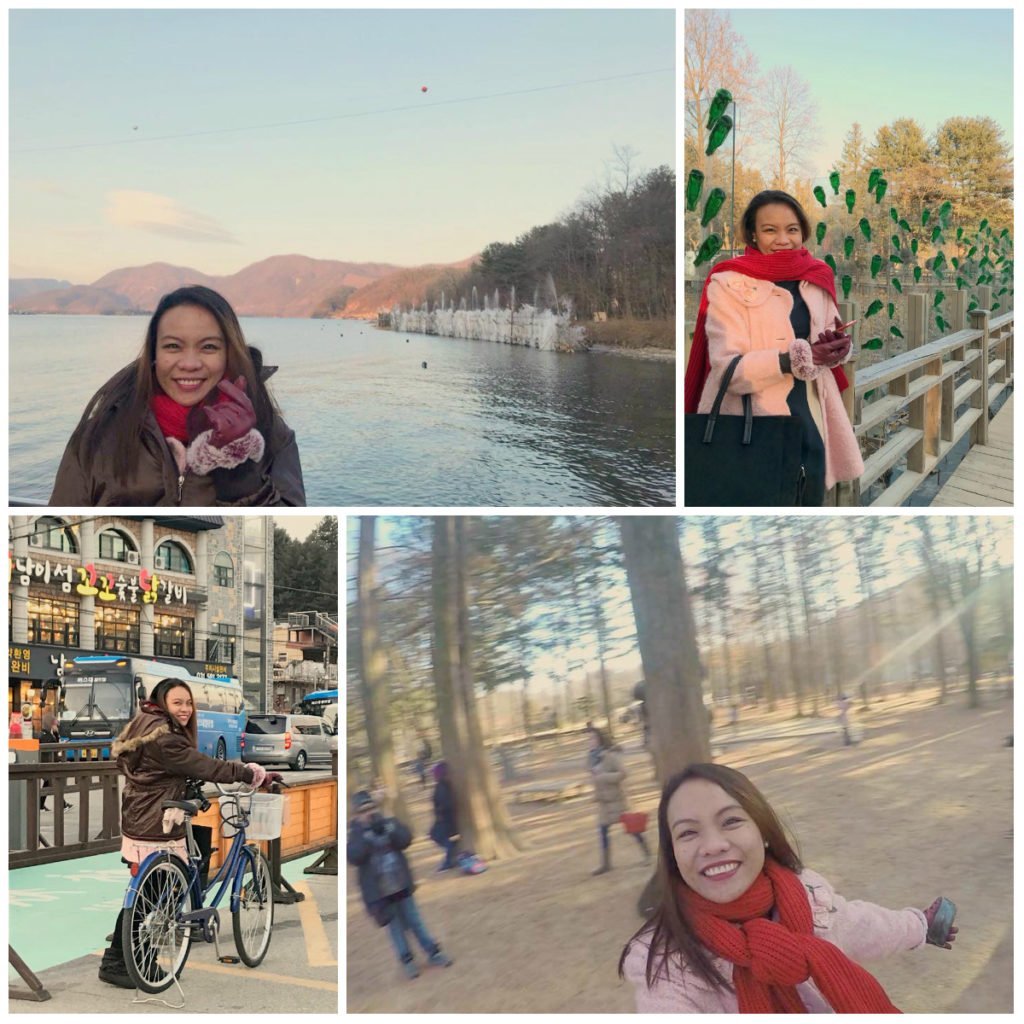 Since we experienced both fall and winter in Nami, I recommend you to also visit the place at the first to second week of December.  If you also want the much coveted cherry blossoms background in your profile pic, visit on spring which is right now at this very hour.  Or better take a look at this post on when's the best time to visit Nami!
Do watch this very short film on our complete Nami Island escapade!  Stay tuned here on The Other Side of Mae this week to get a taste of our Korean feasts! #tosomtravels
How to Get There:
Take MRT to Yongsan Station,
then take ITX to Gapyeong Station (5,200 Won/pax or P260),
and take bus to ferry station (6,000 Won/pax or P300)
Time to be There:
Ferry starts sailing as early as 7:30 AM and closes at 9:40 PM
Cost to be There:
Entry Visa: 8,000 Won/pax or P400
Travel Tip:
*Be early so you'll get the most out of the island and have more time to also visit the Garden of Morning Calm and Petite France.  Or better yet, spend a night at Jeonggwanru to also experience sunrise at Naminara Republic!
For questions, invites, and collaborations, direct message me on Facebook.  For updates on my whereabouts and whatabouts, follow me on Twitter and Instagram!
Related Posts:
Gyeongbokgung: The Goblin Filming Location
How to Prepare Samgyeopsal
Hanbok That Day