This article may contain affiliate / compensated links. For full information, please see our disclaimer here.
Nestled in one of the picturesque islands of the Philippines lies a treasure trove of hidden gems – the best cafés in Misamis Occidental that will delight your senses and leave you craving for more. Whether you're a coffee aficionado or a tea lover, this comprehensive guide is your ticket to uncovering the ultimate caffeine havens in this charming region.
Immerse yourself in the inviting aroma of freshly brewed beans as you step into these cozy, laid-back establishments. From quirky independent cafés to trendy coffee houses, each spot offers a unique ambiance and a myriad of flavours to satisfy your cravings. Indulge in handcrafted brews, delectable pastries, and mouthwatering dishes that showcase the rich culinary heritage of Misamis Occidental.
Our curated selection takes you on a flavorful journey through the region's best-kept secrets, where passion for great coffee and exceptional service take center stage. Get ready to be pleasantly surprised by the warm hospitality and attention to detail found in these hidden gems. So grab your favorite book or meet up with friends, because these cafés are ready to whisk you away to a world of incredible tastes and unforgettable moments.
Factors to Consider When Choosing a Café
Location
Proximity to your home, workplace, or other destinations.
Accessibility and parking options.
Ambiance
The overall atmosphere and decor.
Seating arrangements (cozy, communal, outdoor, etc.).
Music and noise level.
Menu
Coffee and beverage selection (quality and variety).
Food options (breakfast, pastries, lunch, etc.).
Dietary accommodations (vegan, gluten-free, etc.).
Pricing
Affordability and pricing range.
Special deals or loyalty programs.
Wi-Fi and Power Outlets
Availability of free Wi-Fi.
Access to power outlets for charging devices.
Staff and Service
Friendliness and professionalism of the staff.
Speed and efficiency of service.
Cleanliness
Cleanliness of tables, utensils, and restrooms.
Overall hygiene and maintenance.
Special Features
Live music or events.
Art displays or bookshelves.
Outdoor seating or a view.
Crowd
Whether you prefer a bustling café or a quieter one.
Work-Friendly Environment
If you plan to work or study, check for a conducive environment.
Trina's Kapehan Down Under
Location: Brgy. Mitacas Highway, Baliangao
Specialty: Pour-Over Coffee
Trina's Kapehan Down Under is a quaint café nestled amidst the town's lush green forest along the highway. It offers breathtaking views of the serene mountainous landscape while patrons sip on expertly brewed coffee and indulge in delicious homemade pastries. With its warm and welcoming ambiance, it has become a beloved gathering spot for both locals and tourists seeking a tranquil coffee experience in this picturesque corner of Misamis Occidental.
Viñard Café
Location: Purok 2, Nailon, Tudela
Specialty: Pinakbet de Iloco and Seafood Pasta
Viñard Café is a unique haven where indulging in the graceful vineyard views is a true luxury. This serene establishment offers a delightful blend of Filipino and Italian cuisines, making it a privileged destination for those seeking an exquisite dining experience.
For more panoramic tourist spots in Misamis Occidental, click here.
Clarin House of Suman
Location: Bonifacio St., Poblacion 1, Clarin
Specialty: Suman and Sikwate (Traditional Hot Cacao Drink)
Clarin House of Suman proudly embodies tradition and taste. This charming establishment is a haven for suman (rice cake) enthusiasts. The air resonates with the sweet aroma of freshly made rice cakes and tablea (hot cacao drink). Local flavors come alive through these meticulously crafted treats. A cultural voyage awaits as visitors savor the soft, glutinous rice goodness. Each bite narrates the story of heritage and skill. Clarin House of Suman is a must-visit for those seeking a delectable journey into Filipino culinary history.
Tangub City Café
Location: Brgy. 1, Tangub City (beside Tangub City Hall)
Specialty: Lomi
Tangub City Café is a culinary gem in the heart of the city, celebrated for its specialty lomi that boasts a rich and flavorful broth. Beyond their delicious noodles, this café also doubles as a local food emporium, showcasing a diverse array of regional products that make it a one-stop-shop for food lovers and tourists alike.
If you want to learn more about local food products in the province, visit List of Food Products in Misamis Occidental.
Charming Cafés for the Gram
Très Coffee Co.
Location: Purok 3, Brgy. Bongbong, Ozamiz City
Specialty: Specialty Coffee from Brazil, Kenya, and Benguet in the Philippines
Location: Cebedo corner Ledesma Street, Brgy. Aguada, Ozamiz City
Specialty: K-cao Cake made with Liana's Tablea
Puesto Coffee
Location: City Hall Drive, Ozamiz City
Specialty: Churros
Better Brews
Location: Ozamiz City and Oroquieta City
Specialty: All Types of Frappés
Bella's Café
Location: 112 Barrientos Street, P4 Upper Langcangan, Oroquieta City
Specialty: Bella's Signature Coffee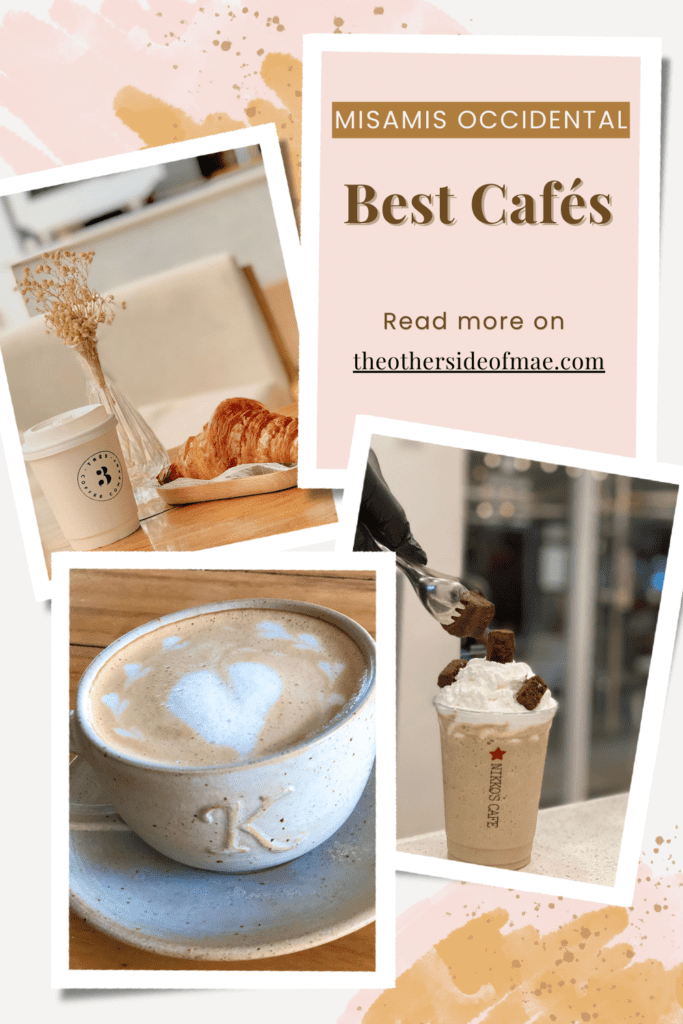 Cafés for Business and Leisure
Location: Royal Garden Hotel, Ozamiz City
Specialty: Nachos
Break Time Café
Location: Oakhill Inn, Capistrano Street, Ozamiz City
Specialty: Dangitsilog (dangit/Cebu's signature dried fish, sinangag/fried rice, itlog/sunny-side-up egg)
Bo's Coffee
Location: Don Anselmo Bernad Avenue, Ozamiz City
Specialty: Philippine coffee from Sagada, Benguet, Bukidnon, Davao
Specialty Cafés in Misamis Occidental
Kiolo's Dessert Café
Location: Las Aguadas St., Ozamiz City
Specialty: All Types of Cheesecakes
Nikko's Café
Location: JP Rizal Ave. cor Laurel Street, Ozamiz City
Specialty: All Types of Frappés
Location: Circumferential Road, Ozamiz City
Specialty: Hanbāgā Burger
Location: Asenso Ozamiz Food Park, Ozamiz City
Specialty: Fruit Shakes
Coolatta Café
Location: Maloro, Tangub City
Specialty: Corndogs
Parking Spot Coffee
Location: Las Aguadas St., Ozamiz City
Specialty: Matcha Latte
For more food specialties in Misamis Occidental, click here.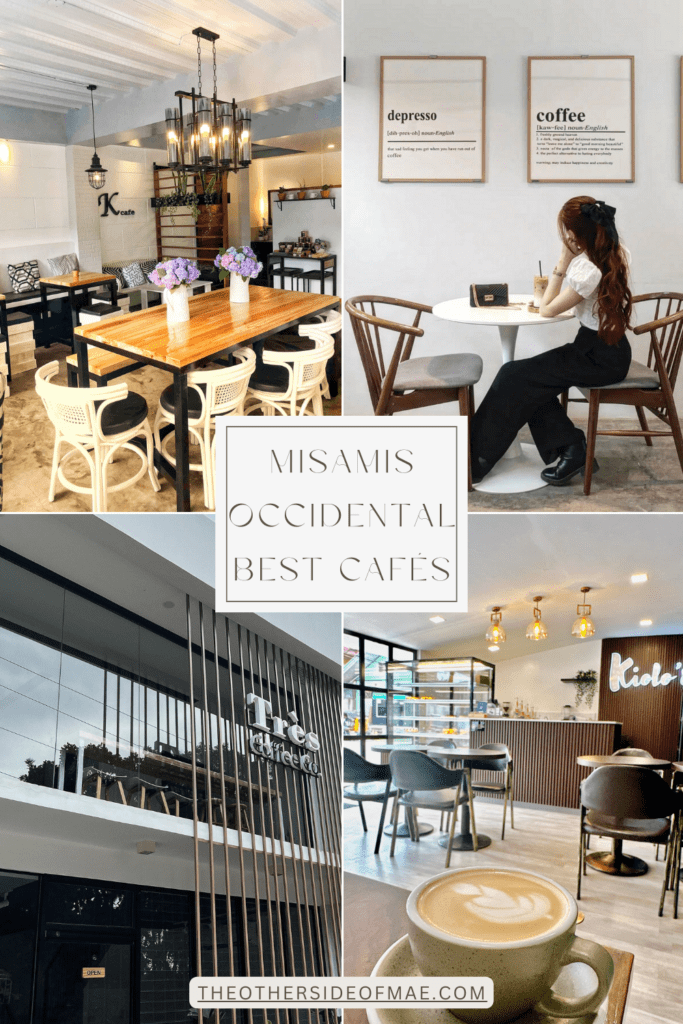 Koi Garden Café
Location: Rizal St., Clarin
Specialty: Koi Beef Rendang
iGrunge Café
Location: MN&J Ozaraga Bldg., Pastrano St., Pob 1, Oroquieta City
Specialty: Beef Jerky Ramyun
Royaltea Coffee
Location: Solinog Highway, Calamba
Specialty: Filipino Food Bila-o (Pancit, Lumpia, Fried Chicken, Pork Chicharon, etc.)
If you want to learn more on where to eat in the province, visit this article for a list of restaurants in Misamis Occidental.
Embracing the Café Culture in Misamis Occidental
Embracing the café culture in Misamis Occidental is a delightful journey into the heart of this charming province. From the serene coastal cafés in Baliangao, where you can savour a cup of coffee with a view of the sea, to the quaint bistros in the city of Tangub, known for their specialty lomi and regional food products, there's a café for every palate and mood. It's not just about the beverages; it's about experiencing the warmth of local hospitality, the rich flavours of Misamis Occidental, and the sense of community that thrives within these coffee havens. So, whether you're a coffee connoisseur or simply seeking a cozy corner to unwind, Misamis Occidental's café culture invites you to sip, savour, and connect with the heart and soul of this beautiful province.
Planning your Visit to Misamis Occidental
Planning a visit to Misamis Occidental can be an exciting adventure. Here's a step-by-step guide to help you plan your trip:
1. Research and Destination Selection
Start by researching Misamis Occidental's attractions, culture, and activities to determine if it aligns with your interests. For a list of tourist attractions in Misamis Occidental, click here. Also read List of Beaches in Misamis Occidental to learn more.
2. Language and Communication
Learn a few basic phrases in the local language (Cebuano/Visayan) to enhance your travel experience. English is also widely spoken. This Cebuano travel dictionary would surely come in handy.
3. Currency and Banking
Exchange currency or withdraw local currency (Philippine Peso) upon arrival. Inform your bank of your travel plans to avoid any issues with your cards.
4. Travel Dates and Duration
Decide when you want to visit and how long you plan to stay. Consider the weather, local events, and your personal schedule.
5. Travel Documents and Travel Insurance
Ensure your passport, visas, and other travel documents are up-to-date and comply with the requirements for visiting the Philippines. In addition, consider purchasing travel insurance to protect yourself in case of unforeseen events, such as cancellations, medical emergencies, or lost luggage.
6. Budgeting
Create a budget for your trip, including expenses for transportation, accommodation, food, activities, and souvenirs.
Research transportation options to Misamis Occidental, such as flights to nearby airports or bus routes. Book your tickets in advance to secure the best prices. For local transportation, plan how you'll get around within Misamis Occidental. Consider renting a car, using public transportation, or hiring local guides and drivers.
8. Accommodation
Choose the type of accommodation that suits your preferences and budget. Misamis Occidental offers a range of options, from hotels and resorts to guesthouses and homestays.
9. Local Cuisine and Dining
Research the local cuisine and restaurants in the area. Be sure to try some of the regional specialties during your visit. For a list of restaurants in Misamis Occidental, click here.
10. Activities and Sightseeing
Create an itinerary of the places you want to visit and activities you'd like to do. Misamis Occidental offers a mix of natural wonders, cultural sites, and outdoor adventures.
Pack appropriate clothing, taking into account the weather and activities you have planned. Don't forget essentials like sunscreen, insect repellent, and a first-aid kit. Since Misamis Occidental is known for its pristine beaches, visit the article The Ultimate Beaches in Misamis Occidental Packing Guide for a comprehensive packing list.
12. Safety Precautions and Emergency Contacts
Familiarize yourself with safety guidelines and potential health risks. Ensure you have necessary vaccinations and medications. Also, keep a list of emergency contacts, including the nearest embassy or consulate, local hospitals, and your accommodation's contact information. Make sure that your travel insurance is updated.
Stay updated on travel advisories and local news related to Misamis Occidental, and adjust your plans accordingly if necessary. Remember that travel plans can change, so stay adaptable and open to unexpected discoveries during your visit to the province. While on your visit, also don't forget to enjoy the stunning beaches in Misamis Occidental. Click here for more information.
Read the following articles on my review of some cafés in Misamis Occidental:
If you know other cafés in Misamis Occidental that are not on this list, kindly email me at maeolandesca@gmail.com.
If you find this article helpful, pin it!