Bigaan U River, also known as Nature's Horseshoe Bend as seen above a hundred foot cliff in Baliangao, Misamis Occidental is now one of the tourist's destinations in the province. Discovered by the locals in Sitio Mabini many years ago, the U-shaped river once posted on Facebook in 2017 became a hit! So travelers, photographers, and b/vloggers from all corners of the world flock to this wonderfully unique God's masterpiece that only planet earth could give. Welcome to Philippines' magnificent U River! This is Mae, your Misamis Occidental travel guide! 🙂
Best Spot:
The Cliffhanger (as I call it). Just be very careful with your steps. Rock climbing and cliff diving are not allowed.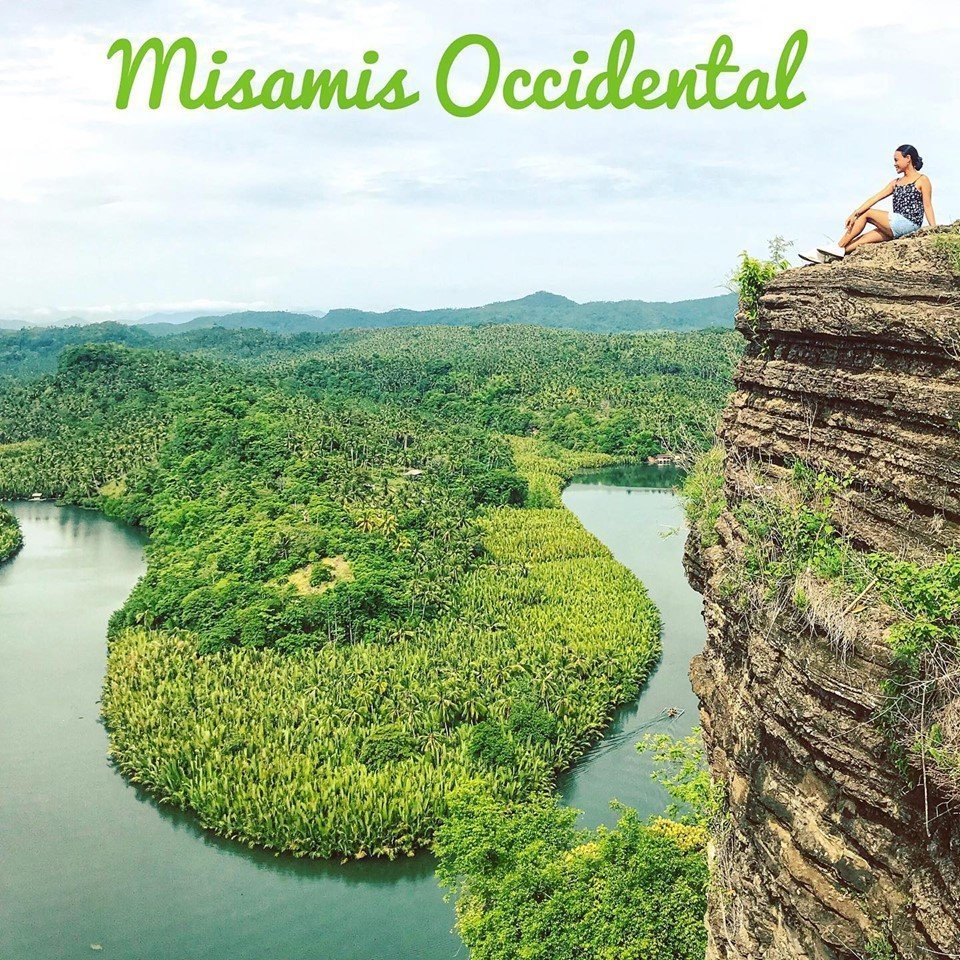 How to Get There:
For public transpo, take a bus from Ozamiz bound for Calamba. Travel time is around 2-2.5 hours. From Calamba, take a motorcycle bound for Baliangao. Travel time from Calamba to Baliangao is around 30 minutes. Upon reaching Baliangao, the best thing to do is ask the locals around. I'm sure, they'll be happy to help you. Or you can ask the motorcycle driver from Calamba to bring you to U River directly. (My apologies for not giving fare info here. It changes from time to time. Comment down below this post for Misamis Occidental travel guide.)

For private transpo, ask the locals the way to Sitio Mabini upon reaching Baliangao. Some of 'em would represent to take you there. Don't worry. They are not scammers. Just go! Misamis Occidental travel guide is here for you.

Then trekking to the top would be around 20-30 minutes depending on your number of stops for picture-taking. If you want to visit more tourist attractions in Misamis Occidental, click here.
What to Bring:
Bottled water, towel, extra shirt, hat/cap/umbrella, and Fascino Citronella Mosquito Repellent. Don't bring too heavy load for the trekking.
Fee:
Entrance Fee: P10 (if you're early, you can skip the fee like us but it's better if we pay as a little help to the locals)
Food Sidetrips:
Plaridel-UNIDEBA Moron and Nang Editha Pan Bisaya
Oroquieta-Suzette Broas
Aloran-Delta Ventures Heritage Cookies
Jimenez-Lola Luz Bago-ong
Tudela-Lee Bakery Pineapple Pie
Clarin-Suman House
For other local food products in Misamis Occidental, click here.
Plan Your Trip Ahead!
Contact Michael to guide you ‭(0997) 291 3066‬. Be generous with your tip. Let us all help promote Philippine tourism. Misamis Occidental travel guide is here to help.

Contact Nang Editha for Pan Bisaya in advance ‭(0946) 377 1790‬. Her humble home is just near the Catholic Church in Plaridel. Ask the locals for directions.
Now don't lose one-half of your half-life by not going outdoors! Go out, explore, and experience! Life is sooooo short so just go ahead and get crazy in Misamis Occidental adventure spots!
Now you might laugh. Yes, we just called ourselves "millenial mangkays". Just what age could one be called an official old maid? Anyway, who wants to join us? Our first ever vlog has just become trending! Click below and SUBSCRIBE to my channel, guys! 🙂
Want to have a Misamis Occidental travel guide? For questions, invites, and collaborations, direct message me on Facebook. For updates on my whereabouts and whatabouts, follow me on Twitter and Instagram! Also subscribe to my YouTube channel! 🙂
Related Posts:

Kawa Hot Bath and Spa in Tudela, Misamis Occidental
Hoyohoy Highland Stone Chapel Adventure Park
Revisiting the Bell Tower of Bukagan Hill
EOS Destination #1!
Lala's Eco Park
Daminar Riverside Garden
Subayan Keg Subanen Festival 2013
Bingka ni Nang Loisa sa Bonifacio, Misamis Occidental