Hurrah! Just had my first trip after the lockdown last year! Can you believe it? Most of us haven't traveled for over a year since CoViD-19 hit us big time! Must've been so tough, eh? How's the mental health doin'? Anyway, with the latest progress our country had fin'lly scoured out to come up with, travel restrictions had at last loosen up! So here are some things you'll need to know before hitting down that road again which we've left hangin' for a year now!
NO TRAVEL DOCUMENTS ARE REQUIRED

The Inter-Agency Task Force (IATF) already issued the uniform travel protocols for the entire country which says that no travel or health documents are required. However, it is the LGU's discretion if they require CoViD-19 tests upon arrival. You may refer to this article for more information. In my case, no test was done when I arrive in Cebu. As I've experienced, one can directly enter the ports of Cebu without much hassle. But when I arrived here in Ozamiz, rapid testing was done at the port for FREE and kudos to our LGU for keeping our city safe! And this is only for travelers from CoViD hotspots in our country like Manila and Cebu. If you come from other places, you are now welcome to enter Misamis Occidental as you wish!


DOWNLOAD THE TRAZE APP

Contact tracing forms are a hassle to fill-up each and every time you enter premises of establishments in big cities. If you have the Traze app, just simply scan your QR code and you're in, avoiding very long queues. FYI, all stores in malls require you to comply so just imagine how many times you'll be filling-up forms and queuing just to get in.


LOAD UP WITH VITAMIN C AND OTHER IMMUNITY BOOSTERS

Well, we already know this since the pandemic started. Inward nutrition is our greatest shield to fight the virus.


ALWAYS MASK ON AND FACE SHIELD ON

Surgical mask is a must even though we are not frontliners. Face shield adds more protection so just endure the obstruction on your face as this too shall pass.


ALWAYS KEEP YOUR DISTANCE

Social distancing is still observed everywhere we are so just be subject to it as this is now our new normal. But us Filipinos, we are known to be the "without discipline" in our country but when we are in other countries, we are so disciplined to obey. So if you happen to be in a place where nobody's looking and people are crowding, just see for yourself to keep distance.


AS MUCH AS POSSIBLE, REFRAIN FROM TOUCHING THINGS IN PUBLIC LIKE DOORKNOBS AND ELEVATOR BUTTONS

Use your elbows, shoulders, back or buttocks in pushing doors. Most elevators in buildings of big cities have an elevator personnel inside so just let him/her push the buttons for you.


WASH AND SANITIZE HANDS

Always have alcohol or hand sanitizer handy. But washing hands is the most effective and public places now have hand washing stations accessible for everybody. Wash hands every now and then while in transit.


BOOK ROUNDTRIP TICKETS AND ENSURE HOTEL RESERVATIONS

If you are on a leisure trip, some LGUs will require your roundtrip tickets and hotel bookings. Book in advance as hotels and resorts only accept half or three quarters of their usually capacity for their staff's safety.


TRAVEL ONLY IF IT IS ESSENTIAL

Yes, it's true that getting on that plane, boat or bus can give us change of environment and fresher air to breath but we have to bear in mind that though travel restrictions have been lifted, the virus is still around. So tighten your belt until the cases had dwindled before going out to see the word again without the fear of getting infected.


DON'T BE PARANOID AND JUST GO WITH THE FLOW IN THIS NEW NORM

Surely, it's only the news that makes things scary. When I went out there in the world again, it just felt normal. Well, it's not the normal normal as what we had but it is the new normal which we have to embrace. As what they say, what is gone cannot return. What is about to arrive needs to be recognized. So let us forget the idea of things to get back to normal. Let us just surrender unresistingly to the movement of life. Then little by little, everything that seemed complicated begins to become simple. Let us just enjoy this new normal as our days are counted, we never know when's our last!
Thank you so much to my high school classmates for carving out time to see me even on the shortest notice! Borrowed time is always quality with you, Mimi and Loraine. Thanks to Warren for the swoosh too! Hehe…..
Thank you Uncle Olik, Mama Dita, Bayang and Cangcang for always opening your home to me every time I come to Cebu. See you again soonest!
For questions, invites, and collaborations, direct message me on Facebook.  For updates on my whereabouts and whatabouts, follow me on Twitter and Instagram!  Also subscribe to my YouTube channel! 🙂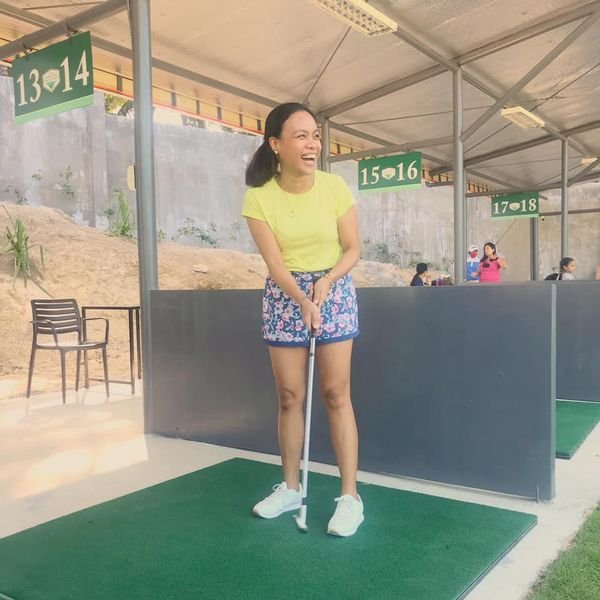 Check out what's the latest in Cebu City in this short vid!
Related Posts:

My Pandemic Musings
On Being a Frontliner for a Day