Dumaguete's Famous Sans Rival and Silvanas
Hello there, summer!  Though I'm not yet done with my school clearance, it's now vacay time for me!  This is one of the things I like with my job as a school teacher.  We have the summer off, sembreak, and Christmas break.  Never mind the "no pay" for probies like me.  Yeah, I'm still a proby after 9 years of teaching!  I've never been a regular/permanent for the 3 schools I've been working my ass with.  Well, that is just a proof that I am not really serious into this teaching thingy.  Thinking of a career shift, crossing my fingers, so may the Lord God bless me.
Anyway, since it's vacation time for me, I'm thinking of giving you some insider tips to help you plan your tour around the islands of Visayas.  I'm really hopeful that I can dedicate an hour or 2 daily for this as I'm thinking of featuring 7 different places this week.  So help me God.  Now to start with, let's talk about food, food, and food in DumaGetMe!
Dumaguete is known to the world as the cradle for the international school, Silliman University.  Students from the 4 corners of the world and from all walks of life come to the place to study.  With that, the small city is prolific with businesses left and right.  Bars and restos are really alive whether by day or by night.  Starting from the seaport where Silliman greets you, eating places line up the boulevard and each is just a walk away from the other.  Now that's a bonus to me!  I have the opportunity to digest the food I ate from one resto while walking to another.  It's shooting 2 birds in 1 stone again since I both love to eat and walk!  So here are a few places to drop by when you're in Dumaguete:
1. 2Story Kitchen
Location: Sta. Catalina St., Dumaguete City
Ambiance: Chill
Menu: Mostly Korean
Insider Tip: Proceed upstairs if you're up for eating like Koreans and Japanese do – on a floor table.
Recommended Dining Etiquette: Take off your shoes and press the button to summon their waitresses.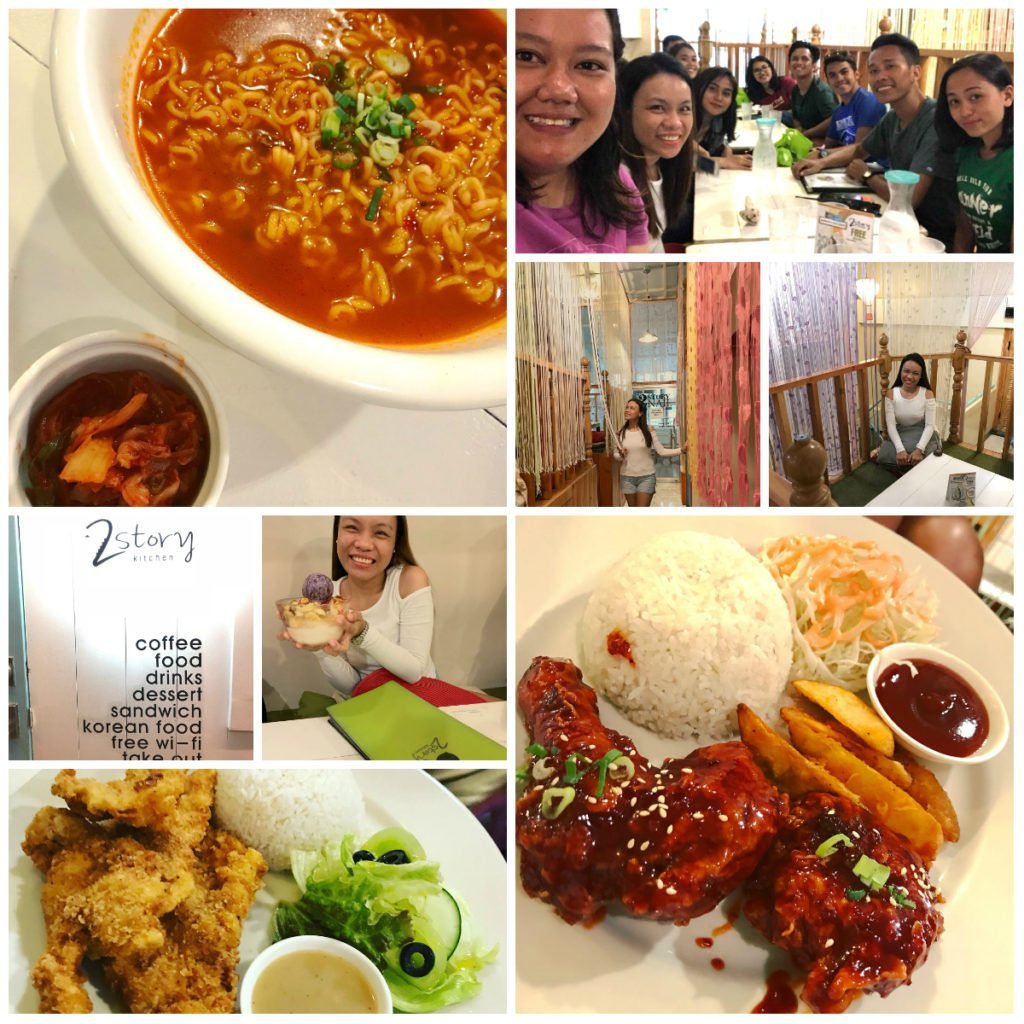 If you already happened to visit Café Tiala Princess Room in Cebu, you will also like it here but 2Story Kitchen has minimal interiors.
2. Chapters Café 
Location: Sta. Catalina St., Dumaguete City (just beside 2Story Kitchen)
Ambiance: Playful, childlike, wonderland
Menu: Salads, Pastas, Pizzas, Burgers, Sandwiches, Soups and Filipino breakfasts
Insider Tip: Since you'll surely be mesmerized by the vibrant and creative interiors, don't let this overpower the good food the place serves.
Recommended Dining Etiquette: Every spot is instagrammable! Say your excuses politely to other customers if you want your photos taken in all corners of the café.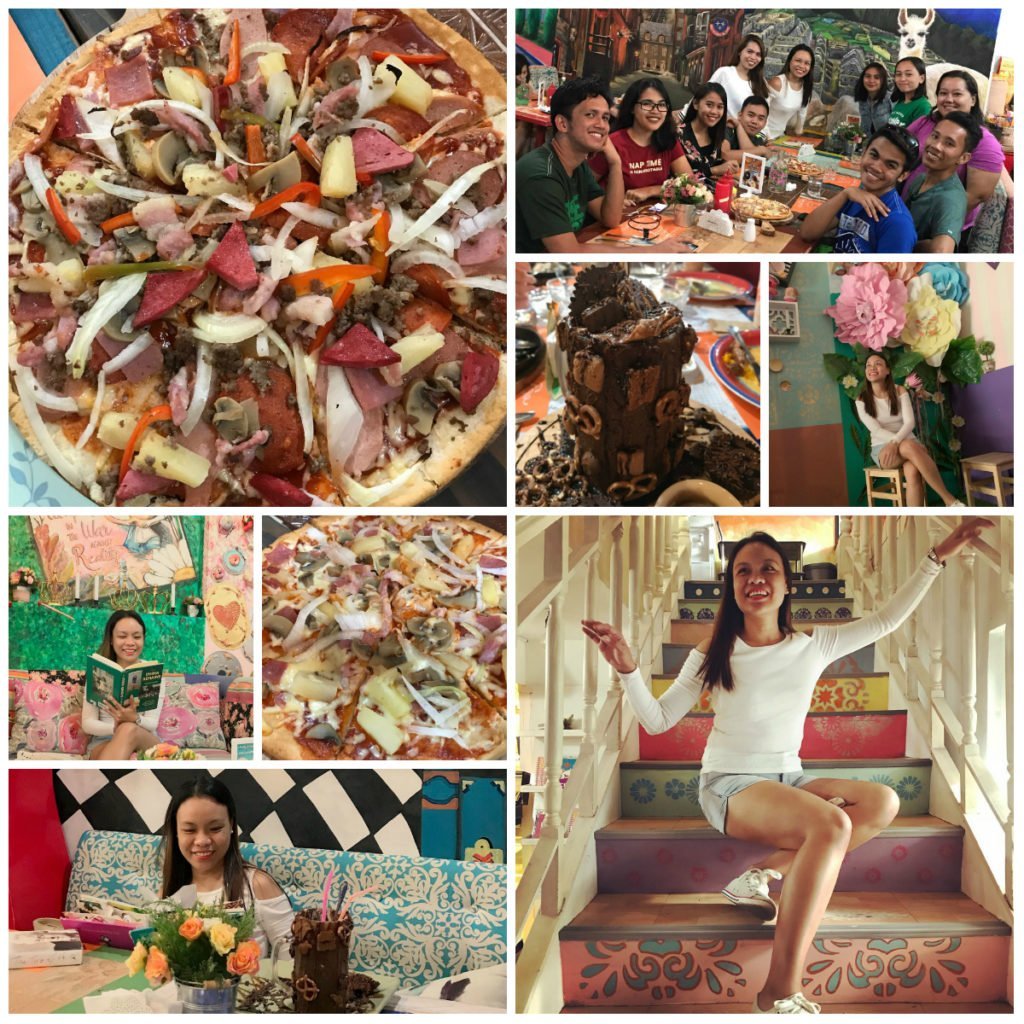 3. Hayahay Treehouse Bar and Viewdeck Restobar
Location: Escaño Beach, Flores Ave., Brgy. Piapi, Dumaguete City
Ambiance: Rasta
Menu: Filipino, Korean, American, Mexican, Japanese
Insider Tip: The samgyeopsal disappointed me 'coz I had my very first samgyeopsal in Seoul and that set my standard (better check out my samgyeopsaling experience here).  But the Rick's Ribs are really savory that you're gonna ask for more cups of rice.
Recommended Dining Etiquette: Be very patient in waiting for your order and don't walk out.
4. Sans Rival Bistro
Location: San Jose St, Dumaguete City
Ambiance: Spanish
Menu: Steaks, Pasta, Cakes, and Pastries
Insider Tip: If you haven't reserved room for desserts from all the heavy meals you've eaten, have sans rival and silvanas for take-away or pasalubong for your loved ones.
Recommended Dining Etiquette: Honestly, we haven't dined here but in case you do and I believe you must ('coz I definitely will), this is a fine dining resto so let's amp up our inner "it" girl with that! I even haven't took any photo inside the bistro 'coz I got intimated with the socialite diners at that time.  But here's one from their adjacent cakes and pastries shop.  Be early so you'll not run out of silvanas which is the house specialty for all time!  Just endure the very long queue.
And that ends our Dumaguete foodtrip with the amegas.  Thank you so much for adopting me to your group and do stay tuned tomorrow for our fully-loaded Siquijor trip!  But before that, take some time to watch this raw vid of our kacharcharan! #tosomtravels #tosomeats
For questions, invites, and collaborations, direct message me on Facebook.  For updates on my whereabouts and whatabouts, follow me on Twitter and Instagram!
Related Posts:
La Vie Parisienne
Café Tiala Princess Room
Buto't Balat Native Dishes and Seafood Restaurant