This article may contain affiliate / compensated links. For full information, please see our disclaimer here.
Are you longing for a tropical escapade? Look no further than the picturesque province of Misamis Occidental in the Philippines. With its stunning coastlines and crystal-clear waters, this hidden gem is a haven for beach lovers and adventure seekers alike. Join us as we unveil the top 10 must-visit beaches in Misamis Occidental, each offering a unique and unforgettable experience!
From secluded coves to bustling beachfronts, Misamis Occidental boasts a plethora of breathtaking beaches waiting to be explored. Whether you're in search of a serene retreat or an action-packed getaway, this province has it all. From the untouched beauty of the beaches in Baliangao to the vibrant atmosphere of the beaches in Panguil Bay, prepare to be captivated by the natural wonders that await you. So grab your sunblock and get ready to uncover the hidden gems of Misamis Occidental's pristine coastline!
The Allure of Beaches in Misamis Occidental
There's something undeniably alluring about beach destinations. The sound of waves crashing against the shore, the feeling of warm sand between your toes, and the sight of a breathtaking sunset over the horizon – these are just a few things that make beach vacations so appealing. Beaches offer a sense of tranquility and relaxation, providing the perfect escape from the hustle and bustle of everyday life. Whether you're looking to unwind and recharge or indulge in thrilling water sports, beaches have something for everyone. And when it comes to beach destinations, Misamis Occidental is a hidden treasure just waiting to be discovered.
Misamis Occidental is nestled on the western coast of Mindanao, the second-largest island in the Philippines. With its pristine coastline stretching over 200 kilometers, this province is home to some of the most beautiful beaches in the country. From remote and untouched stretches of sand to vibrant beachfronts buzzing with activity, Misamis Occidental has it all. Each beach in this province offers a unique experience, showcasing the natural beauty and charm of the region. So pack your bags, put on your swimsuit, and get ready to explore the hidden gems of Misamis Occidental's stunning shoreline!
Quick Facts About Misamis Occidental
Convenient Location: Northern Mindanao of the Philippines
Accessibility: By Air, Land, or Sea
Language: Cebuano. Learn basic Cebuano with this English-Cebuano travel dictionary!
Power Supply Voltage: 220V. Don't forget to bring universal travel adapter with you!
Best Features: Beaches, Marine Life, Mt. Malindang
Seasons: Rainy (June-November) and Dry (December-May) but now depends on climate change
Best Time to Visit: March-May
Festivals: Subayan Keg Subanen Festival (second week of July in Ozamiz City)
Perangat Festival (second Saturday of November in Oroquieta City)
Is Misamis Occidental Safe?
Misamis Occidental in the Philippines has generally been considered safe for tourists. As mentioned, the province offers picturesque landscapes, cultural attractions, and friendly locals. However, like any travel destination, it's important to exercise common sense and adhere to safety precautions. Before planning a trip, it's advisable to check for the latest travel advisories. Always stay updated on the local news and follow any guidance provided by official authorities. Additionally, always bear in mind your travel insurance coverage.
When I was younger, I neglected to get insurance. But when I arrived here in Toronto, I learned the importance of having one or two or more. It is always a necessity. In this matter, always secure your travel insurance before traveling for your peace of mind. For travellers and nomads, I recommend Safety Wing for their global coverage and reasonable monthly plans.
Nevertheless, it's also recommended to travel in groups, avoid isolated areas at night, and secure your belongings while traveling to Misamis Occidental. While the province has many beautiful spots to explore, staying informed and practicing safety measures should contribute to a pleasant and secure travel experience. For the most up-to-date information, consider checking with reliable sources or local tourism boards.
How to Get to the Beaches in Misamis Occidental
To get to the beaches in Misamis Occidental, you can follow these general guidelines:
1. Select Your Destination Beach
Misamis Occidental has several beautiful beaches to choose from, such as the beaches in Baliangao, Bawbawon Island, and beaches in Panaon. Decide which beach you'd like to visit based on your preferences and interests. Scroll down below for the list of beaches in Misamis Occidental.
If you're traveling from outside the region or internationally, you can fly to Laguindingan Airport in Cagayan de Oro City, which is the nearest major international airport to Misamis Occidental. From there, you can take a bus or arrange for private transportation to your chosen beach destination. It is always advisable to book your flight in advance to snag some discounts.
If you're traveling from within the country, fly to Labo Airport in Ozamiz City which is the metro city of the province.
Land Travel:
If you're already in the Philippines or in a nearby region, you can take a bus, van, or car to Misamis Occidental. Major bus companies operate routes to cities within the province.
3. From Laguindingan Airport
If you arrive at Laguindingan Airport, you can take a shuttle or a taxi to the nearby bus terminals. Buses travel to various cities within Misamis Occidental through a ferry from Mukas to Ozamiz City. Generally when traveling within Asia, 12Go is always a must-go website for your train, bus, ferry, transfer and flight tickets booking needs.
4. From Within the Province
If you're already within Misamis Occidental, you can use local transportation options such as buses, vans, or tricycles to get to your desired beach. Ask locals for directions and the best mode of transportation.
Depending on your destination, you might need to use tricycles, habal-habal (motorcycle taxis), or balik-balik to reach the beaches. Make sure to negotiate fares before starting your journey.
6. Navigation Apps and Local Advice
Navigation apps like Google Maps can be helpful for finding directions and estimating travel times. However, in some cases, local advice might be more accurate for locating specific beaches, especially if they are lesser-known.
Before traveling, ensure you have a place to stay near your chosen beach. Some beaches may have resorts, guesthouses, or homestays, while others might have limited accommodation options. Read below for places to stay in Misamis Occidental.
8. Stay Updated on Travel Advisories
Always check for the latest travel advisories and updates, especially if you're traveling to a new area. Political or environmental conditions can impact travel plans.
9. Respect Local Customs and Guidelines
Once you arrive at your chosen beach destination, respect local customs and guidelines. Some beaches may have specific rules regarding swimming, littering, and behavior.
Remember that conditions can change, and it's best to verify all information closer to your travel date. Additionally, consider reaching out to local tourism offices for the most accurate and up-to-date information about transportation options and beach accessibility in Misamis Occidental.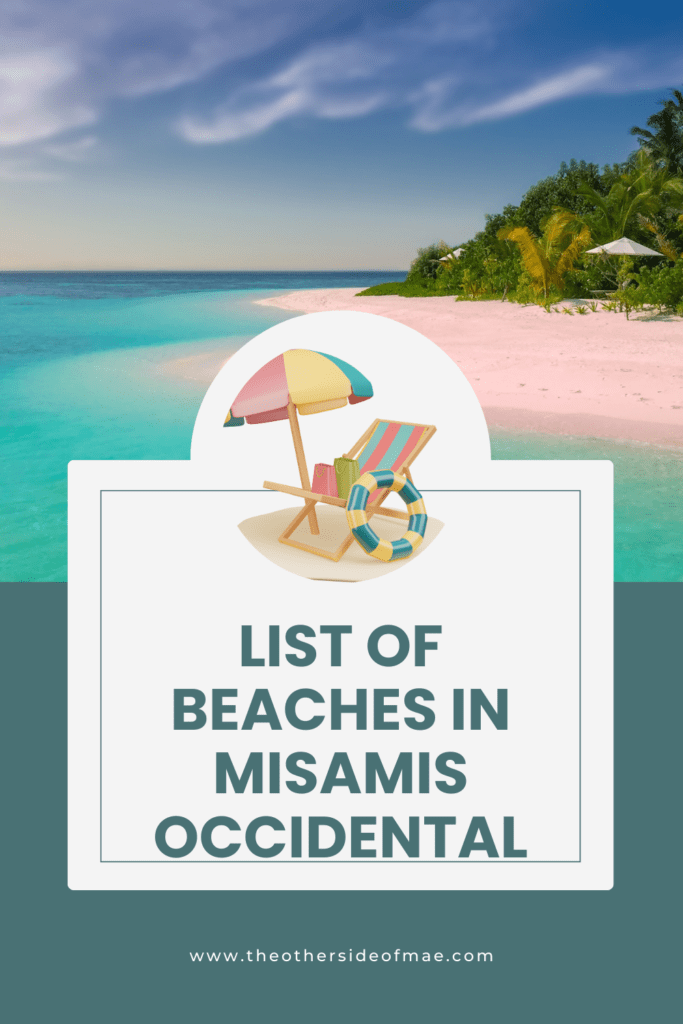 Top 10 Beaches in Misamis Occidental
Nestled along the picturesque coastline of Misamis Occidental, Bawbawon Beach Resort offers an idyllic tropical escape. With its powdery white sand and crystal-clear turquoise waters, the resort provides a serene haven for beach enthusiasts and nature lovers alike. Lush palm trees sway in the gentle breeze, providing natural shade as visitors relax on the inviting shores. The resort's charming cottages blend harmoniously with the surroundings, offering comfortable accommodations that range from rustic to modern. Activities abound, from snorkeling in vibrant coral reefs to indulging in local delicacies at the beachside restaurant. Bawbawon Beach Resort beckons travelers seeking tranquility and adventure amidst the beauty of nature's bounty.
Perched on the serene waters of Misamis Occidental, the Oklahoma Island Rafi's Resort offers a unique and enchanting getaway. The resort's rustic bamboo cottages provide a distinct and immersive experience, allowing guests to embrace the calming rhythm of the waves. With breathtaking views of the surrounding landscape, this resort invites relaxation and introspection. Visitors can relish in aquatic activities like snorkeling and swimming, while being captivated by the underwater wonders. For those yearning for an offbeat retreat that melds comfort with nature's splendor, the Oklahoma Island Rafi's Resort presents an unforgettable escape.
3. Sunrise Beach Resort – Baliangao
Sunrise Beach Resort is a tropical haven that promises a rejuvenating seaside retreat. The resort boasts pristine sands that gently meet the azure waters, creating an inviting playground for beach lovers. Palm trees sway gracefully, offering shady respites for those seeking relaxation. Embarking on thrilling water activities like snorkeling are popular pastimes. For a captivating blend of coastal charm and modern comfort, Sunrise Beach Resort beckons travelers to savor an unforgettable coastal escape.
Dela Paz Beach Resort is a tranquil oasis that promises a serene escape. The resort's soft, powdery sands stretch out to meet the calm, cerulean waters, creating a serene backdrop for relaxation. Towering coconut trees provide natural shade, perfect for unwinding with a good book or simply soaking in the peaceful atmosphere. Guests can revel in water activities such as banana boating, kayaking, and swimming. With its harmonious blend of natural beauty and comfortable amenities, Dela Paz Beach Resort invites travelers to experience a tranquil coastal getaway like no other.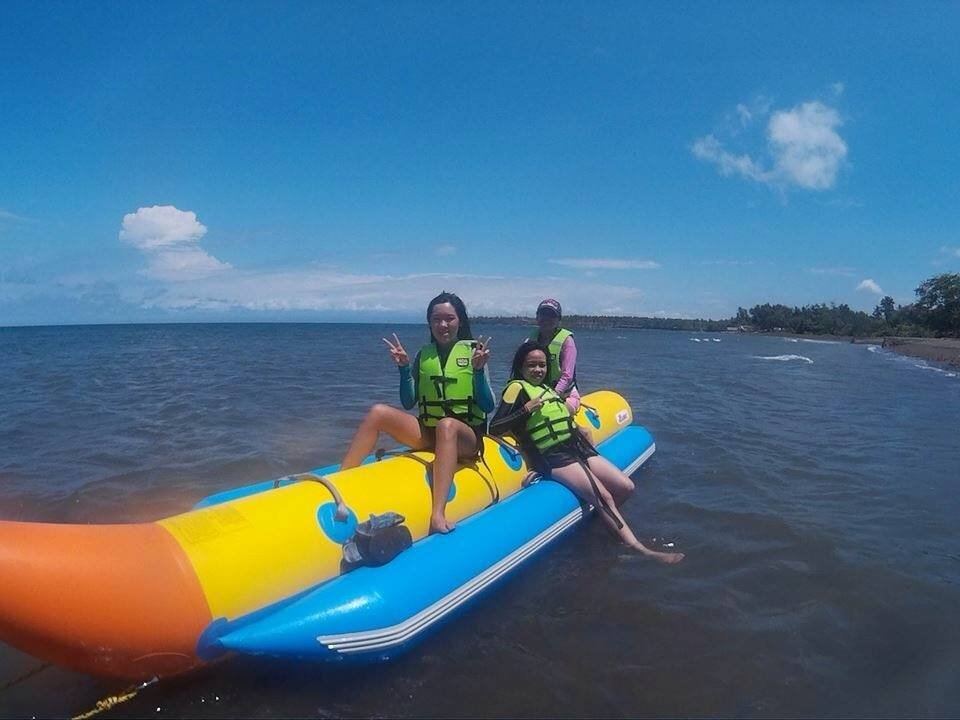 Punta Meriam Beach Resort and Spa is a luxurious haven that promises a harmonious blend of relaxation and indulgence. With its pristine sand and crystal-clear water, the resort offers an idyllic backdrop for those seeking tranquility by the sea. Palm-fringed pathways lead to spacious cottages, where comforts seamlessly merge with coastal charm. The resort's spa offers rejuvenating treatments, while the pool invites guests to unwind with panoramic ocean views. Adventure enthusiasts can also explore the vibrant marine life. For an opulent coastal getaway that redefines luxury, Punta Meriam Beach Resort and Spa beckons with its first-class amenities and breathtaking surroundings in Misamis Occidental.
6. Sperm Island – Jimenez
Sperm Island, located off the coast of Misamis Occidental, is an intriguing natural wonder that captures the imagination. This small, rugged island stands proudly amidst the turquoise waters of the region. Its powdery terrain showcases a striking contrast to the surrounding sea. Shaped like a sperm cell, the island gets its name from its distinctive resemblance. Its untouched beauty makes it a captivating spot for photography and exploration, and visitors can partake in snorkeling to witness the vibrant marine life that thrives beneath the waves. With its unique shape and untouched allure, Sperm Island stands as a fascinating landmark in the picturesque landscape of Misamis Occidental.
Alona's Dreamland Beach Resort offers a captivating retreat that marries natural beauty with modern comforts. The resort's well-appointed accommodations, ranging from cozy rooms to spacious function halls, provide a comfortable oasis amidst the stunning surroundings. Sun-soaked days can be spent lounging by the pool or engaging in thrilling water sports. For an unforgettable coastal escape that caters to both relaxation and adventure, Alona's Dreamland Beach Resort promises an idyllic haven in Misamis Occidental.
8. Sapang Dalaga Floating Playground – Sapang Dalaga
The Sapang Dalaga Floating Playground in Misamis Occidental is a delightful aquatic haven that promises endless fun and excitement. Floating atop the serene waters of the northern seas of Mindanao, this playground offers a thrilling range of inflatable obstacles and attractions. From towering slides to wobbly bridges, visitors of all ages can test their balance and bravery while basking in the scenic surroundings. Whether you're conquering the challenging courses or simply relishing the sun-soaked atmosphere, the floating playground offers an unforgettable experience. Ideal for families, friends, and adventure enthusiasts, the Sapang Dalaga Floating Playground beckons with its unique blend of adrenaline and leisure set against the picturesque Misamis Occidental backdrop.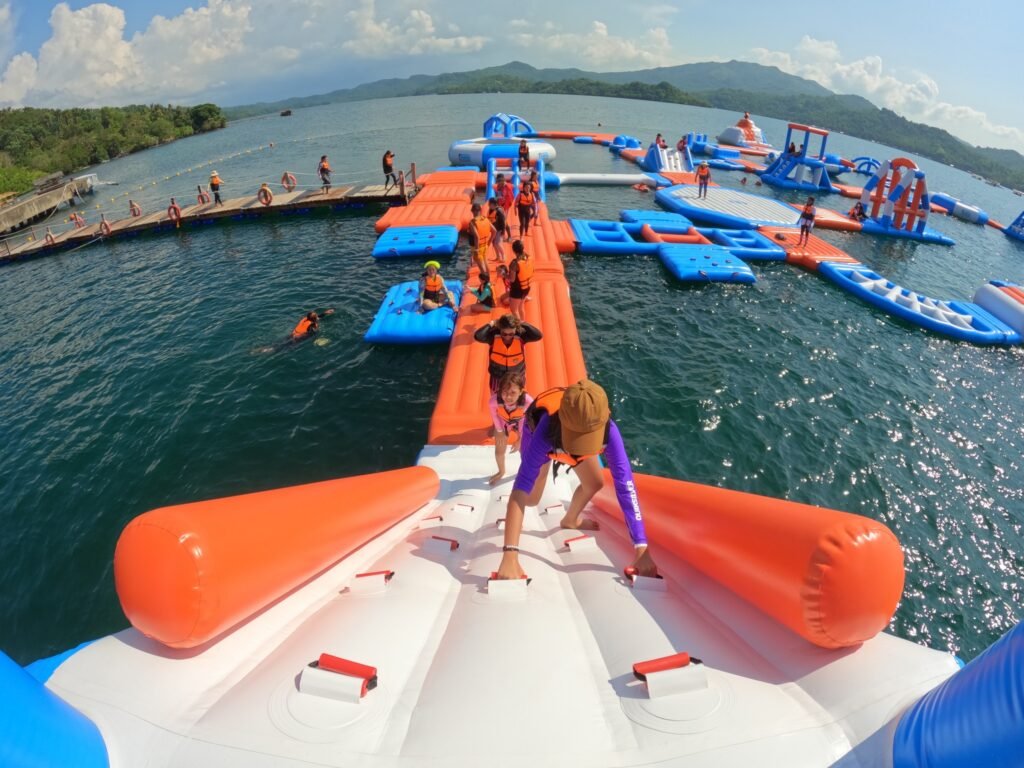 Caluya Floating Cottages offer a unique and enchanting escape. These rustic yet charming bamboo cottages are perched atop the tranquil sea, inviting guests to immerse themselves in the soothing embrace of nature. With stunning views of the surrounding coastline, visitors can relish the gentle lapping of waves beneath them. The cottages provide a serene base for aquatic adventures while being surrounded by the beauty of the ocean. For an offbeat getaway that harmonizes comfort with the allure of the sea, Caluya Floating Cottages present an unforgettable experience amidst the splendor of Misamis Occidental.
Overlooking the serene waters of Misamis Occidental, Bluewaves Resort stands as a charming coastal retreat that invites relaxation and recreation. The resort's pristine sandy beach and clear ocean provide an inviting backdrop for leisurely lounging or invigorating water activities. Accommodations, ranging from cozy cottages to spacious rooms, offer comfortable sanctuaries with stunning sea views. Sunsets can be savored while taking a dip in the pool or enjoying a beachfront barbecue. For a serene and enriching coastal experience, Bluewaves Resort captures the essence of Misamis Occidental's beauty and hospitality.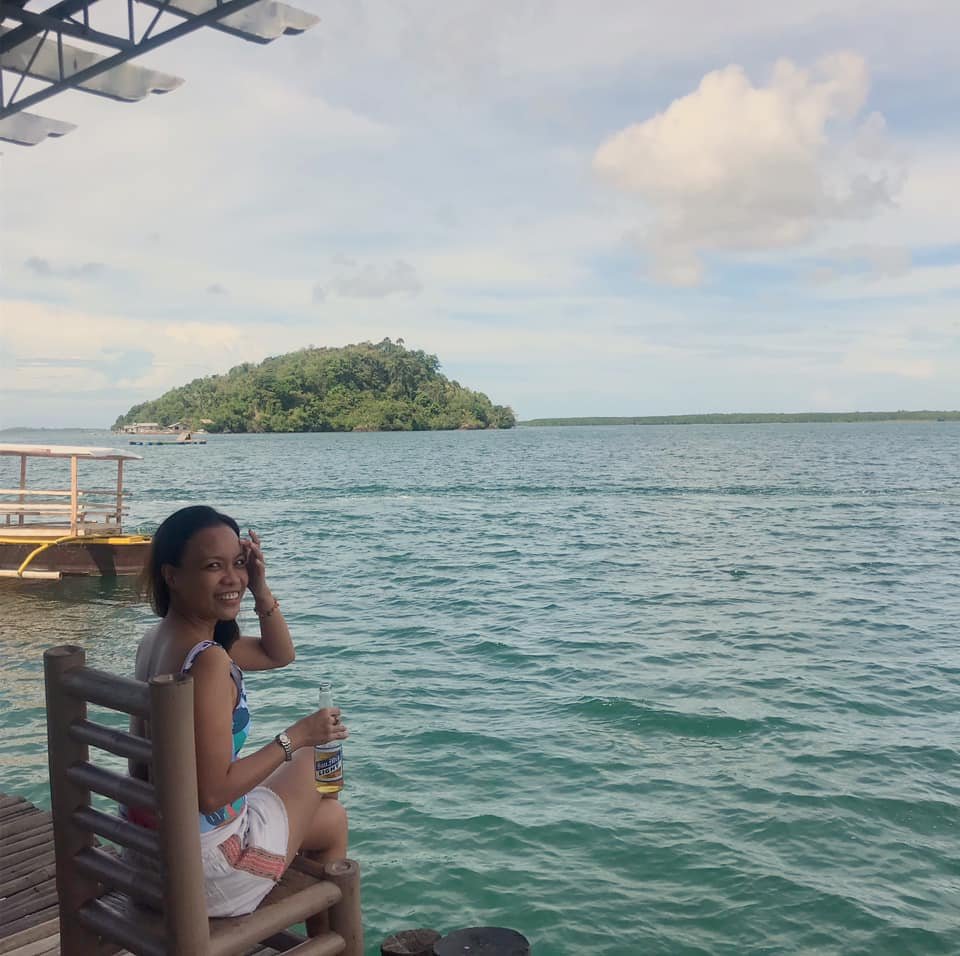 Want to learn more on what to see in Misamis Occidental? Visit my article List of Tourist Attractions in Misamis Occidental.
Misamis Occidental offers a range of accommodation options to suit different budgets and preferences. Here are some places to consider staying in the province:
1. Royal Garden Hotel (Ozamiz City) – A mid-range hotel offering comfortable accommodations and amenities in the heart of the city.
2. Bethany Gardens (Ozamiz City) – A swimming pool resort closest to Labo Airport with various function halls for conventions, seminars, and parties.
3. GV Hotel Ozamiz (Ozamiz City) – A budget hotel chain with basic but clean rooms, ideal for travelers looking for affordable options.  You may check prices here.
4. Daminar Riverside Garden (Oroquieta City) – A popular riverside resort offering various types of accommodations with access to a private pool and various recreational activities.
5. Costa Del Sol Resort Hotel (Oroquieta City) – A modern hotel with well-appointed rooms, suitable for both leisure and business travelers.
6. Hotel Bijoux (Plaridel) – A boutique hotel perfect for your stay at Bawbawon Beach Resort. Crêperie de Plaridel and Le Bistro are also located here.
7. Local Homestays and Guesthouses – In various towns and cities of Misamis Occidental, you might find local homestays and guesthouses that provide an authentic experience of staying with local families.
For more information on where to stay in Misamis Occidental, I recommend Expedia and Booking.com.  It's important to note that availability and conditions may have changed since my last update. Always make sure to check the latest reviews, book in advance, and consider reaching out to local tourism offices for the most current information on accommodations in Misamis Occidental before planning your stay.
Rough Budget for the Beaches in Misamis Occidental
The cost of a trip to Misamis Occidental, like any travel destination, can vary widely depending on factors such as your travel style, preferences, and the duration of your stay. However, I can provide you with a rough budget estimate based on general costs as of my last update. Keep in mind that prices may have changed, so it's a good idea to research up-to-date information closer to your travel date.
1. Accommodation:
– Budget guesthouses or hostels: $15 – $30 per night
– Mid-range hotels: $40 – $80 per night
– Luxury resorts: $100 and above per night
2. Food:
– Street food and local eateries: $3 – $10 per meal
– Mid-range restaurants: $10 – $20 per meal
– Fine dining: $20 and above per meal
Wanna know places to eat in Misamis Occidental? Jump to this article!
3. Transportation:
– Flights: The cost of flights can vary widely depending on your location of departure and the time of booking. Domestic flights within the Philippines can range from $50 to $150 or more one way.
– Local transportation (tricycles, buses, etc.): $1 – $10 per ride, depending on distance
4. Activities and Sightseeing:
– Entrance fees to attractions: $1 – $10 per attraction
– Guided tours or activities: Prices vary widely based on the activity, but budget around $20 – $50 for most tours.
5. Miscellaneous:
– Souvenirs and miscellaneous expenses: It's a good idea to budget an additional 10-20% of your total estimated expenses for unexpected costs and souvenirs.
Based on these estimates, a daily budget for a budget traveler could range from $30 to $50, a mid-range traveler could budget around $70 to $120 per day, and a luxury traveler could budget $150 and above per day. These are just rough estimates, and actual costs may vary. It's recommended to research current prices and make a detailed budget based on your specific preferences and plans.
Tips for Visiting the Beaches in Misamis Occidental
Before you embark on your beach adventure in Misamis Occidental, here are a few tips to ensure a smooth and enjoyable trip
1. Pack the essentials
Don't forget to pack your swimsuit, sunscreen, hat, and beach towel. It's also a good idea to bring a reusable water bottle to stay hydrated throughout the day.
2. Check the weather
Misamis Occidental enjoys a tropical climate, so it's important to check the weather forecast before your trip. Be prepared for sudden rain showers or strong winds, especially during the rainy season.
3. Respect the environment
Help preserve the beauty of Misamis Occidental's beaches by practicing responsible tourism. Avoid littering and dispose of your trash properly. Respect the local marine life and coral reefs by not touching or stepping on them.
The sun can be intense, especially during the peak hours of the day. Make sure to drink plenty of water to stay hydrated and protect yourself from heatstroke.
5. Follow safety guidelines
Be mindful of your safety while swimming or participating in water activities. Follow any safety guidelines provided by lifeguards or tour operators. If you're not a confident swimmer, consider wearing a life jacket.
6. Support local businesses
Show your support for the local community by patronizing local businesses, such as beachfront resorts, restaurants, and souvenir shops. This helps contribute to the local economy and ensures the sustainability of the tourism industry. Visit these articles for the list of restaurants in Misamis Occidental, list of cafes in Misamis Occidental, and list of food products in Misamis Occidental.
With these tips in mind, you're all set to embark on a memorable beach adventure in Misamis Occidental. Whether you choose to explore the secluded beauty of Baliangao Beach or immerse yourself in the vibrant atmosphere of Panguil Bay Beach, this province promises a beach experience like no other. So pack your bags, gather your loved ones, and get ready to discover the hidden gems of Misamis Occidental's pristine coastline. Indulge in local flavours, too by clicking here.
Packing for a beach trip to Misamis Occidental, or any beach destination, requires careful consideration of the climate, activities, and your personal preferences. Here's a packing list to help you prepare for a great beach experience:
Clothing:
Swimsuits: Pack at least two swimsuits so you always have a dry one to wear. Click here for a handful of swimsuit options from Zaful.
Cover-ups or beach dresses: For walking around the beach or going to beachside restaurants.
Lightweight, breathable clothing: T-shirts, shorts, dresses, and tank tops for daytime and casual wear.
Light long-sleeve shirts and pants: These can provide sun protection and are useful in the evenings when it might get a bit cooler.
Beach towels: These quick-drying towels are ideal.
Footwear:
Flip-flops or sandals: Easy to slip on and off, great for the beach and casual walks.
Water shoes: If you plan to explore rocky areas or coral reefs, I highly recommend DoGeek Water Shoes. They are durable and comfortable, ready for that big adventure!
Sun Protection:
Sunscreen: Choose a high SPF sunscreen to protect your skin from the strong sun.
Sunglasses: Polarized sunglasses with UV protection to shield your eyes from the sun's glare.
Wide-brimmed hat or cap: Provides shade and protects your face from the sun.
Beach Accessories:
Beach bag: For carrying your essentials to the beach.
Beach mat or blanket: To relax on the sand.
Snorkeling gear: If you plan to explore underwater.
Waterproof phone pouch: Protects your phone from sand and water.
Reusable water bottle: Stay hydrated while being environmentally friendly. I can always count on Dzhuywer Sports Insulated Bottles for this. They are eco-friendly and health-friendly to you too.
Electronics:
Camera or smartphone: Capture the beautiful scenery and memories.
Power bank: Keep your devices charged, especially if you'll be out all day.
Toiletries:
Shampoo, conditioner, and body wash: Many accommodations might provide these, but it's good to have your preferred products.
Insect repellent: Depending on the time of year, insects might be around.
Basic first aid kit: Including bandages, antiseptic cream, and any personal medications.
Miscellaneous:
Travel adapter: Make sure your electronics can be charged.
Cash: Not all places might accept cards, so it's good to have some local currency.
Optional Items:
Books or magazines: For leisurely reading by the beach. See my book recommendations below.
Snacks: Non-perishable snacks for when you're hungry between meals.
Remember that the specific items you pack might vary based on the time of year, your planned activities, and your personal preferences. Additionally, always check the weather forecast before your trip to ensure you pack accordingly. For a comprehensive packing list, click here.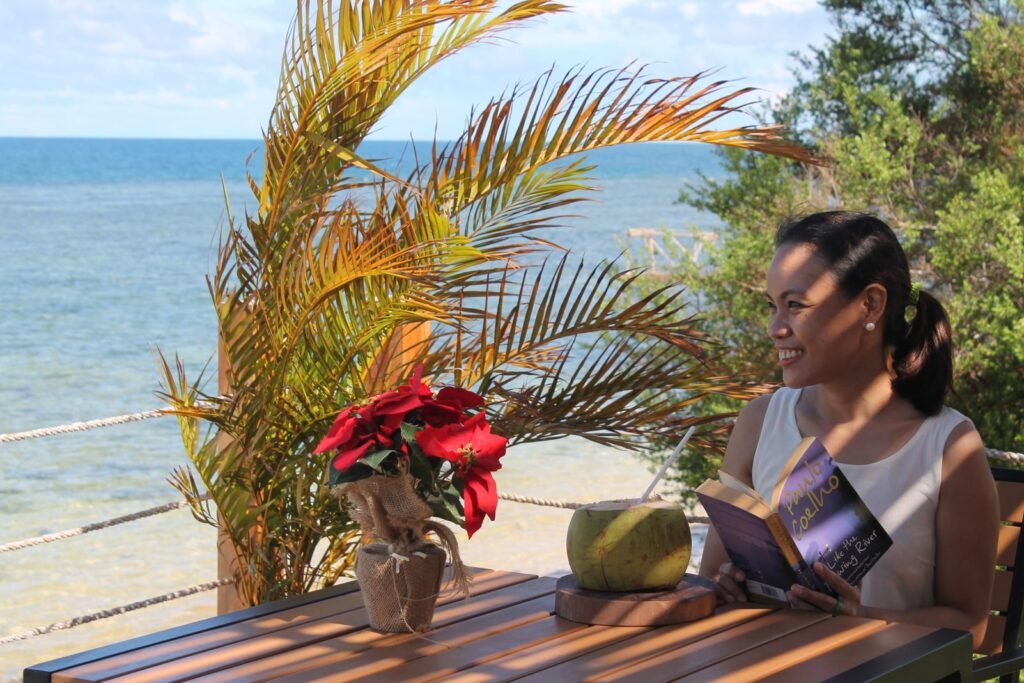 Books to Read About Beach Retreats
Misamis Occidental is a true paradise for beach lovers and adventure seekers. With its stunning coastlines, crystal-clear waters, and breathtaking scenery, this hidden gem in the Philippines offers a beach experience like no other. From the tranquil retreats of Aloran Beach and Calamba Beach to the vibrant atmosphere of Panguil Bay Beach, each beach in Misamis Occidental offers a unique and unforgettable experience. So why wait? Grab your sunblock, put on your swimsuit, and get ready to uncover the hidden gems of Misamis Occidental's pristine coastline. Want to know what to pack for your journey? Head on to The Ultimate Beaches in Misamis Occidental Packing Guide.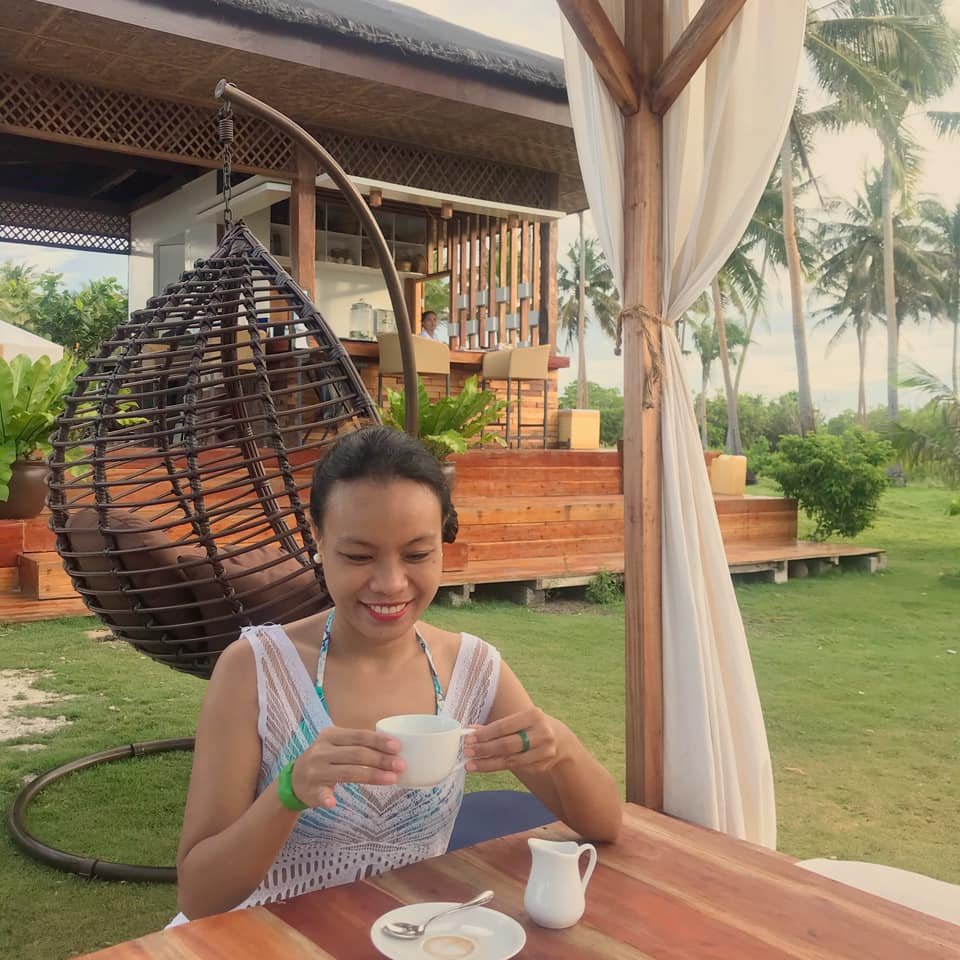 Isn't it wonderful to read a good book in a relaxing atmosphere? Much more with your favourite tea or coffee in hand? For a list of coffee and tea shops in Misamis Occidental, visit this article.
Read the following articles on my review of the beaches in Misamis Occidental:
Want to bring something home from the journey? For pasalubong, visit List of Food Products in Misamis Occidental.
If you know other beaches in Misamis Occidental that are not on this list, kindly email me at maeolandesca@gmail.com.
If you find this article helpful, pin it!