In taking part of the celebration of World Theatre Day last March 27, 2020, allow me to late-post this sort-of review of La Salle University's pre-Valentine show last month, the Kasal/Sakal by Teatro Guindegan.
In a wedding scene, who are you? Kasal/Sakal is a relatable play of the drama, pretensions, and hullabaloos of a wedding. Weddings are always a lovely thing, yes. But truth is, it's not as pretty as it should be for some, for others or for many. I, myself can attest to that. It depends on whose wedding it is that I'm attending. One moment I get so excited over a wedding, the other moment I feel so sorry for myself when my last single bestie walks down the aisle.
In Kasal/Sakal, we have the chance to eavesdrop into the inner thoughts of each individual in a wedding. Each has always something to say. May you be the mother of the bride, maid of honor, groomsman, Bible bearer or simply an attendee, who you are in a wedding affects the totality of the must-be-perfect scenario. Whether you wear that mask or not, being true to oneself is still a hesitation to others. As for me, saying my "I'm so happy for you" is already a worn-out thing.
Anyway, Kasal/Sakal is a musical play where I also enjoyed the singing of the chorus so much! Their facial expressions and gestures are perfectly animated which add colors to the play. Congratulations Sir Felimon Blanco, Sir Ted Tac-an, Sir Aldren Alferez, and the whole cast of Kasal/Sakal for yet another splendid performance!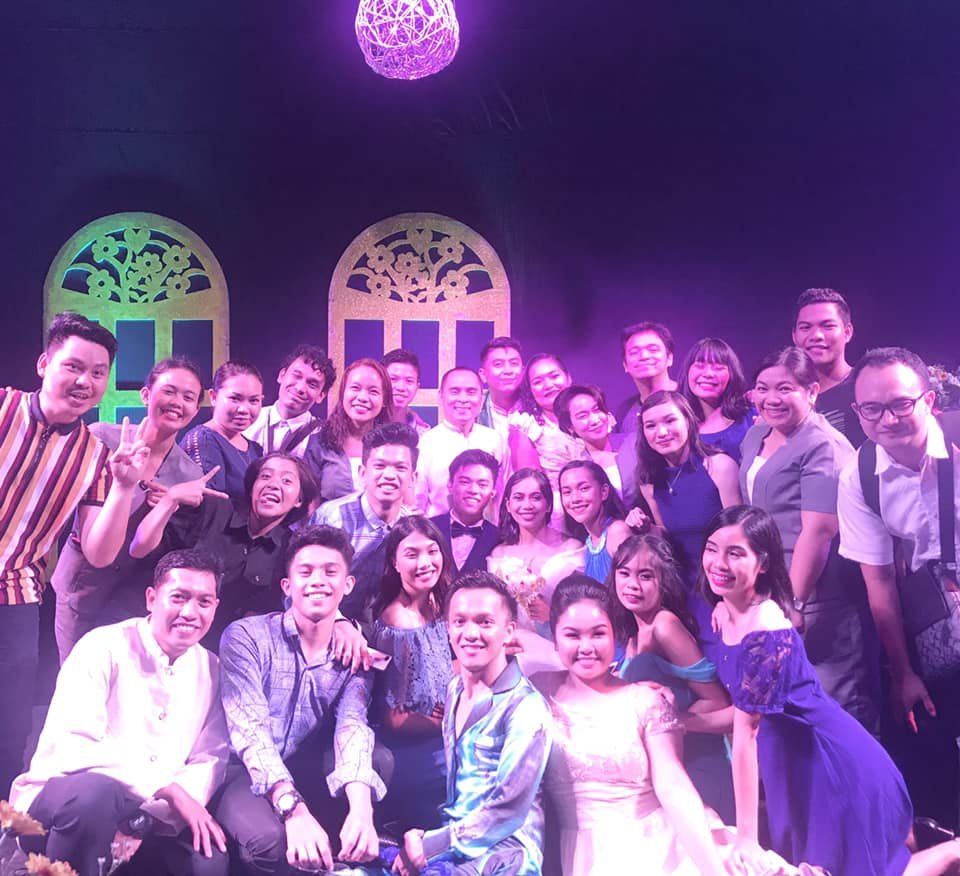 CAST:
Felimon Bonita Blanco
Ted Nudgent Fernandez Tac-an
Aldren Alferez
Artchie Linganay
KA REn
Niel Villarejo
Mitchie Lynn Maybituin Cila
Kristine May Atad,
Louigie Kapa,
Pearlyn Barrientos,
John Daryl Alferez,
Sweetchell Sabaiton

CHORUS: Sharika Jane Bation, Marjorie Maquiling, Stefanie Niña Calago, Sydine Mae Tagala, Melogin Domiguez

Production Designer: Ted Nudgent Tac-an
Assistant Director: Aldren Alferez
Stage Manager: Kurtney Bench Bongosia
Director: Felimon Bonita Blanco
Is it really true that being Kasal means being Sakal? Since it is our second week of community quarantine season, do watch this 1-minute vid of the show to somehow give us hope that there is still tomorrow!
For questions, invites, and collaborations, direct message me on Facebook.  For updates on my whereabouts and whatabouts, follow me on Twitter and Instagram! Also subscribe to my YouTube channel! 🙂
Related Posts:

1NNOSARA: Mindanao Solo Performance Project 1st Edition
Twilight Melody: A Solo Act by Ted Nudgent Fernandez Tac-an