2018 started out with a really tough trial for our family. Papa was initially diagnosed with the onset of dementia when he had the first attack on January 29, 2018 which I thought it was all my fault. We were the only ones left here at home at that time 'coz Mama accompanied Ep2x to Singapore as my sissy just had her lung surgery here in the Philippines. As my year started with a sour mood, I didn't had time to spend with Papa as I was also very busy at school. So Papa always went out with his friends to the farm, always drove Auntie Bebot's maids for their catering services, and always very busy and excited under the heat of the sun that he also neglected having his proper meals at the proper time. In short, we had our own separate lives that we barely talked until he went home on a Tuesday telling me that he was feeling sick. So we went to Medina General Hospital and sad to say, we were not entertained at the ER because there were more patients who needed immediate attention than Papa so I just told him that we will just go home 'coz Auntie Bebot already gave him meds for his BP to lower down. To tell you, I was really angry at that moment 'coz Papa was always going out and not taking care of himself and now that he was feeling sick, I got the one who got hassled and not his so-called "friends". Then the day after that, Thursday when he went to Dr. Bodiongan for prescription. He bought the meds without me inspecting and on Friday, Pastor Magno also prescribed him some herbal meds without also me inspecting. On Saturday, he came home at almost midnight, went out very early on Sunday again and by the time he got home at night, he was already not himself without me noticing 'coz I slept early due to an aching wisdom tooth. The following Monday morning, Papa knocked on my door and already talked nonsense so I got alarmed. I immediately went to Auntie Bebot and Ate Esther told me that Papa was really acting weird since 8PM the night before and even went to their house bringing our dog, Bantay at 3AM that morning 'coz there were demons according to him. Then Auntie Bebot, Ate Esther together with Ate Imelda went to Papa and when they touched him, they said that Papa was napasmohan (missing out a meal causing mental illness). So together with Rio and Auntie Lourding, we rushed him to Medina.
On our first night at the hospital, Papa did not sleep and kept shouting. He kept on talking and crying out all his frustrations in life. Why was he purdoy, why don't we obey him, why is he under de saya our Mama, why are there many poor people in the world, why are there many religions, why why why?????? He was not the Papa I knew who was very kind, very down to earth, very walay libog. It was like, all his disappointment and anger were poured out that night with only the two of us inside room 209 at Medina, the longest night I ever had my entire life!
Then Mama arrived early Tuesday and we did all tests including CT Scan to check on how we could know Papa's illness. The psychiatrist came on Wednesday already and that's what she said – onset of dementia. Papa still couldn't sleep and we even called up a hilot to bring back his kabuhi to normal without his doctors' knowledge. Still, no progress. Still talking nonsense, angry, shouting, and not sleeping until Ate Imelda suggested for us to consult a spiritista. Now that's against our faith as Christians so I said no. But she insisted on calling one and through her phone, she got a diagnosis and a counteraction. According to her, there were bad elements living in our bathroom at home (the reason why Papa always stays inside the CR in the hospital though he's not peeing nor pooing, I thought). Then Ate Imelda said that she just had to put 25 pieces of 25 centavos inside our CR to say sorry to the spirits. And that night, Papa unbelievably slept!
So we discharged from the hospital on Sunday and on Monday, we consulted another psychiatrist. This time, he diagnosed Papa as having mood disorder. In this week, I always accompanied Papa wherever he went because he was still disoriented and talked nonsense. Two weeks out from school, I decided to already resign however, Papa did not want me to. Gladly, he was OK when I got back to school 'coz our supervisor was already looking for me. Then Papa was totally healed before his 67th birthday so we threw him a party at Johann's as thanksgiving to God, our ultimate healer! I implored Him to bring back my Papa to us the moment Papa slept for the first time at that first week of attack but for 12 minutes of sleep only.
After our ordeal with Papa, Mama had an accident on Friday the 13th of April 2018. She got her right shoulder fractured when she toppled over as she was polishing our floor with a wet rag. Almost 3 months in cast, I took over all the household chores. At the same time, Papa always slept and barely talked. He was sluggish and inactive. He even told Auntie Bebot that he was hearing voices for him to commit suicide so I was alarmed again. He was on a late-life depression this time.
Moreover, right after Mama's cast was taken off, I was the one who got sick. I had sciatica and on the evening of July 6, 2018, I walked on my knees from my room to the CR. I thought I'd be paralyzed and thanks to Auntie Bebot for bringing me to Sir Bong of Tangub to treat my lumbar numbers 3,4, and 5! He's a chiropractor/acupuncturist/hilot. No matter what his job description is, I got healed by only applying force on pressure points of my hands, soles of feet, and arranging my spine by only turning me over left and right.
Then school started on August 1 and I thought things got back to normal. Papa got healed, Mama was undergoing therapy and she was already able to move her right arm, and I also got healed. We were doing well and my sissies also came home on the last week of September. We went to Dahilayan, Cagayan de Oro, Iligan, and also had an outing here at Kawa Hot Bath and Spa in Tudela. Additionally, we also had our family tree planting at Uncle Nestor's parcel of land in Maikay. Surprisingly, Papa got really active at this time and after sending off Ep2x and Laling back to Singapore, he got more active.

With that, Papa always went out again and every time he is always out with his friends and serving others, Mama gets furious. She always nagged again which always irritated Papa and they also got back to normal and that is shouting at each other. And on my birthday, Mama was so angry because Papa promised her to be home and help her with the laundry but he didn't so they got into a big fight with matching ilog2x of kutsilyo because Mama wanted to hurt herself. So this got me into another bad mood which resulted into another fight between Papa and me 'coz he always had the car the entire days and one day when I needed it, I crashed it again in the emburnal. Apart from that, Papa didn't listen to us when we forbade him not to go to Davao with his siblings. And that's it. When they got back from Davao, Papa was not himself again. On October 29, 2018, he called me up on my phone while they were still queuing for the barge at Mukas and talked about demonyo again.
So the nightmare started again. Sleepless nights, apas2x wherever Papa went, bringing of garbage into our house, talking nonsense, being so isog, etc. Then I decided to have Papa checked by a neurologist 'coz I also saw signs of Alzheimer's. The neuro said that it's Parkinson's that struck him instead. Alzheimer's and Parkinson's are actually types of dementia and this is what Papa got. It's in his genes 'coz his father also got Parkinson's. Papa's forgetfulness, disorientation, depression, hallucination, and mood disorder are only symptoms of the disease. But I was not convinced 'coz schizophrenia is also in his genes (the sister of his Lola was schizophrenic) so we brought him to be treated in Cebu. We consulted a psychologist and another psychiatrist there and they both said that it's Major Depressive Disorder (MDD) with Psychosis 'coz Papa always mentioned about being left alone on January 2018 when Mama was in SG and when I closed my door for him 'coz talking about their unprofitable vast lands irritates me.
After 1 neurologist, 3 psychiatrists, and 1 psychologist with different findings but boiling down into one conclusion, our Papa now is not our Papa anymore. He should be handled with caution and with great care. Above all, he needs our utmost love and support the reason why I have him and Mama as my top priority last year. I refrained from hanging out with my friends and serving God by doing DGroups. I always ran from school to home, from store to home, from anywhere to home. Every time I'm apart from my parents, I'm restless and worries too much on what might be happening to them at home. I'm traumatized of another attack, another accident, and another fight so God please forbid. 'Coz if Papa is in attack, I get really really down, don't want to go out, and don't want to do social media. I'm overthinking of what people might say. So I just spend my spare time with Papa and Mama more often.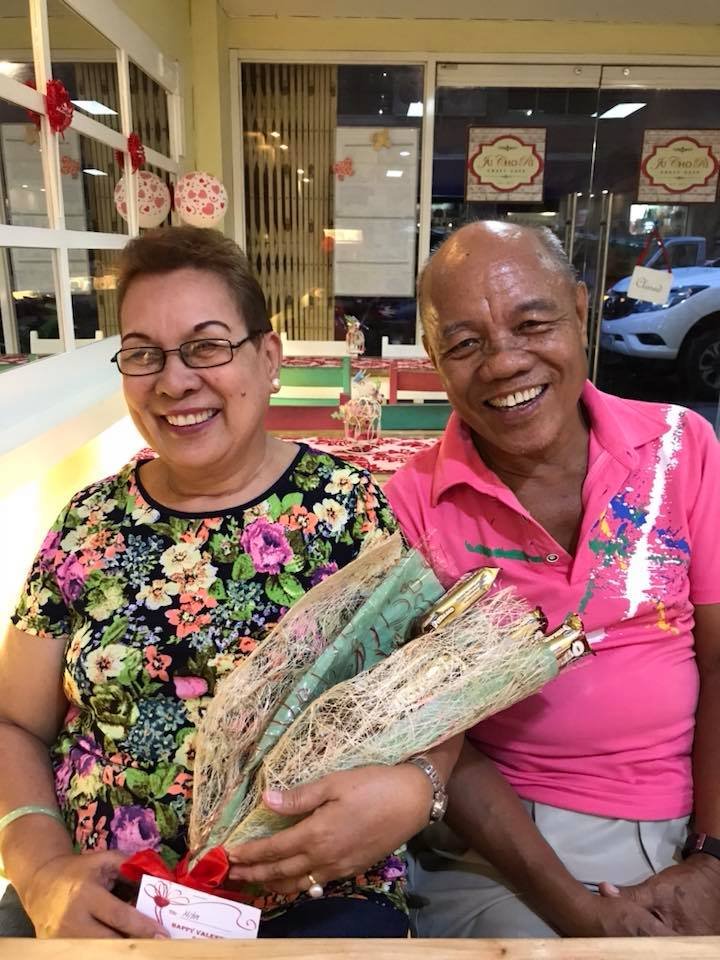 And this is the story of my Papa for those who were asking and this is why I am a changed person for those friends who had noticed. I'm sorry I'm not the same friend anymore 'coz I need to spend more time with Papa and Mama. And if you had also noticed, this post is a very lengthy and sentimental one. As mentioned in my zodiac, dogs were not lucky for the year of the dog last year. Now I'm exhaling deep 'coz it's finally over! But though unlucky, good things and really great things also happened to me last year and here they are!
The Usual Leisure Travel Goals Na 'Di Mawawala Ever!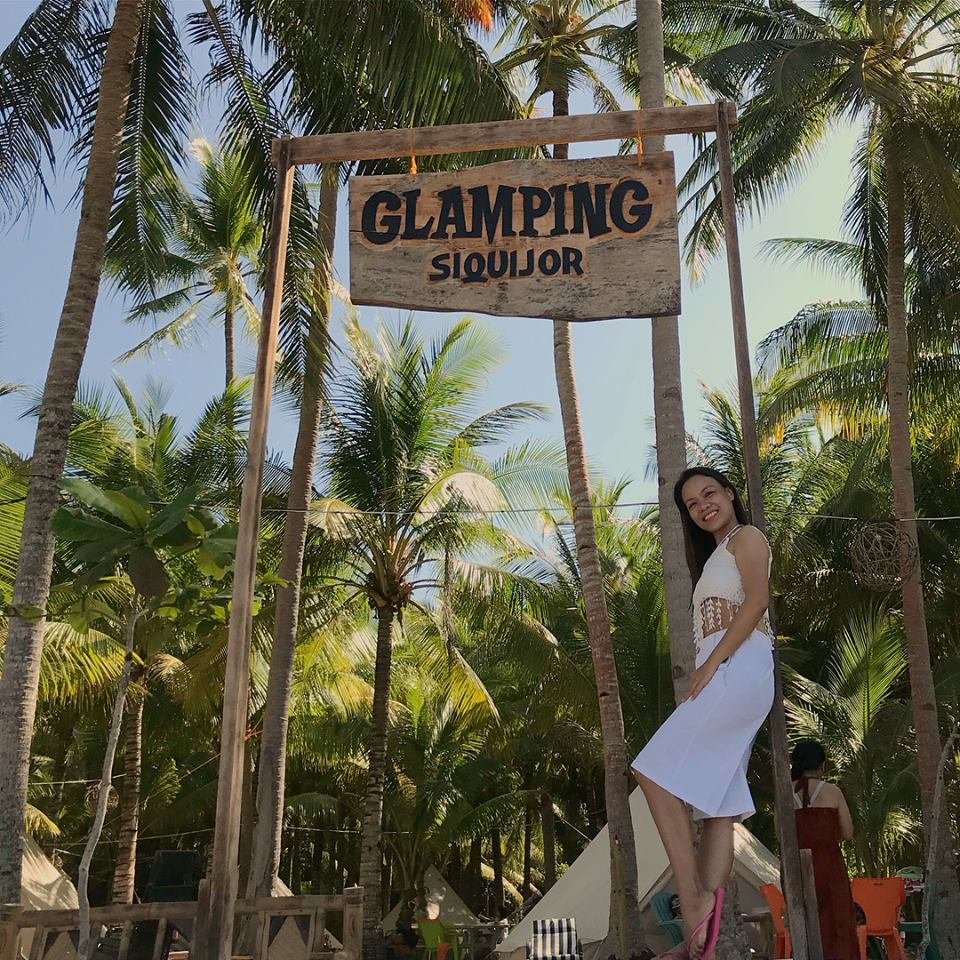 Siquijor with LSU Senior High Faculty
Palawan with LSU MatSci College Faculty
Thailand the Second Time Around with DTI Family
Speaking of DTI, we had launched Fascino's latest products which are the Citronella Mosquito Repellent Body Spray in 5 variants – original, strawberry-scented, orange-scented, with peppermint, and with lavender essential oils! Now these brought us to new heights, making us join in trade fairs and selling online through Lazada. Thank you so much, Yahweh for this great blessing! 🙂
In line with that, I got awarded as the Best Business Plan Presenter at the culmination of Kapatid Mentor Me (KMME) Program Batch 2 of DTI and GoNegosyo.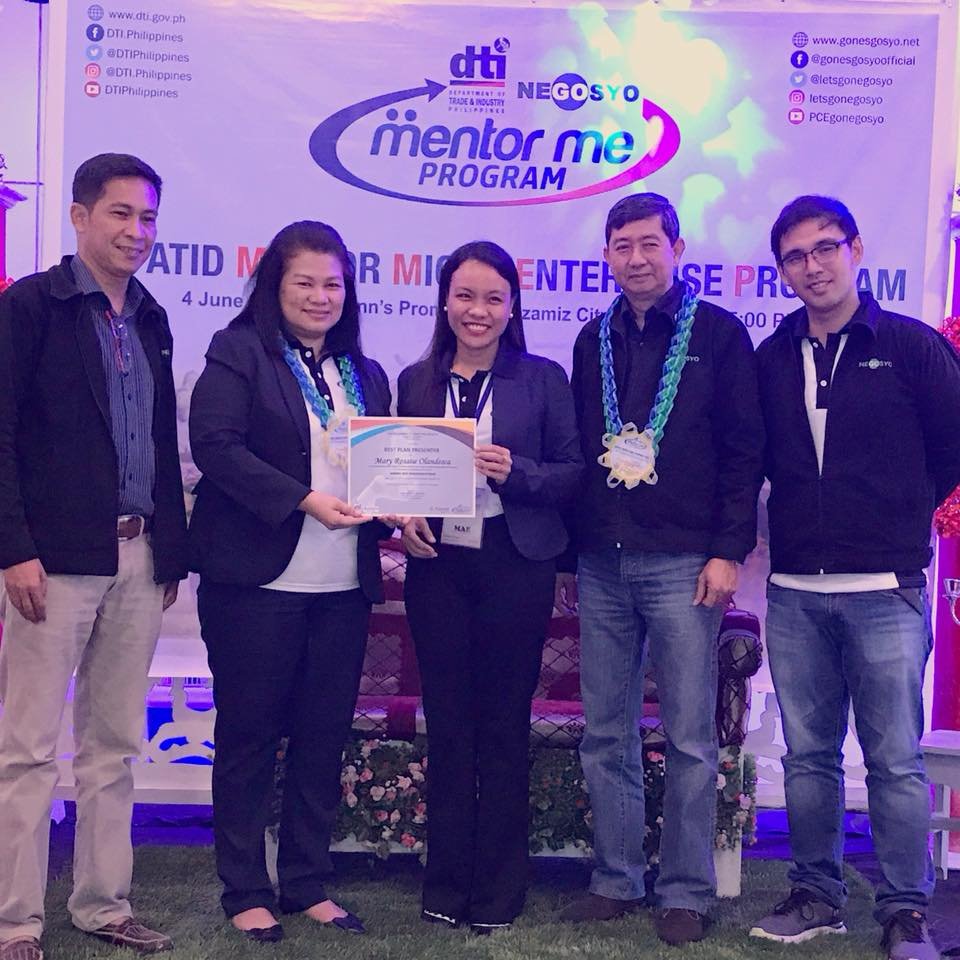 I Finished My Master's Degree
Blogging Invites and Collaborations
K Café, Streetwalkers PH, VjANDEP, Write with Passion, DTI Website Development, The Music School of Ryan Cayabyab, Pas'ungko Goes to Gaisano Trade Fair, and Migo Café
New Ties of Friendship and Partnership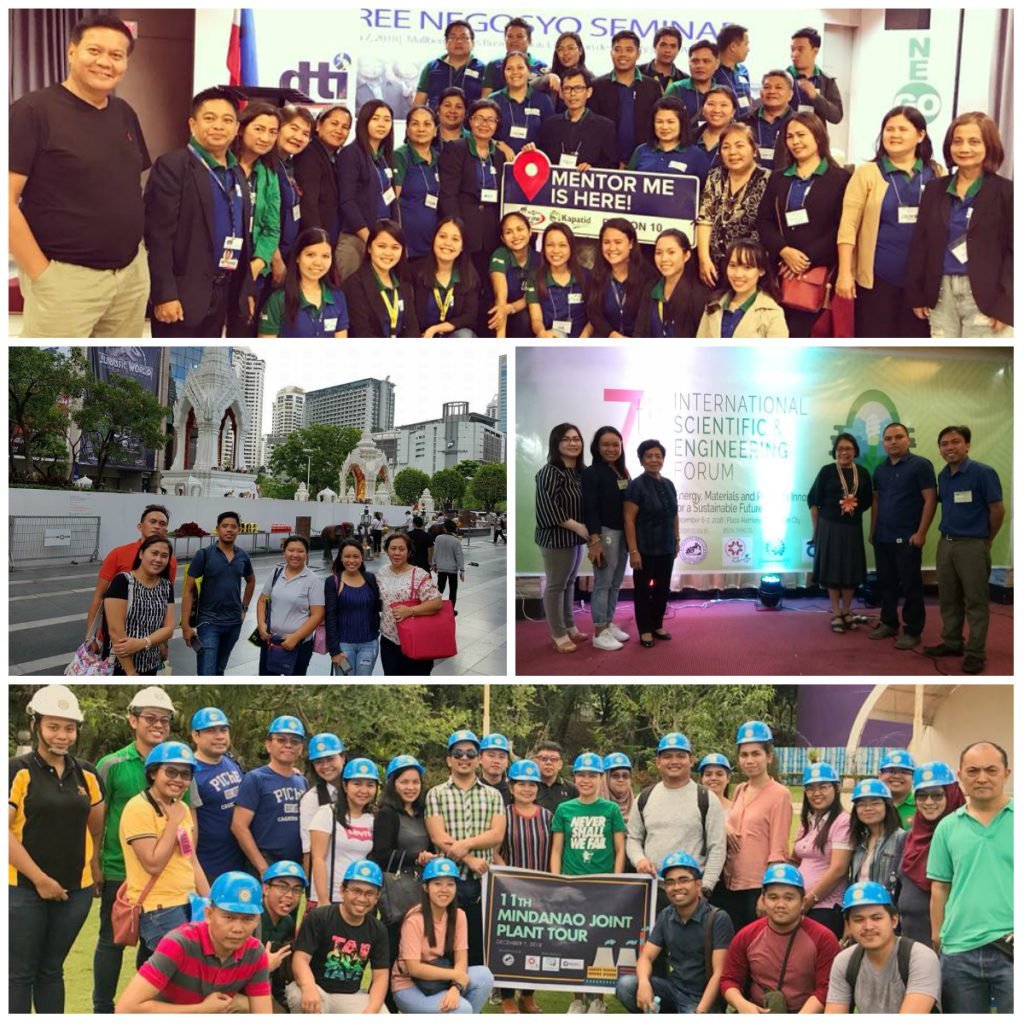 Misamis Occidental Local Entrepreneurs and Philippine Institute of Chemical Engineers
Most Loved Solo Pics on FB and IG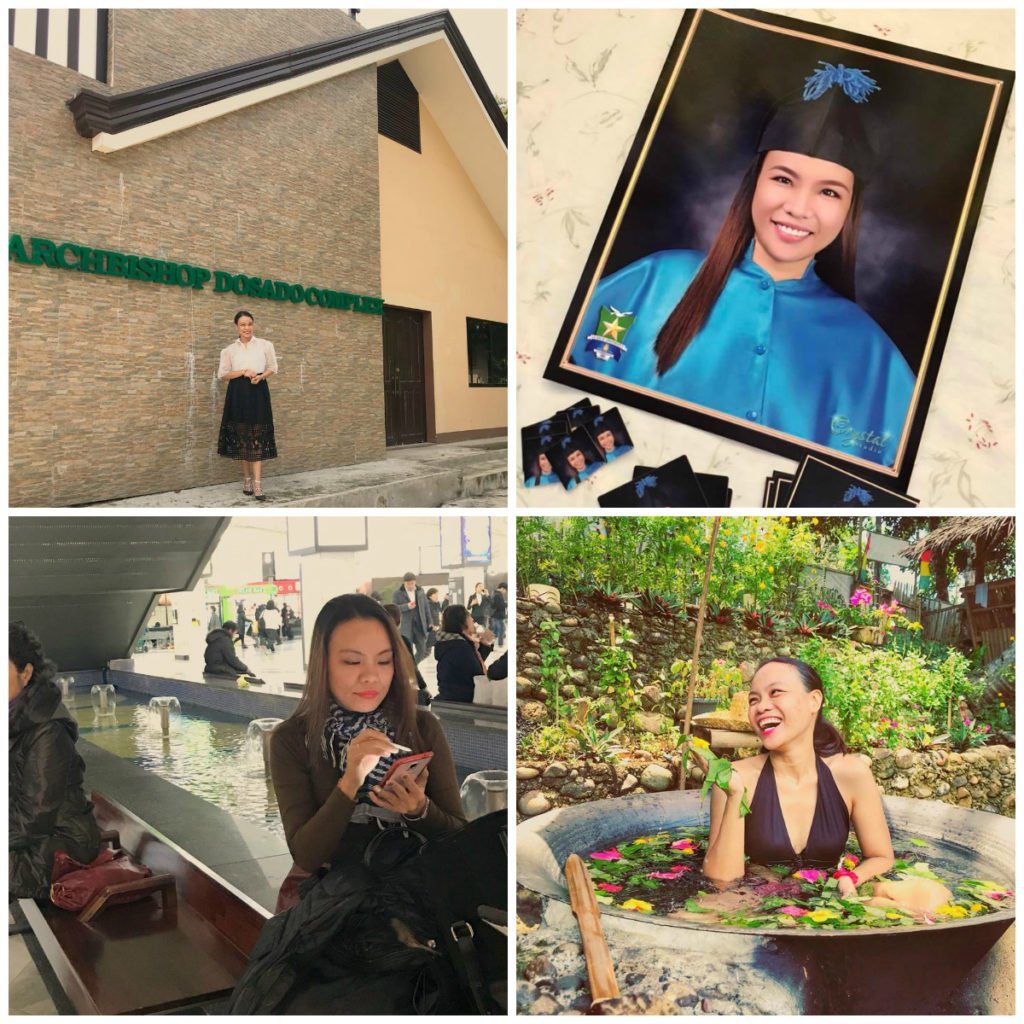 Buwan ng Wika at LSU Heritage Campus, Graduate School Yearbook Photo, South Korea, and Kawa Hot Bath and Spa in Tudela
And the most important lesson I've learned in 2018 is to be still.  Amidst all the trials, busyness, and everything life throws us at, it is very important for us to take time just merely sitting around and clearing our head.  There is a great need for us to also take care of our mental health as much as we take care of our physical health.  So apart from spending more time with Papa and Mama, I will also spend more time for self-care this 2019.  We really have to make time for what matters most!
Above all, I'm also learning the art of being present and mindfulness.  As what our yoga instructor instilled to us, 
Don't think of the future, the future is yet to come.  Don't think of the past, the past is gone.

                                                                                                                    – Teacher Anna
I'm casting all my cares and troubles away!  I'm letting go of the past and not anxious of the future!  I'm just savoring the now!
Thank you so much, Lord for the strength You've given us in 2018!  'Coz it was indeed, "What a Year, 2018!"  Now I'm lifting up and committing 2019 into Your hands!

Related Posts:
You Were Surprising, 2017!
Tested in 2016!
2015 Was a Blast!
My 2014 in a Flashback
How My 2013 Was
Thank You 2012, Welcome 2013!:)
New Year, New Beginnings