Relax in a giant "wok" hot tub in Tibiao, Antique is tripzilla.com's number 3 in 8 Fun and Unique Things to Do in The Philippines.  As Filipinos, we are really talented in finding out-of-this-world adventures, sources of income, and baliw-baliwan!  So acting like being cooked by cannibals or witches in a big cauldron became a tourist attraction in Panay Island, Visayas some five years ago until it recently became trending on social media last year.  Then "kawa-ing" reached Mindanao with the first in Samal Island, Davao and just a few months ago, Kawa Hot Bath and Spa opened in Tudela, Misamis Occidental. (kawa is the Visayan term for giant wok)  Welcome to my website, your Misamis Occidental tourism guide!
Tudela is only a 30-minute drive away from Ozamiz City proper.  It is the town for Binalbal, the annual festivities of balbals (supernatural beings like ogres, imps, dwarfs, and witches).  The festival is held every 1st of January, an act to welcome the new year where the townsfolk of Tudela go to the streets for merry-making while donning their scary Halloween costumes.  It's like a mardi gras of monsters so the big cauldrons are really fit to be placed here as the witches' abode!  Learn more about this in Misamis Occidental tourism guide by clicking here.
Speaking of witches and cauldrons, Filipinos do have a fair share of 'em from Pampanga to Sorsogon to Siquijor to all other parts of the country. Witches are believed to make use of earth (soil), water, fire, herbs, spices and oils for rituals, spells, charms and potions. With the course of time, people became fed up with modern drugs and synthetic chemicals so going back to basics is gaining popularity nowadays. Going organic is the hype now so using the gifts of nature as earth (soil), water, fire, herbs, spices and oils is what ordinary people also clamor for (see my use of essential oils for wellness here). In that matter, Kawa Hot Bath and Spa is the perfect setting for natural healing as we explore it in Misamis Occidental tourism guide.
Now meet Kawa's resident "witch", Manang Salome. (Hehe…. Peace, Manang.) Of course she's not into witchcraft but she works for the LGU of Tudela and she's the one assigned to prepare our lavish hot baths. Early in the morning, she gathers healing leaves and flowers for the hot bath concoctions. She's also the one in charged to put up fire for the kawa so heads up to her for her job! She's also very accommodating and friendly. Thank you so much, Manang for taking care of us when we visited your place for Misamis Occidental tourism guide! 🙂
Now here are Manang Salome's concoctions:
1. Fresh Milk – for glowing skin
Fresh milk is really great for the skin. For more information, click here on how to get prettified by starting with your skin!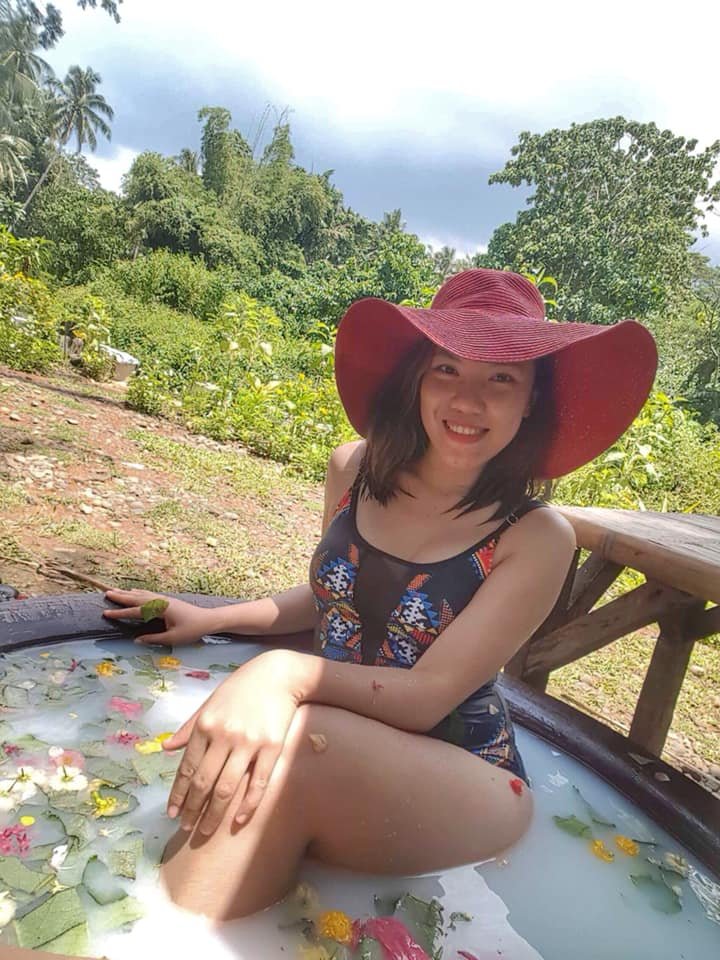 2. Turmeric – for total wellness
Turmeric is an orange-colored spice with powerful medicinal properties. It is regarded as a super food that can treat gastrointestinal issues. It contains curcumin, a substance with powerful anti-inflammatory and antioxidant properties perfect to deter the aging process. So Manang's Turmeric Blend became the most-requested. Scroll down for the turmeric fans!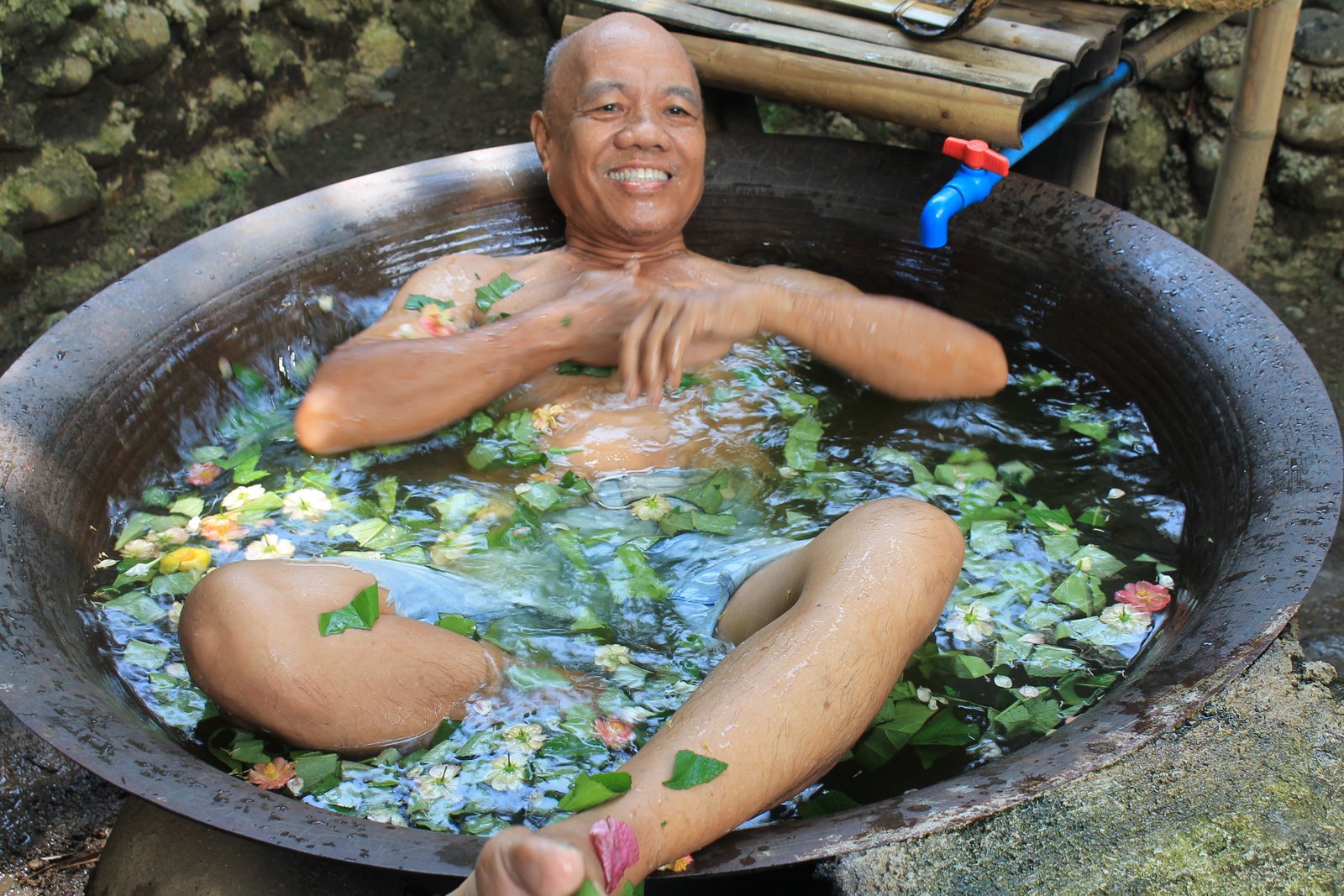 3. Sea Salt – for healing
Vitamin sea always provides us an avenue for healing. As the sound of its waves heals our soul, so as its waters increase our physical healing process. Manang's Sea Salt Blend is just so perf for my sciatica, to improve blood circulation in my legs.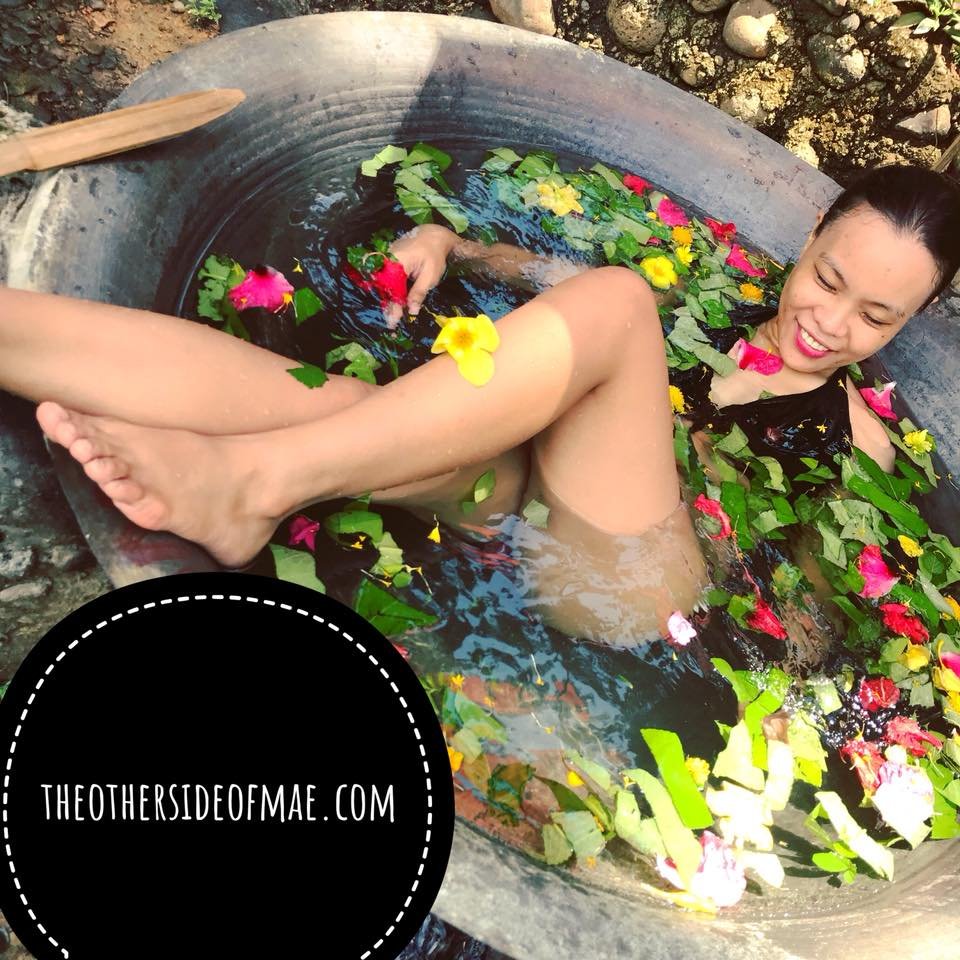 4. Coconut Milk – for treating skin ailments
Philippines is to coconut as coconut is to Philippines. All parts of the coconut tree and fruit are useful. With that, coconut milk is oftentimes extracted for hair spa treatment. Additionally, it also exfoliates while moisturizes skin which helps prevent premature aging.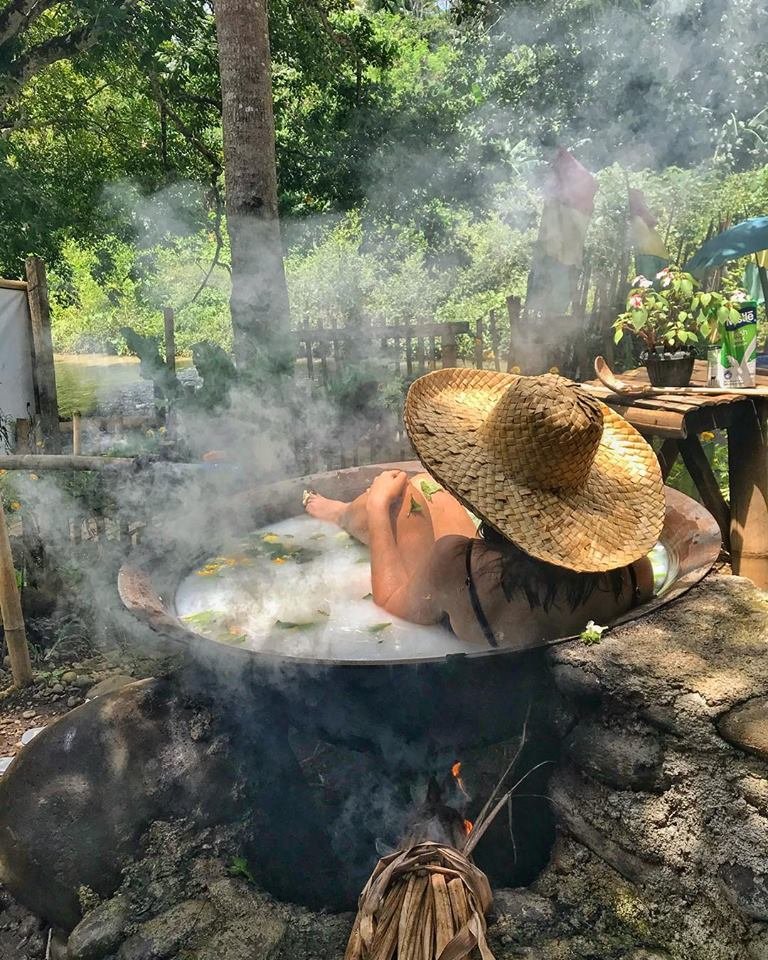 How to Get There:
From Ozamiz City Proper, head on to Don Anselmo Bernad Avenue (DABA) to Maningcol Highway.  Just follow straight ahead to Gango and Clarin.  You'll see vast rice fields along the highway to Tudela and before entering the town proper, turn left at Petron Gas Station.  Go straight and turn left before the river.  Then you will see Kawa Hot Bath and Spa at your right! If you also want to go to other tourist destinations in Misamis Occidental, visit this article.
Cost to Be There:
Entrance Fee: PhP 10 only

Hot Bath Rates/pax/30 minutes
Fresh Milk: PhP 250
Turmeric: PhP 150
Sea Salt: PhP 120
Coconut Milk: PhP 150
What to Do There:
Wear proper swimming attire. Long sleeves and long pants are strictly prohibited.
Shower first at the bamboo shower before getting into the kawa.
Choose one hot bath blend at a time and each is charged according to the rates above.
You are only allowed to dip for 30 minutes only. Extension of time will be at Manang Salome's discretion.
Who to Contact for Reservations:
Manang Salome – 09165432576
Kawa Hot Bath and Spa does not only provide a place to relax but it also gives us space for ourselves and to bond with our loved ones.  With its scenic beauty of nature, spending time there is both good and healthy for the body, mind, and soul.  Visit the Department of Tourism Tudela official Facebook page here for more information on Misamis Occidental tourism guide. You may also visit List of Tourist Attractions in Misamis Occidental for your reference. #tosomfeatures
Wanna explore Misamis Occidental? For questions, invites, and collaborations, direct message me on Facebook.  For updates on my whereabouts and whatabouts, follow me on Twitter and Instagram!  Also subscribe to my YouTube channel! 🙂