Photo Grabbed from Maria Suzanne Saulong
Feature Friday
highlights businesses, people, fashion, and basically anything under the sun!
Puesto is the Spanish word for post.  Since we have been under the Spaniards for more than 300 years, we had adopted their words into our language.  So puwesto in Tagalog and Cebuano means post, position, rank, seat, or place.  And Puesto in Ozamiz is the newest place in town which opened last month as a restobar, a one of a kind Misamis Occidental restaurant actually.
Located at the 2nd floor of the de Barras building near the City Hall Grounds of Ozamiz, Puesto offers a beautiful view of the sunset at its left side.  I just found that out yesterday afternoon as I looked up the sky and was surprised by the glorious sight I just witnessed.  Behind the clouds were the radiant rays of the setting sun, making me imagine that God was residing there at the other side.  So no need to go to the roof deck of Temples Bar in Cambodia just to witness a beautiful sunset (might as well tell Atsi Ann this).  It is actually here in our very own city that we can experience one and let me insert, watching nature in awe also depends on a person's state of mind and heart.  Now go out and smell the flowers, all you who are stressed in this Misamis Occidental restaurant!
Anyway, aside from the wonderful sunset, Puesto had turned the place inviting with its bright lights.  Its newly furbished interior gives it a cozy ambiance.  Rustic in design, I love its laidback style.  It just suits my personality of simplicity and minimalist lifestyle.  In addition, they also have their placemats customized and mason jars for the utensils.  With only these minor details, I can say that Puesto can be at par with posh restos we visit in big cities.  Now that is what Misamis Occidental restaurant is! For a list of other restos in the province, click here.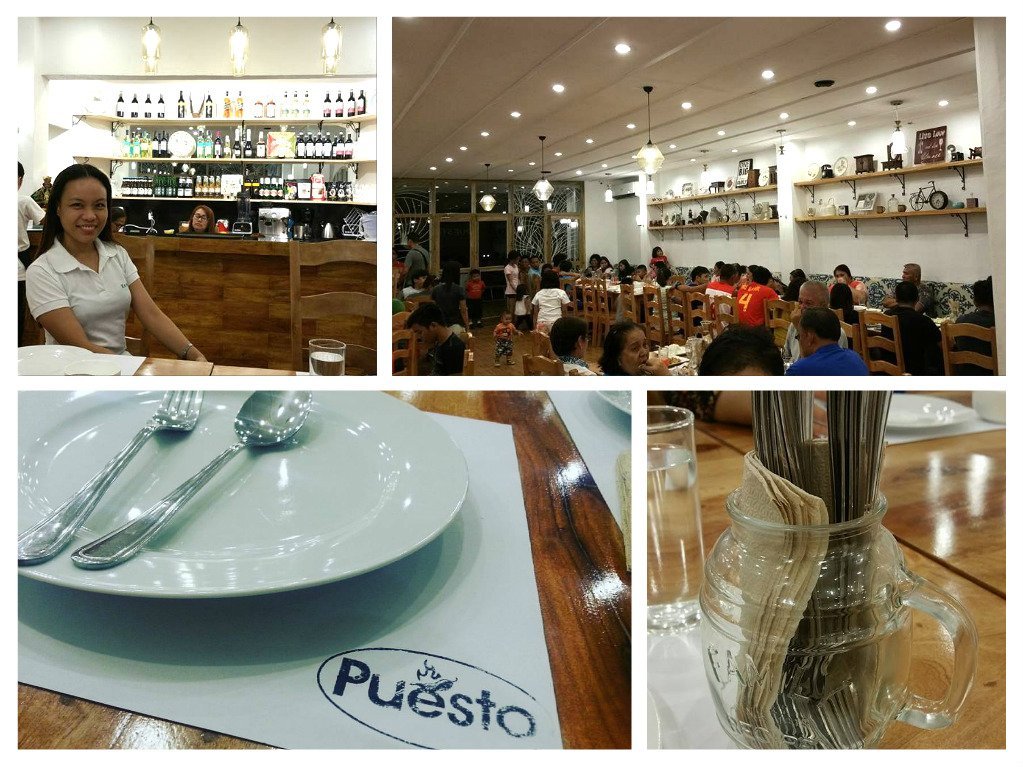 Now with the food!  The food is really good and not commercialized.  It reflects the design of the place which is homey in attitude.  In our language, lutong bahay.  Cashew Waldorf Salad for starter opens up your appetite.  It's a mix of apples, celery, and I could see that they were not using cashew but walnuts instead.  It was such a delish!  So light and low in calories.  Then the Sinigang Tuna followed which Papa loved so much.  It's asim-kilig as a TV ad goes.  For the main course, Crispy Tadyang is the specialty of the house.  It is fried beef ribs that is sarap to the bones.  And though calamares, sisig, and chicken buffalo wings are classified as beer match or pulotan, we had 'em as viands because we are Filipinos and anything will do for viands for us Filipinos.  Hehe…..  Moreover, I loved the chicken wings which tasted almost the same as Chef Lau's.  It's sweet, spicy, and flavorful with a sprinkle of sesame seeds on top.  By the way, the portion of their servings is just right to the price for each entrée in this Misamis Occidental restaurant.
So for a relaxing aftie for yourself, a bountiful dinner with your family, or just a quick drink with your friends, head on to Puesto, Misamis Occidental restaurant!  My apologies for not getting its exact address but it's just at the right side of Ozamiz City Hall.  The former Gat's Bar and Across actually.  Get the picture?  Now tag along your friends for another food tripping adventure!  #tosomeats
Visit
List of Restaurants in Misamis Occidental
for more restaurant hotspots in the province.