Oh, this is just another 3-year-in-the-making blog post.  No need to bother reading so stop scrolling.  Hehe…. Anyway, since I'm into the outdoors and nature these past months, I suddenly remembered a feat I had last 2017 while roaming around Seoul.  When one of my Seoulmates added the N Seoul Tower in our itinerary, I only said OK because I didn't have any idea on what to see there.  Before leaving for SoKor, I wasn't any K fan and never knew what to expect there or anything at all.  I just said yes to adventure for another Asian destination tick off my list.  Unknowingly, I was in for the greatest surprise of my life, one I can always go back to each and every time I feel down and lonely.  So there we were, hailing a cab at Bukchon Hanok Village to N Seoul Tower after our fantastic Hanbok experience (see my post here)!
The cab driver dropped us off at the foot of Namsan Mountain (he had his reason why he couldn't drive us to the top which we didn't understand).  Anyway, he instructed us to wait for Bus No. 2 to take us to the tower.  In less than 5 minutes, Bus No. 2 arrived and I got in but Grakkie was hesitant to follow the cab driver's instruction (his English was not quiet well and maybe we misinterpreted his instruction).  Crisma was about to climb up the bus with me but Grakkie held us back so we went down.  We got confused on where to go so we decided to walk, read signage, and didn't bother to ask anyone at all for directions ('coz of the not so fluent English again.  But Koreans are so accommodating.  They are hospitable and helpful unlike people in Hong Kong who are a bit rude especially to Filipinos).  Then we walked and just followed the pathway.  We just heeded the throng of people walking.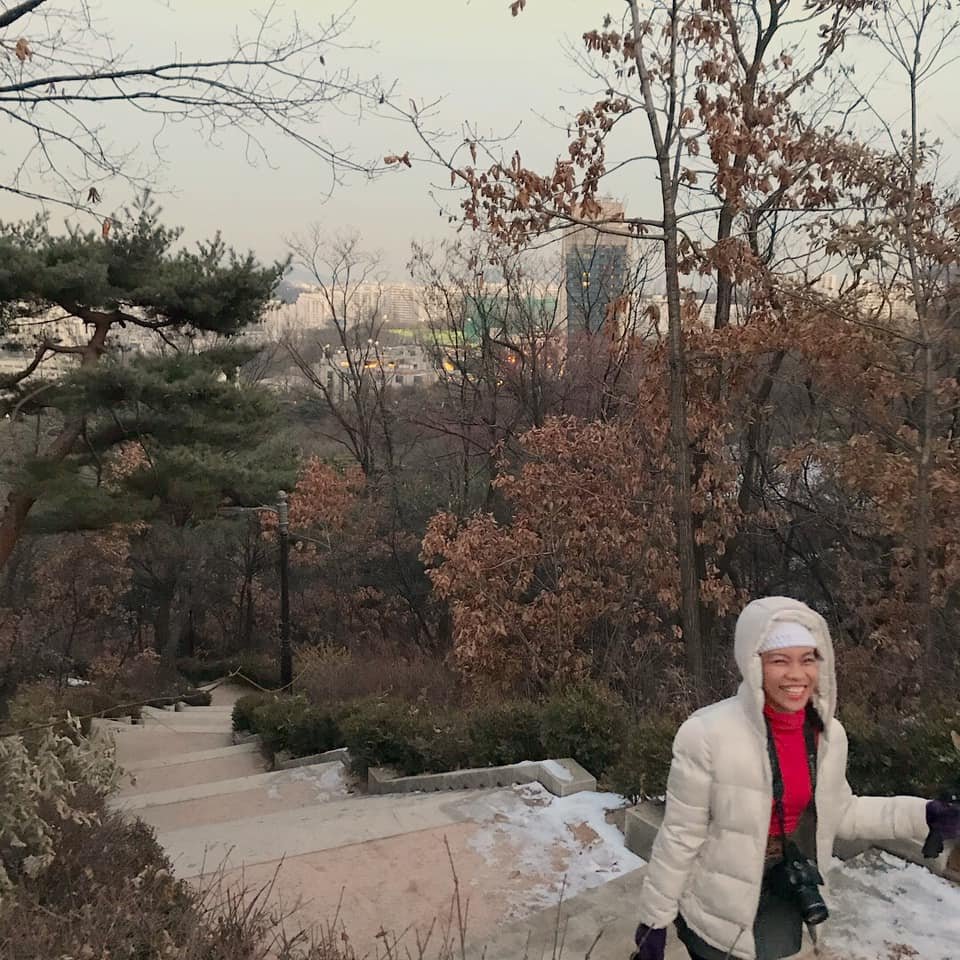 Jokingly, the different groups of people we followed had varied destinations.  They went to the left, right, stopped here, and stopped there.  But just without talking nor agreeing with each other, we carried on walking, not knowing if the path we chose was right until I realized that we were already climbing up a hill.  For a physically unactive person like me back then, I was not determined to climb up all the way to top.  I always had difficulty in breathing and though I was into hiking, trekking uphill was out of my limits.  Much more I was on heels!  So I always said to Grakkie ('coz Crisma was the lead pack meters away from us) each and every time I stopped, "I'll just sit here and wait for you.  Just take this route in your way back."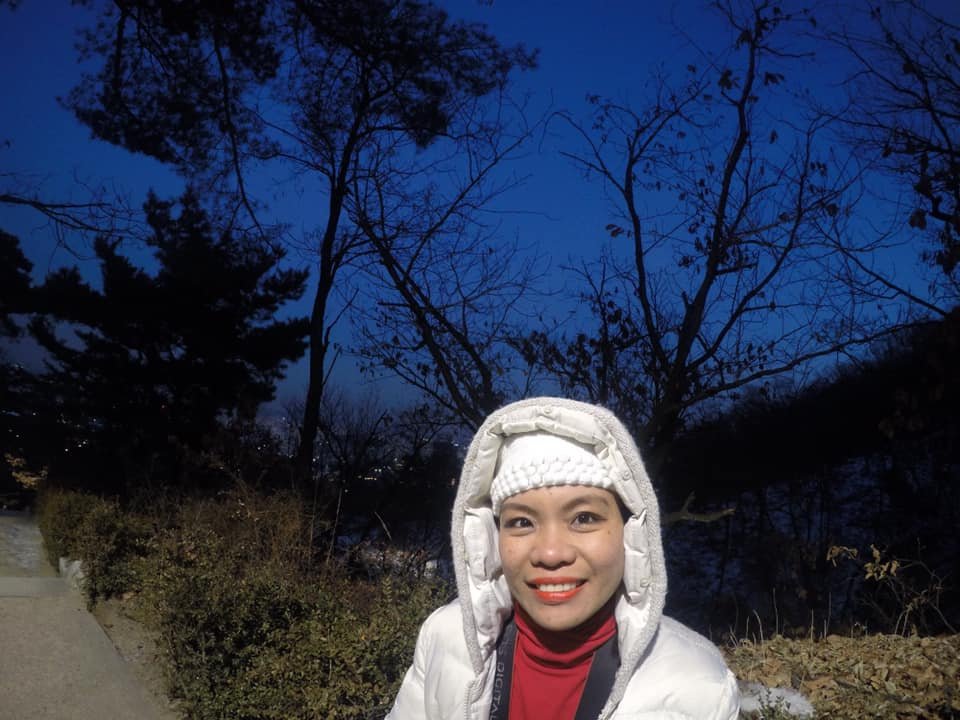 However, fear of getting lost, of being alone, and such paranoia got me so I slowly inched back uphill until it got dark.  Oh, what a crazy and reckless adventure that was for me!  On twilight of bleak winter when the path was icy, I was walking alone (this time 'coz people were out of sight already) in a foreign forest.  Lucky me, there were no wolves lurking around.  Haha!  And at my last stop, I already decided not to go up anymore and really determined to just stay there.  But Grakkie fetched me and told me that they won't be going back in the same route anymore because buses are really there on top!  Vehicles have different road that's why we haven't seen them on our way up.  So I lazily and "tiredfully" got up, tailing behind the-also-tired Grakkie.  Crisma waited for us to catch up so we hurried.  Step by step, my feet became heavier.  Despite my heels, I also had more than a kilo of load with me (my heavy bag).  Breath after breath, my nose literally bled (it was negative centigrade!).  And after all our effort, the gift was a breathtaking view of Seoul's phantasmagorical skyline!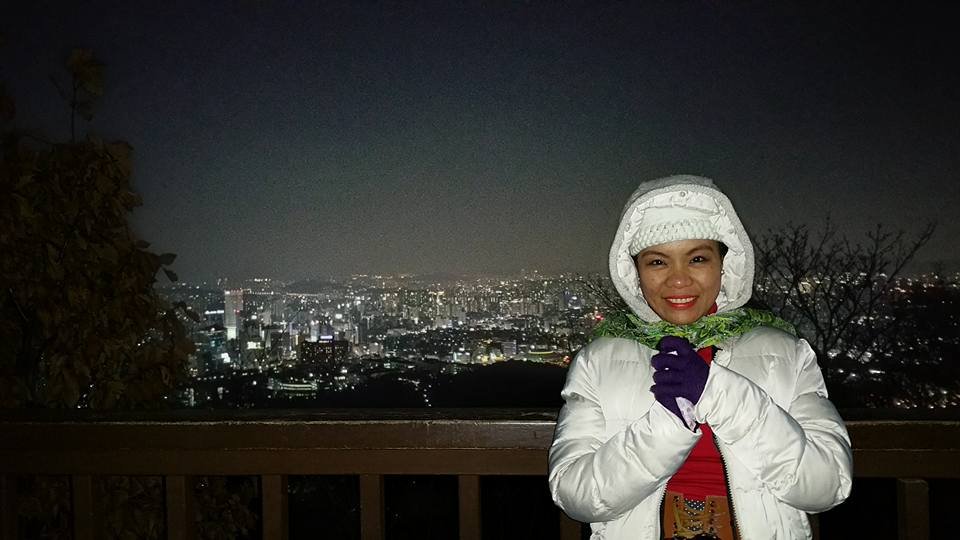 Not only that!  On top of N Seoul Tower were the love locks and N Burger.  Not to mention, lovers were all around as it is SoKor's "lovers' Mecca".  I call it that.  Hehe…  For single ladies like us, maybe we only imagined having our own dates there with us.  But who cares, we've got each other's back up until this day! Lol!  So what did we do there?  We basked in Seoul's night sky, took a lot of photos, and ate a lot of burger and fries!  That is life, full!  That is life, indulge!  That is life, spend!  That is life, celebrate!!! 
Indeed, conquering an icy hill on heels was never a comfort compared with my cowgirl-girl-scout-chasing-mountains adventures these days!  Thanks to my hiking buddies for pushing me to my limits and encouraging me to believe that I'm strong and not a weakling!  I am limitless in a limitless world, strong enough to conquer just about anything!  Hey, I've made it to the love on top!  🙂       
If you're also in for an adventure, watch me and my Seoulmates' vid below!  Watch 'til the end 'coz it's in the end when we had our blast!  
Wanna stroll in Toronto this winter with me? For questions, invites, and collaborations, direct message me on Facebook.  For updates on my whereabouts and whatabouts, follow me on Twitter and Instagram!  Also subscribe to my YouTube channel! 🙂  
Related Posts:

Take me Back, SoKor!
Hanbok That Day