As I am going through my Facebook timeline now, I am surprised that we can actually re-view our past posts through the year archive by the side bar.  Then I feel nostalgic with the life I had while teaching my high school rascals way back in MUHS.  Here are some statuses that I had shouted out loud when I found teaching very hard yet full of fun!
*I have to preserve the original lines so pardon me for using the vernacular.  I also have to change the names of my students into celebrity names so to protect their identities.*
My unforgettable classroom scenarios:
July 21, 2010
My funny experience of the day:  Serious ko naghatag ug quiz sa Bio.  Si Daniel kay mikalit lang ug tindog dayon mi tan-aw sa papel ni Enrique….Lesson of the day:  Kung mangopya gani, dili magpa-obvious!  Understand?!!!
November 17, 2010
Quiz Bee at school
Quiz Master:  "DNA is the genetic strand that carries heredity.  DNA stands for _____________."
Student:  "Do Not Answer"
LOL!
November 18, 2010
Quiz Bee at school
Quiz Master:  "Which of the following is a parasite?  a.  ringworm   b.  dog   c.  …."
Student cuts in:  "Ma'am, unsa diay nang parasite?  Kanang sa layo pa matan-awan?"
Miss Mae:  LOL!
December 26, 2010
Miss Mae:  Parents only want the best for their kids.
Student:  How did you know, Ma'am?  You're not yet a parent.
Miss Mae:  (speechless!)
Realization:  Aw o no?  Da!  Advise2x pa!  Mura mag korek!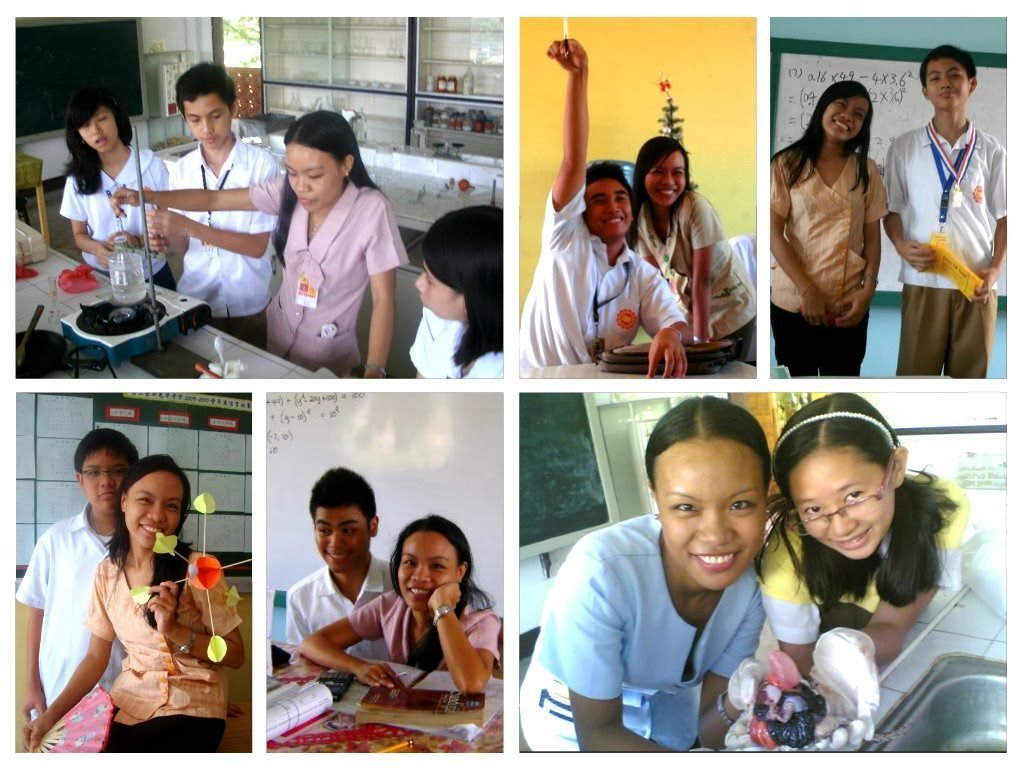 It was really a lot of fun having bloopers in the classroom that everyday, I always had stories to tell over dinner at home.  Then my whole family would also laugh with the comical stints my students have for the day.
However, since they were still kids, they were also full of childish pranks which inevitably hurt me.  Due to my immaturity at that time, I had also posted some trash talks that I haven't deleted nga pala:
September 22, 2010
I super regret the day I decided to become a teacher….BULLSHIT!!!
September 24, 2010
I don't care e e er e er….I don't care e e er e er…..
September 26, 2010
Ako ba ang nagpabuyag or ang mga bata?
September 27, 2010
Tomorrow will be my last teachers' day…..
In any way, if my kids were the ones who quarreled me, they were also the ones who comforted me.  These are only snippets of their gesture that they also care for me:
And with the laughter and tears, I had grown up with them too.  I had learned to love teaching the hardest way, much more I had learned to love the unlovables!  Eventually, I started to care.  Then the unlovables became my loves.
March 19, 2010
Mary Rosalie T. Olandesca's heart had just melted like ice by the post scripts written by her students…..Thanks much, Junior Griffins for being part of my life!!!! 🙂
December 17, 2010
Enjoyed the school's Christmas party with the kids so much! 🙂
The unlovables became my anaks!
October 26, 2010
Anak, anak, anak!  Mga anak nako!  Pwerte ka-gagmay sa inyo scores!  Misamot ako hilanat!
November 19, 2010
Congratulations, mga anak!  You've made our science week a very memorable event! 🙂  Miss Mae is very proud of you! xoxo
November 8, 2012
Mga anak Coco, Piolo, John Lloyd, Vhong, Billy, Luke, please paghinay-hinay mo sa pag-bike, pag-motor, ug pag-drive sa inyo sakyanan.  Pray for God's protection always.

But with so much fun I had, I decided to stop.  I'm through with "catching up" my high school years ('coz I missed so many things to experience during my real high school years) and it was about time to move forward.  Additionally, I was also getting older that I could not jive in with the younger generation anymore.  So I decided to go.  Then I got separation anxiety when we parted ways.  It was like breaking up with a boyfriend (though I haven't experienced this yet).
March 17, 2011
What's on my mind while fixing Rayver's calculator this morning:  "Ang uban kahang teacher, mag-ing ani pud?  Hahay, mao na niy gitawag nga na-over sa pagpangga!"  Naa na unta koy anak nga tinuod para naa napud koy panggaon kung wala namo. 🙁
March 18, 2011
As promised to Julia, di ko mag saba2x dre sa FB.  But I want to let all of you know, galagot ko ninyo kay inyo ko gipahilak!  Magkita pa raba ta ugma!  Btaw, joke lang…. I just want you to know that I <3 You All So Much, my premature 1st years, my baby 2nd years, my darling 3rd years, and my forever junior griffins 4th years!!!!! mwahugz!
April 15, 2011
Hahay.  I super miss all my students/anaks…..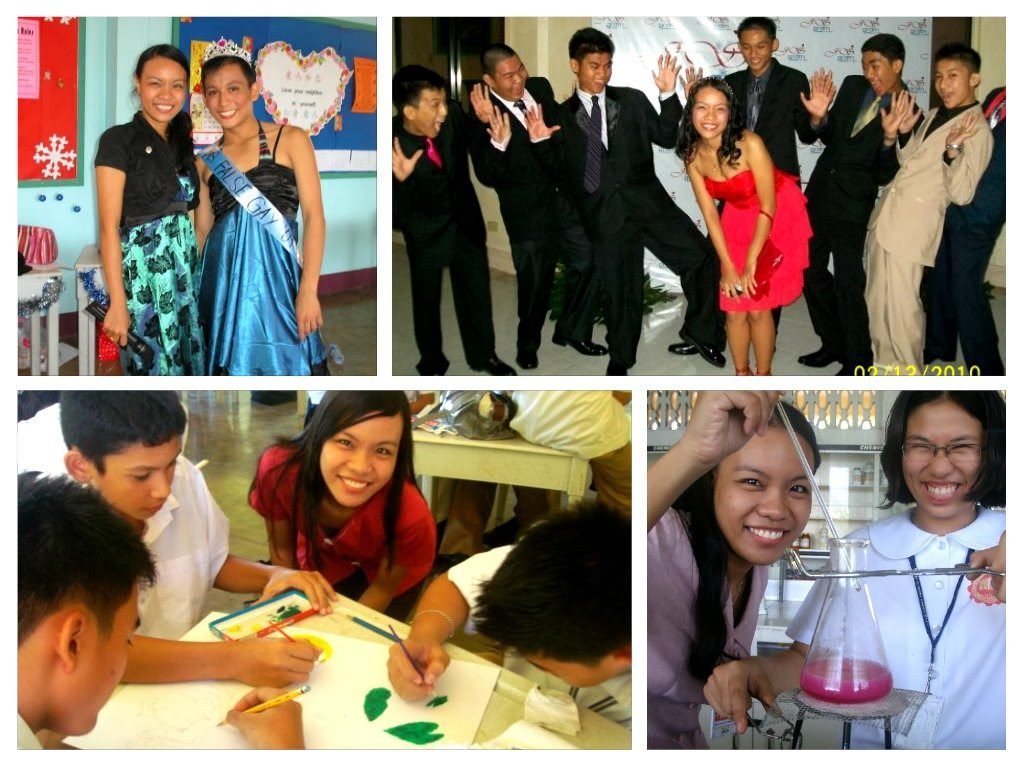 Today, I don't find teaching so hard with the quality of students I have.  But I don't have fun at all! From time to time, my previous kids are still on my mind because my college students now are far too different from them.  College life is all so serious business and even more serious with the tough subject that I'm handling right now.  Their main concern is just to seriously strive hard to pass Physics!  I feel like, I couldn't connect to them.  If I crack a joke, it seems like they just can't get that I'm already joking.  At the same time, they just couldn't crack jokes on me (way back then, my kids and I throw insults to each other too!).  In short, we are just plainly professional with the teacher-student type of relationship.  Sad to say, I have never become friends with them.
Hay, ang buhay nga naman!  'Pag andyan, ayaw mo.  'Pag wla, hinahanap-hanap mo!  Maybe I just miss having fun in the classroom for I don't have pasalubong stories to my family anymore.  My teaching experience now has been dry and dull.  Or maybe, I don't want to be attached to my students like before so to protect myself from separation anxiety.
But all in, I still thank God for my funny high school kids experience!  In my eyes, they will forever be my high school anaks though they will become professionals and married individuals someday!  They will always be my pasaway little kiddos who once were my playmates and sometimes toys!  I am just so glad that we still have connections until now (though oftentimes, they tend to forget me na)! 🙂
September 28, 2012
Hahay…..Hapit na mahuman ang teachers' day pero wa juy maski isa ka anak mi greet sa ako….Ing-ana diay nah?  Kung walay klase, walay mo greet?
October 18, 2012
Thank you so much, Kathryn, Coco, JC, and Jericho for celebrating my 30th birthmonth with me!!! 🙂
– at SM City Cebu
Related Posts:
World Teachers' Day 2014