Disclaimer:  This post is not to promote Bora so people will still not go to the island after its rehab days to further preserve its beauty.  This post only shares my memories of the then dying island when I visited it last year.
B-O-R-A-C-A-Y.  The place to be for celebrities, the place to be to unwind, the place to be to relax.  And most of all, it is the place to be if you want to let loose!  Since its introduction to the world in the late 1970s by a German writer, Boracay Island in Panay became one of the famous destinations of the universe rather (Boracay Island: Beach Capital of the Philippines).  Through that, resorts, hotels, restaurants, and other commercial buildings began sprouting like mushrooms and industrialization happened rapidly.  Then tourists flock from all over the world and even without social media, Boracay had gained its name under the sun!  For who would not fall in love with its white sand beaches, crystal clear blue waters, prolific underwater world, and a view of the best sunset in the world?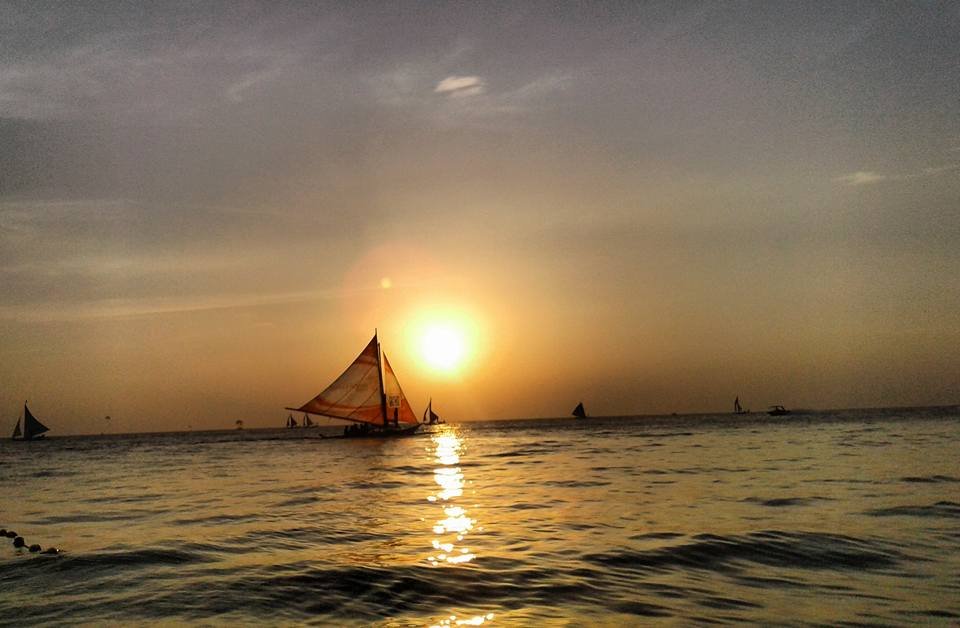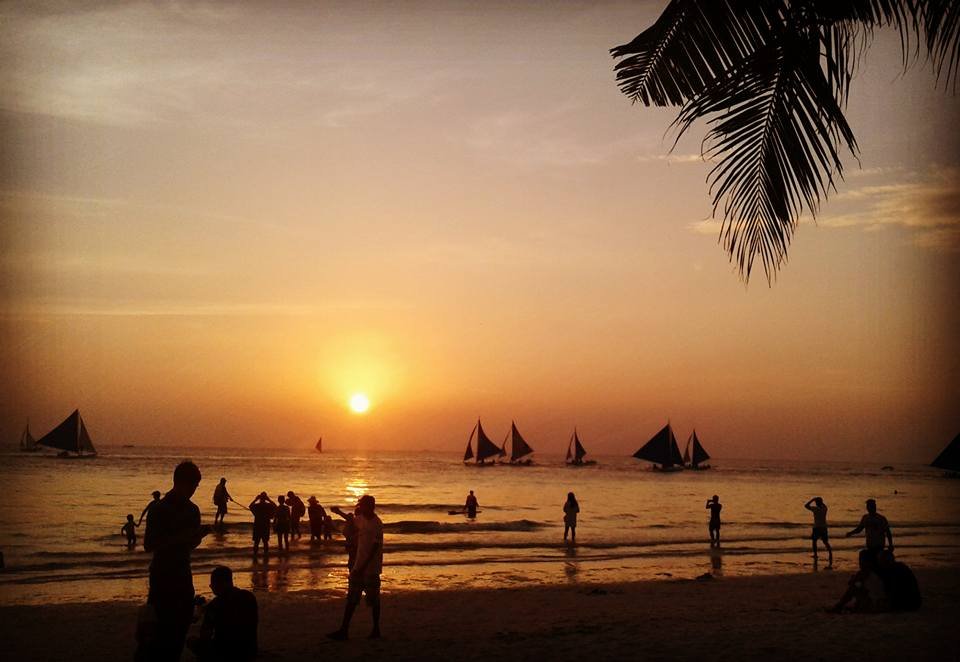 However, all of these God-given creations had been disturbed and not given much respect anymore.  Then again, man became abusive to nature.  Though there are regulations on solid wastes, sewage, and the like, still these didn't do any good.  The island became more and more populated not only during summer but also all throughout the seasons of the year.  The more people, the more trash, the more the island became polluted.  It's a combination of air pollution, land pollution, water pollution, and not to mention, noise pollution.  Then there is no relaxation mode at Bora at all.  Even taking good solo pics is a survival of the fittest because of the crowd.
As you can see in the photo above, the powdery white shore has been disbeaut with slimy green algae.  The algal bloom in Bora started way back 2015.  As a chemical engineer, I can tell that this is due to the untreated wastewater that the many establishments in the island dumped into the sea.  Though all of them may appear "clean" during DENR inspections, mind you, I've been from the industry and I know the works.  Wastewater treatment facilities are really costly so the easiest way is just to pipe out into the oceans.  With that, suds from soaps, shampoos, and detergents increase the phosphate content of water thus feeding the blue-green algae which are actually cyanobacteria.  With the contribution of sunlight and very high temperature during summer, algae surely thrive and proliferate.  Moreover, how many people go swimming with thick sunblock on their skin in a day?  Sunblock also does harm to nature as oxybenzone, zinc oxide, and titanium dioxide are toxic to the corals and fishes.  Well, enough about chemistry here.  The thing is, just last Thursday, Boracay and all of its resorts officially closed to save the island from its state of calamity.
Although I didn't have the chance to enjoy Bora in its glorious days, I still have fond memories of the island with my titas.  I was actually a joiner in this trip as my Jaycee buddy, Tita Lilibeth invited me to join her and her workmates, Ate Ludy and Ate Norville.  We booked the board and lodging promo at La Carmela de Boracay for 3D/2N.  It was only P4,800 per pax and it covered airport transfers, pumpboat, accommodation, and unlimited breakfast, lunch, and dinner meals.  It was very sulit but then again, I don't want you to get enticed by this post.  Do not book for Bora just yet.  Let's rehabilitate it first so our children can still experience the beauty of the island in the future.
Since I'm the only person who's younger in this trip, I was the only one who went parasailing and helmet diving.  I'm afraid of heights, yes but I took the courage for parasailing 'coz there's the water that could catch me.  Hehe….  I didn't want to go solo and thank God Tita Lilibeth chaperoned and I also requested somebody from another group of friends to accompany me in the chute.  Unfortunately, my gopro didn't roll so here's the only vid we've managed.  Do click play below!  It's only 1+ minute.
After learning my lesson in making sure that the camera rolls, here's a lengthier 3-minute vid of my solo underwater experience!
For a pricey P2,100 both for parasailing and helmet diving, I got a view of both worlds.  However, I enjoyed more of Panglao's underwater than this.  Then aside from my solo escapades, we also had island hopping as a group.  We had fun at Crystal Cove Island where we had a sort of treasure hunting.
To top it all, night life in Bora was also alive!  Various genres of music from one bar to another fill the air.  Who would not love a place where partying is on all day and all night?  It's really where eat, drink, and be merry apply!  But all good things come to an end.  Thank you, Bora for our wonderful experience!  And as what they say, a setback is a set up for a comeback.  We're all looking forward for your recovery so just take your time to heal.  Albeit to the businessmen and our unemployed countrymen's sentiments, still thanks to PDU30 for making things happen for our country!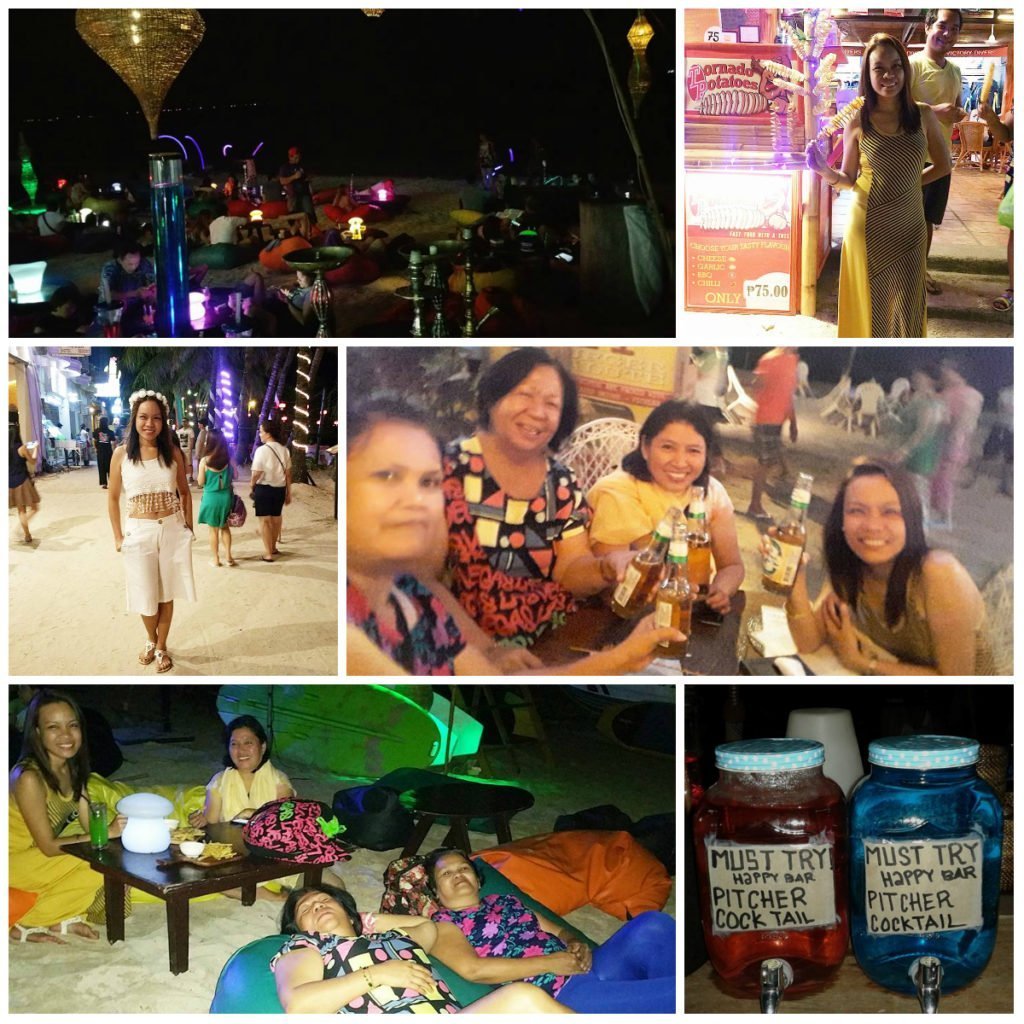 And without further endorsements about Boracay, here are my shameless not-so-beach-body shots!  Thanks to my Jaycee bestie, MM for the swimwear! 🙂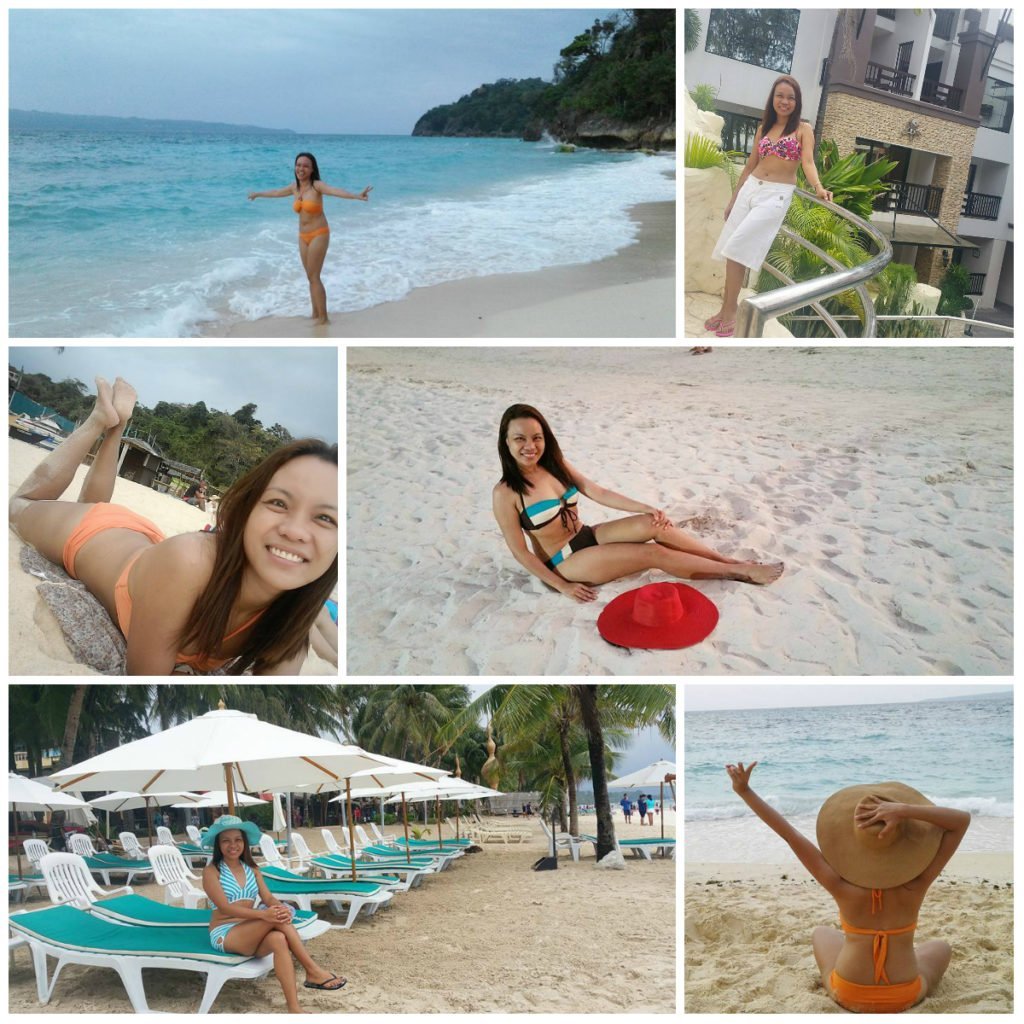 Now I'd like to end this #LibotPinas Visayas Series at the moment.  I'm so sorry I haven't given you 7 but only 5 places (as the other 2 are really more throwback than this) and I haven't given 'em to you in a row too.  Life has caught me once again and I'm still thankful for free times like this aftie for me to share my travel experiences on this blog.  Thanks for your patronage, dear blog readers.  Still keep on dropping by The Other Side of Mae for my future adventures! 🙂
For questions, invites, and collaborations, direct message me on Facebook.  For updates on my whereabouts and whatabouts, follow me on Twitter and Instagram!
Related Posts:
#LibotPinas Visayas Series: Family Trip in Bohol
#LibotPinas Visayas Series: Sidetrip in Bais
#LibotPinas Visayas Series: Phototrip in Siquijor
#LibotPinas Visayas Series: Foodtrip in Dumaguete