And it took me a year and a half for this blog post!  Hehe….  My procrastination here won't get me anywhere!  Huhu….  This isn't good anymore 'coz I'm starting to give this blog least priority already.  As a matter of fact, I didn't had an anniversary post last month and that was my very first time to neglect!  Oh, what a shame to my inner me!  Just when I started spending money for this website, I also lost the gusto to post often.  And just when I traveled more, I also got lazy sharing my travel stories.  Today is really unlike before when I had the appetite to at least have 5-8 posts in a month of just about silly things!  Now down to 1 or 2 posts only.  What is happening to me???!!!
OK OK OK!  Stop the musings and just write!  So here we go.  February of 2017 when we had our unplanned family trip to Singapore.  We sent off our youngest to her new workplace and it was also timely for Chinese new year.  But just like our 2011 trip, we only had the aftermaths of the lunar new year.  We really haven't welcomed new years there as we also do some "traditions" here at home.  Anyway, festivities were still on air as Singaporeans often have month-long celebrations.  And to celebrate, we spent a day at Universal Studios Singapore in Sentosa and this called for walking, walking, and walking.  Gladly, it's not as vast as Hong Kong Ocean Park so we'd managed.
To start with, we walked the hall of fame at Hollywood street where there were shops, restos, and cafés.  I so loved the walk 'coz there were Chinese lanterns hanging up above perfect for that IG shot!  Apart from that, live Hollywood icons entertain you all the way down your walk.  Always be surprised of whom you're gonna bump into with in all corners!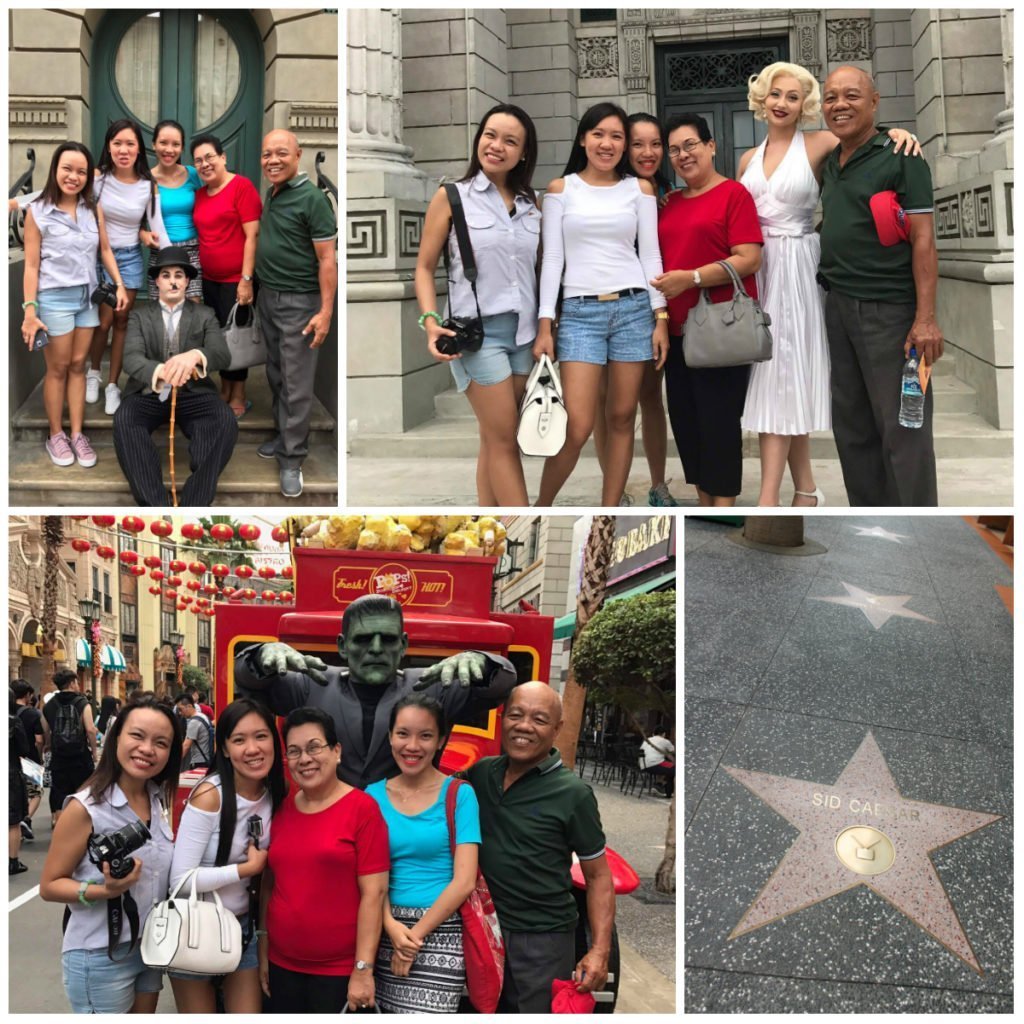 After Hollywood street, we turned right to New York just in time for the Streetboys' showdown at 5th Avenue.  Can you still remember 'em, the Streetboys?  They were Philippines' top male group dancers when I was in high school.  If you know Vhong Navarro and Jhong Hilario, they were members before.  We got hyped during their performance as my sissy June Ann was hailed from the crowd to be able to dance with them!  Oh, what world-class dancers this group is!  After the Streetboys, the Sesame Street boys also showed off their comic prowess, bringing us to childhood days again.

From classical New York, we went straight to modern Sci-Fi City where Papa got really excited with Bumblebee transforming itself!  Just what with boys and their toys?  Hehe…..  3D Transformers adventure ride is here but for those faint-hearted, assess yourselves first before indulging.
Since we didn't take rides at Sci-Fi City 'coz of the very long queues, we dropped by Ancient Egypt instead for the tram.  Or was the queue my only excuse to get rid of roller coaster and other death-defying rides?  Hehe….  Slow sight-seeing rides were only the ones my stomach can manage as well as Papa and Mama.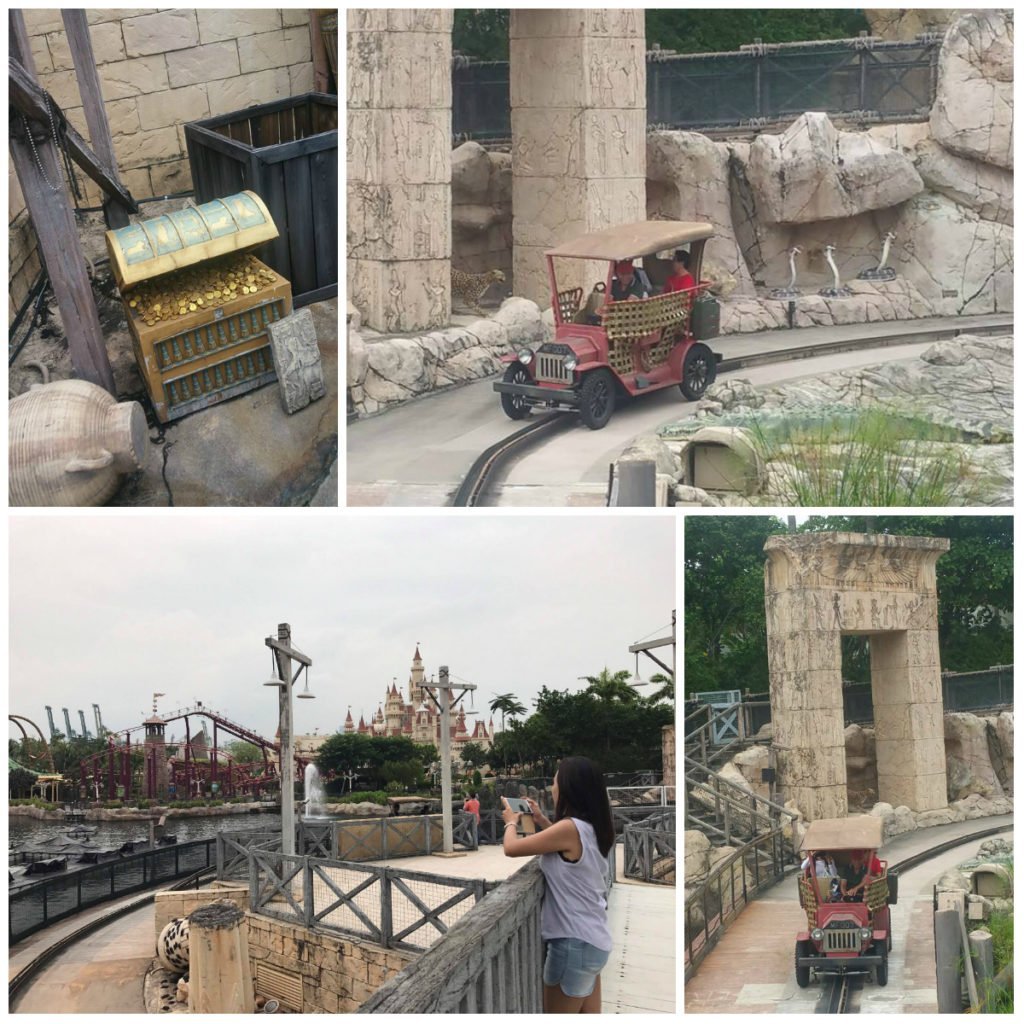 Then the adventure continued at The Lost World where I suddenly had the guts to do some wall climbing!  But as always, I really can't hoist myself up even up to this time that I'm doing yoga.  And who got to the top?  'Twas my sis April Love.  Just take a look at the photo at where she was when I only managed to do 3-5 climbing steps for the photo.  Hehe…..  Additionally, we also witnessed a live show of the Waterworld which took our breath away!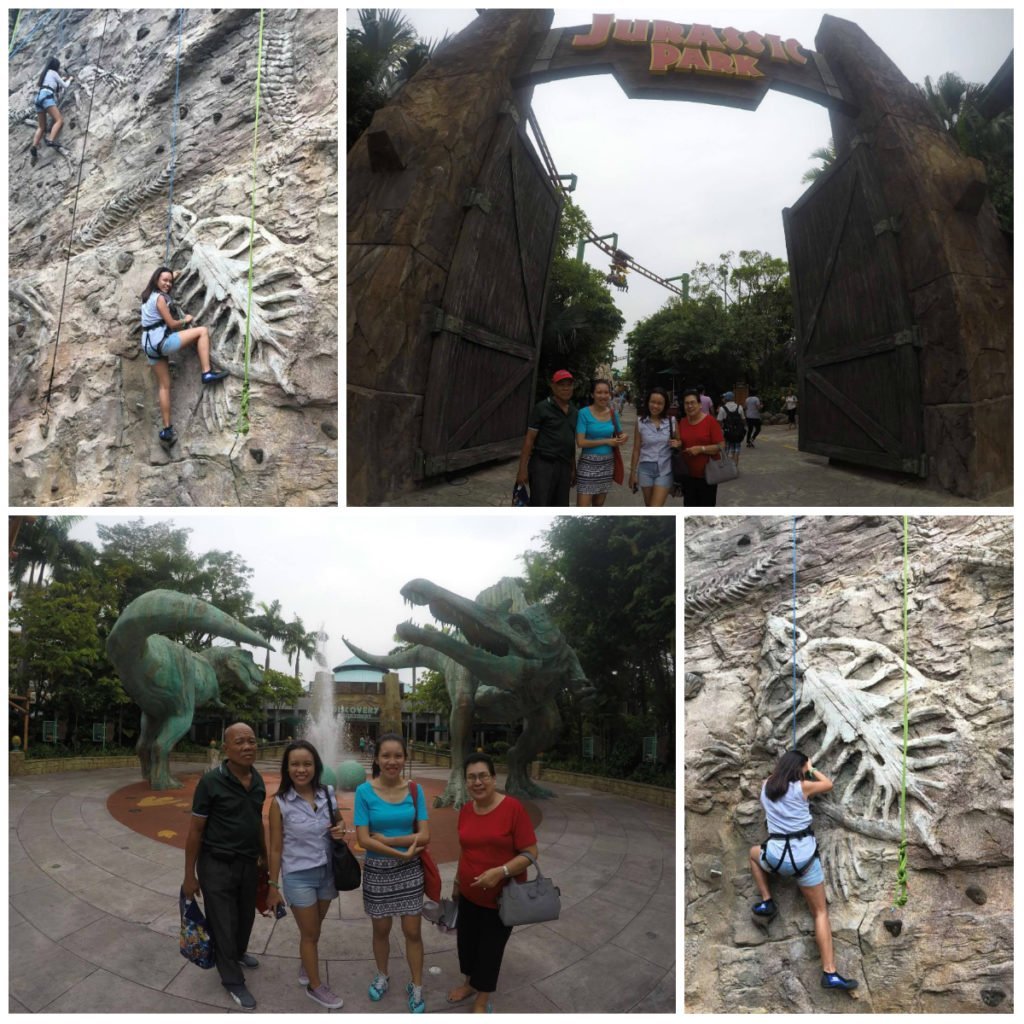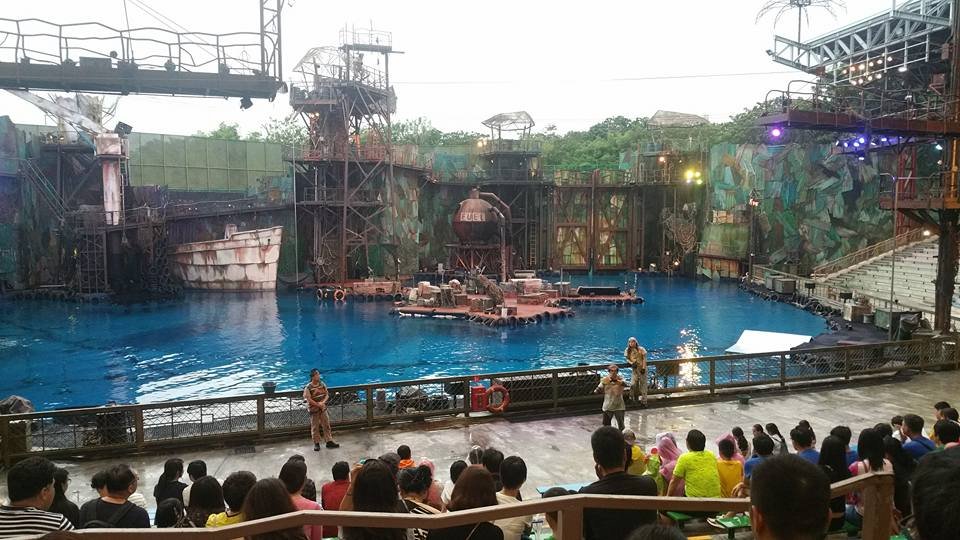 Then it was time for some meet and greet with Shrek and Princess Fiona so off to kingdom Far Far Away we went!  As a child at heart, this excited me sooo much 'coz it reminded me of Sleeping Beauty Castle in Hong Kong Disneyland.  The feeling was just so enchanting with a tinge of reality.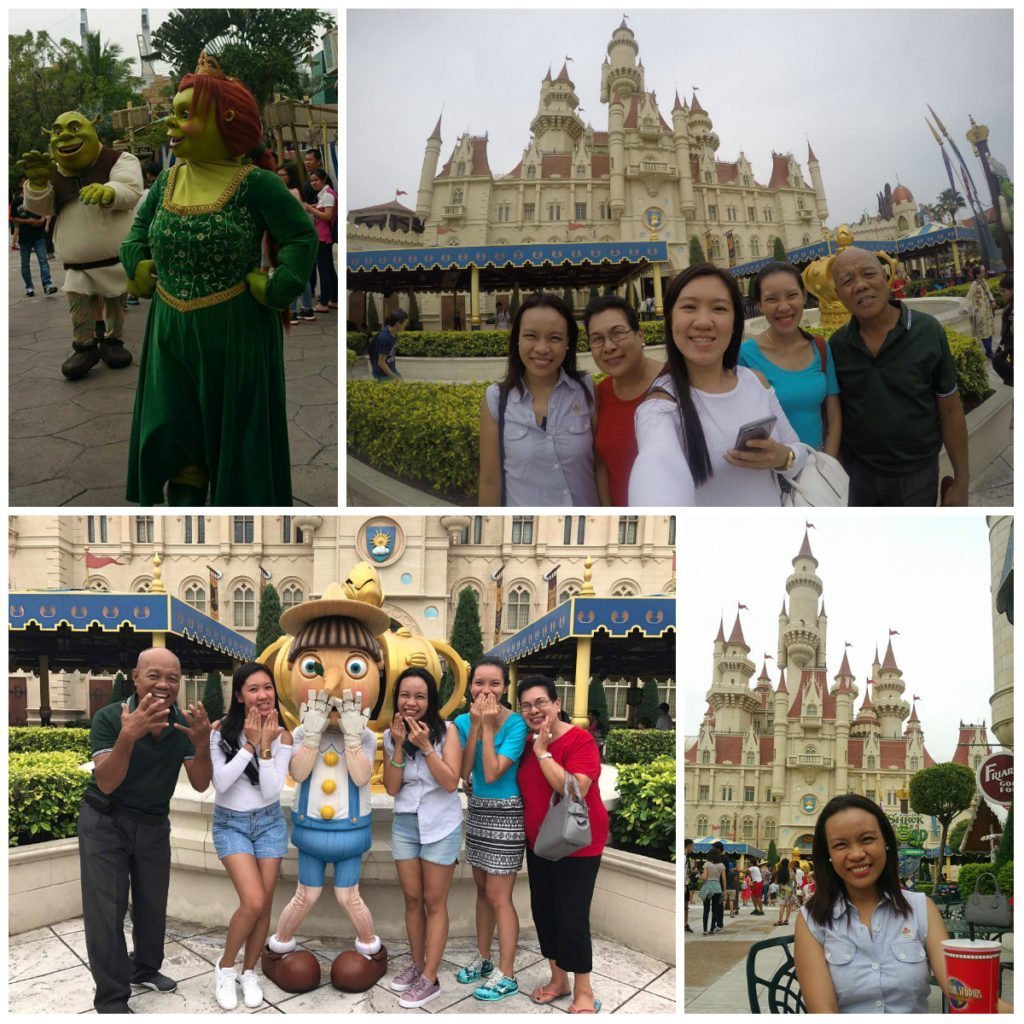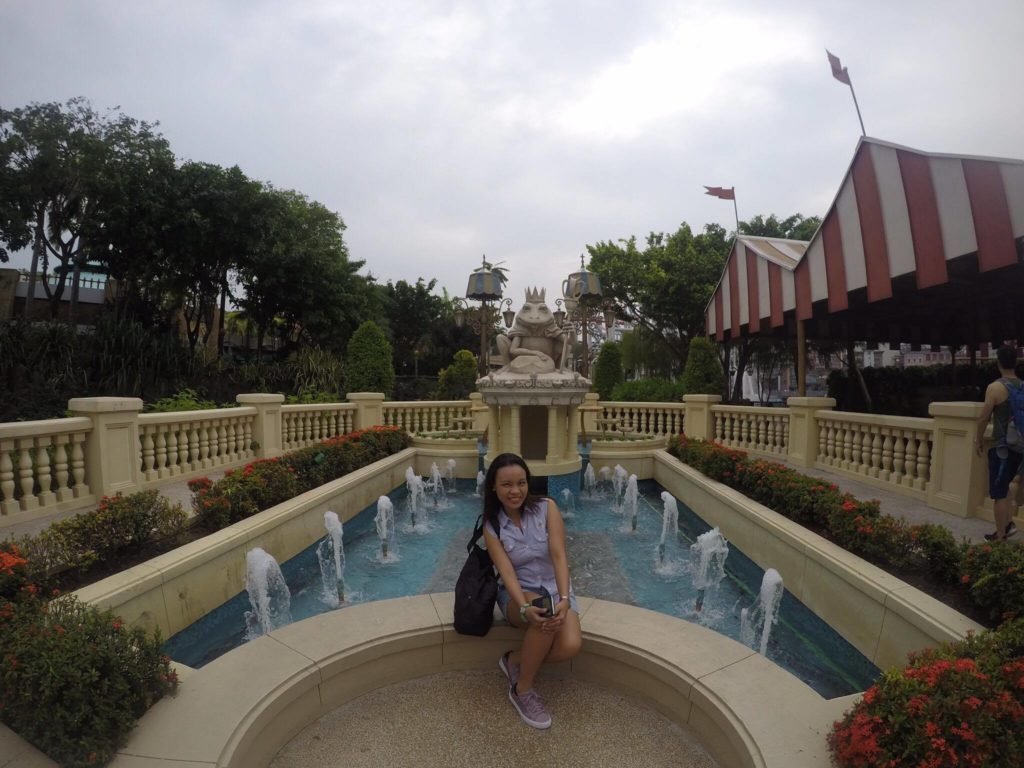 To complete the circuit, we ended up our day at Madagascar where we had fun riding the river boat.  It was just like It's a Small World ride in Disneyland.  See how childish we are.  Hehe….  After the ride, we filled our stomachs at Gloria's Snack Shack and lined up for photo op with Alex, Marty, Melman and Gloria.
Our day at Universal Studios Singapore was another great family experience!  I am actually having nostalgic feeling right now so I don't regret having this as a late post.  It still pays to reminisce the past sometimes 'coz it gives us footing on where we are at the present.  I just miss my sissies though.  With that, I thank my bad habit of procrastination for the experience I'm also enjoying right now as I'm writing this post.  Indeed, all things work together for good!
How to Get There:
Take North East line to Harbourfront (never worry about Singapore's MRT 'coz it's really super user-friendly)
Walk into VivoCity Mall (you may get brekky at Food Republic to fuel up your body for you to enjoy an entire day in Sentosa)
Follow signage to the monorail train (costs SGD 3/pax which also includes Sentosa Island admission fee so don't lose it)
Alight at Waterfront Station
Take snap shots along the way to Universal Studios Singapore
Time to be There:
Park opens at 10 AM and I advise you to come earlier especially on weekends 'coz there are plenty of tourists.
Cost to be There:
PhP 2,500 – PhP 3,000 depending on exchange rate.
Universal Studios Singapore is an ultimate family getaway where both adults and children can enjoy!  There's always a venue for everyone either young or old.  But you couldn't have your fill for only a day inside the park so I also advise you to have an overnight stay at Resorts World Sentosa.  You may book directly at their website here.
For questions, invites, and collaborations, direct message me on Facebook.  For updates on my whereabouts and whatabouts, follow me on Twitter and Instagram!
Related Posts:
Hong Kong Ocean Park I
Getting Around Hong Kong Disneyland